Moises JH Tono Lopez Cozumel Rap Reggae Sound System
Rap And reggae Sound System, Cozumel, Volume 1.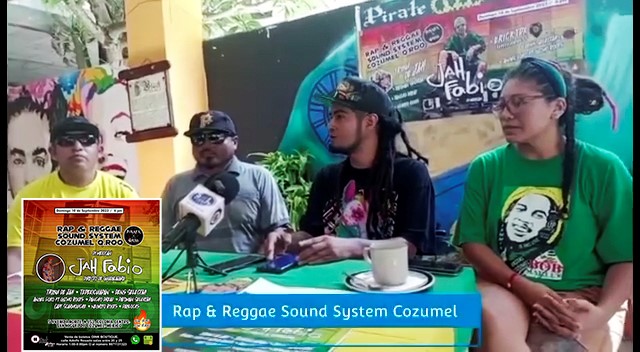 Text & Translation By Moises Jimenez & Antonio Lopez
Cozumel September 6, 2023    –   The Rap And Reggae Sound System, Cozumel. Volume 1 will take place on Sunday, September 10, at 6pm, at Pirata Grill, located on Fifth Avenue between Adolfo Rosado Salas and First South Street.
The event was presented at a press conference where it was reported that previously an open call was made to local talents who wanted to present their skills at an Open Mic.
As a special guest, the interpreter Jah Fabio will be from the city of Guadalajara. There will also be Dens Selectah, from Mexico City and Tepexicuapan, from Texcoco.
Jah Fabio was living for some time on the island of Jamaica where he had the opportunity to produce some songs with well-known characters from the old school scene in that region. He also had the opportunity to participate in a major reggae festival right there in Jamaica.
The event is not only open to the Rap and reggae community on the island, but also to all those who wish to attend.
It is important to mention that part of the proceeds from the event will be used to support a tattoo artist who is going through a difficult situation in his fight against cancer.
The final intention of this event is to transmit a positive message not only to Cozumeleños but also to the foreign community residing on the island.
In the words of the organizers "Music is a positive thought that we must transmit to our new generations and that we as adults must remember. That music makes us move, motivates us, makes us happy, inspires us and that it is also a sound that educates us and helps us revive values such as love, respect and unity.
The cost of the ticket is 70 pesos in advance and 100 pesos on the day of the event.
Tickets available at "OINK BOUTIQUE".
"Adolfo Rosado Salas" street between 20 and 25 avenues.
Or on the phone. 987 113 1323
Rap And reggae Sound System, Cozumel. Volumen 1.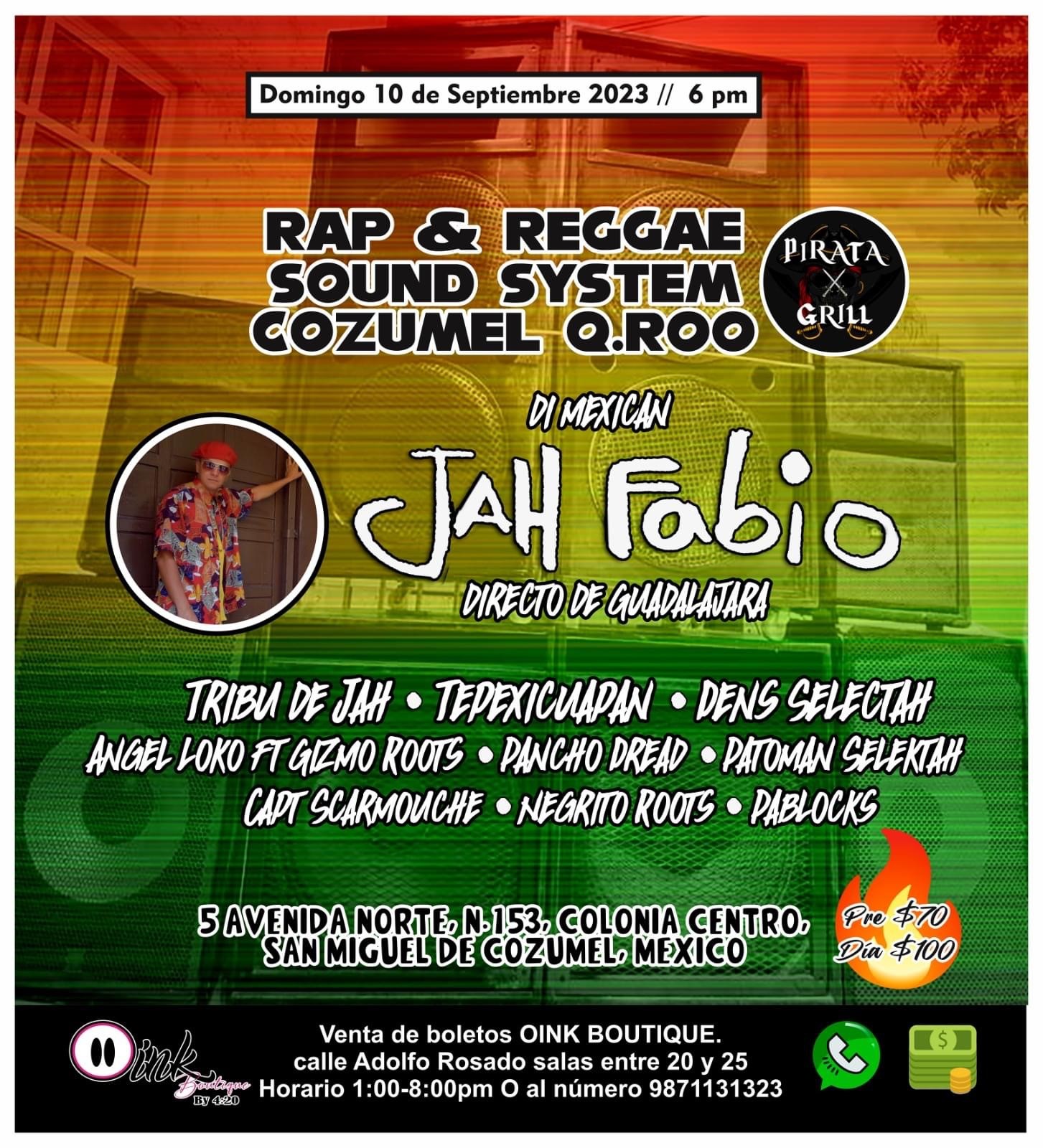 Texto & Traducción  
Por Moises Jimenez & Antonio Lopez
Cozumel 6 de septiembre de 2023. – El Rap And reggae Sound System, Cozumel, Volumen 1  se realizará el domingo 10 de septiembre, a las 6pm, en Pirata Grill, que se encuentra sobre la quinta avenida entre Adolfo Rosado Salas y calle primera Sur.
El evento fue presentado en rueda de prensa donde se informó que Previamente se realizó una convocatoria abierta a talentos locales que quisieran presentar sus habilidades en un Open Mic.
Como invitado especial se tendrá desde la ciudad de Guadalajara al intérprete Jah Fabio. También estará Dens Selectah, de la Ciudad de México y Tepexicuapan, desde Texcoco.
Jah Fabio estuvo radicando durante algún tiempo en la isla de Jamaica donde tuvo la oportunidad de producir algunos temas con personajes reconocidos de la escena de la vieja escuela en esa región. También tuvo la oportunidad de participar en un importante festival de reggae allí mismo en Jamaica.
El evento no sólo está abierto a la comunidad Rap y reggae de la isla, sino también a todo aquel público que desea asistir
Es importante mencionar que parte de lo recaudado en el evento servirá para apoyar a un artista tatuador que atraviesa por una difícil situación en su lucha contra el cáncer.
La intención final de este evento es transmitir un mensaje positivo no sólo a Cozumeleños sino también a la comunidad extranjera residente en la isla.
En palabras de los organizadores "La música es un pensamiento positivo que debemos transmitir a nuestras nuevas generaciones y que nosotros como adultos debemos de recordar. Que la música nos hace movernos, nos motiva, nos alegra, nos inspira y que también es un sonido que nos educa y nos ayuda a revivir valores como el amor, el respeto y la unidad.
El costo del boleto es de 70 pesos en preventa y 100 pesos el día del evento.
Boletos disponibles en OINK BOUTIQUE.
calle "Adolfo Rosado Salas" entre 20 y 25 avenidas.
O al teléfono. 987 113 1323
Latest posts by Laura Wilkinson
(see all)