Moving Cozumel
How I Came to Call Cozumel Home:  Andrea Tutrani
With over 27 years here in Cozumel, Andrea's not missing a lot of Brooklyn…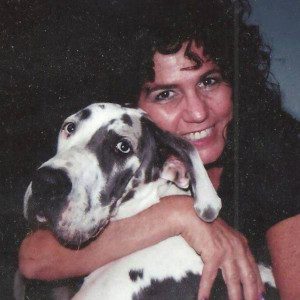 Editors note:  This is the 5th year of this popular series, where island residents, in their own words, explain how they came to live in Cozumel, or in the case of those lucky enough to be born here, things that make the island such a special place to live.   Every story is different, and is the author's own narrative, which makes it unique.  You can find the archives, through a quick search on the Cozumel 4 You website.
Andrea Tutrani has more than 27 years here on the island and hails from Brooklyn New York.  Since she's one of the funniest and upbeat ex-pats I know, running into her is always a pleasure, enjoy!!
I have been asked a million times in the last 27 and a half years: "Where are you from?" …..I answer: "Brooklyn, New York".   "Why do you live here?" and they always expect a glamorous or romantic answer like: "I met a guy, fell in love and got married." Well that couldn't be any further from the truth. The REAL reason is this, "I just got REALLY tired of frigid cold weather and shoveling snow"!!!
I always hated the cold weather, even as a kid. My Mom would dress me up in all that winter gear and send me outside with my Brother Ralph to play in the snow. Well, that lasted about 10 minutes before I begged her to let me back in.  Then in 1983, I came to Cancun on vacation and took a one day trip to Cozumel. Well that was it, I was in paradise and I never wanted to leave.  Between 1983 and 1989 I returned to Cozumel about 4 to 5 times a year and each time it was harder to leave. The thought of going back to that snow, cold and below freezing temperatures was unbearable. I was even here on vacation when Hurricane Gilberto hit, which for me was way easier to live through than any blizzard.
I had just returned home from a 3 week vacation in Cozumel somewhere around mid December1989 when one very cold winter's day, I turned on the radio to hear the morning weather forecast (what did I expect… 98 and sunny?) and the DJ said: "GOOD MORNING NEW YORK CITY….. TODAY'S WIND CHILL FACTOR IS 27 BELOW ZERO!!!!" That was it…… I was DONE!!!  When I got to work, I called my travel agent and told her to make it a one way ticket this time.
For the last 15 years before I left New York, I worked in the Criminal Justice System. So every day I saw crime and then the cold on top of it was wearing VERY thin. Every time I came back from my Cozumel vacations I would say to my co-workers: "I'm moving to Mexico" so they knew how much I wanted to be here.  Then that very cold day, I went into my Supervisor's office and said: "I quit! I'm moving to Mexico" She said:  "Hahaaaa Yeah, you've been telling me that for the last 4 years". Then I slapped my letter of resignation on her desk. Needless to say, the look on her face was priceless.
So on January 28,1990 I packed up my 2 doggies ( no way I would leave then behind) , my Scuba gear and my boom box ( typical for back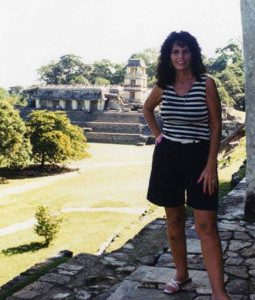 then, I couldn't  live without my music) and began my new life without boots, hats and a coat and I never looked back or regretted it. I do remember my Brother telling my Mom to: "Let my little Sister go for 6 months and get this out of her system". Well, here I am 27 and half years later; and of course my Brother and his family have been here several times to visit.
So here I was in Cozumel with a very small amount of money in my pocket but since I was a musician all through my life ( I was a music teacher for years and I played in the Queens Symphony for 15 years) and I knew how to tend bar, I figured I could find a job right away. After all, bartenders and musicians are needed all over the world right?  HA, well not here.  So I did what most US Citizens do when they move to Cozumel…… I sold Time Share. Yeah, I know, but back then it was really successful and I did make a large income for several years. After the hotel business died down, I then joined in the "Jewelry Sales" industry which took over the Island, which is where most of us Time Share people went. And I stayed there for the next 7 years or so.
During that time I met the gal who would be my best friend, Donna, who was a fashion model and designer. Back in 2002 she was asked to make some jewelry for a Fashion Show and it was so successful that I encouraged her to start her own line of "Designer Jewelry".  So she and I teamed up, Donna as the Designer and me as the Marketing expert and here we are 15 years later and still going with our own Designer Jewelry Company "DONNA DUNCAN" Jewelry.
Do I miss New York……? NO WAY!!! Other than the fact that my family is there and well maybe NYC pizza and bagels, oh and I do miss playing in the Symphony, but I haven't worn closed toe shoes in over 27 years so it kind of levels out.
I have been a Mexican Citizen for over 10 years now and I think my Brother finally realizes I'm not going back. I am grateful for the life I have here, my 5 doggies (yes…5) and the fact that I don't own a snow shovel.  Just about every day I drive along the beachfront and the view is as spectacular as the first time I saw it.   'Never gets old' as the saying goes.
We'll be running this series thoughout the summer season, and while we've lined up some great island individuals, with some very unique stories, we'd love to hear yours a well. Interested in contributing to our weekly news?  We'd love to hear from you. Please get in touch with laura@czm4you.com
Cómo se convirtió Cozumel en mi hogar: Andrea Tutrani
Con más de 27 años en Cozumel, Andrea no extraña mucho a Brooklyn. . . .
Nota de la Editora: Este es el 5º año que publicamos esta popular serie donde habitantes de la Isla, en sus propias palabras, explican cómo vinieron a vivir a Cozumel, o, en el caso de aquellos afortunados en nacer aquí, las cosas que hacen que esta Isla sea un sitio tan especial para vivir. Cada una de las historias es distinta; y la propia narración de su autor la hace única. Pueden encontrar los archivos echando un rápido vistazo al sitio web de Cozumel 4 You.
Oriunda de Brooklyn, Nueva York, Andrea Tutrani ha residido en a Isla desde hace más de 27 años. Como es una de las expatriadas más graciosas y optimistas que conozco, siempre es un placer toparme con ella. ¡Disfruten su historia!
En el transcurso de los últimos 27 años y medio me han preguntado un millón de ocasiones: "¿De dónde eres?" Y respondo: "De Brooklyn , Nueva York".  "¿Por qué vives aquí?". Y siempre esperan la encantadora y romántica respuesta de: "Conocí a este tipo, me enamoré y contrajimos matrimonio". Bueno, eso dista mucho de la realidad.  La VERDADERA razón es esta: "¡Me HARTÉ del glacial frío y de retirar la nieve con la pala!"
Incluso desde niña detestaba la nieve. Mi madre solía vestirme con toda la indumentaria de invierno y nos mandaba a mí y a mi hermano Ralph a jugar con la nieve. Bueno, todo esto duraba casi 10 minutos hasta que le suplicaba a mamá me dejara entrar. Luego, en el año 1983 fui de vacaciones a Cancún e hice el viaje de un día a Cozumel. Eso fue suficiente; estaba en el paraíso y no quería irme jamás. Entre los años 1983 y 1989 regresé a Cozumel unas 4 o 5 ocasiones al año, y cada vez me era más difícil irme. Era insufrible tan sólo pensar regresar a la nieve, el frío y temperaturas bajo cero. Incluso me encontraba aquí cuando pegó el huracán Gilberto, algo que me fue más sencillo vivir que una tormenta de nieve.
A mediados de Diciembre del año 1989, un día de intenso frío invernal, recién regresaba a casa de unas vacaciones de 3 semanas en Cozumel. Encendí la radio para escuchar el pronóstico del tiempo esa mañana (¿Qué esperaba escuchar? ¿36o y soleado?) y el DJ dijo. "BUEN DÍA, CIUDAD DE NUEVA YORK… LA SENSACIÓN TÉRMICA PRODUCIDA POR EL VIENTO FRÍO PARA EL DÍA DE HOY, ¡ES DE MENOS 2.8 GRADOS BAJO CERO!  Eso derramó el vaso… ¡ya estaba HARTA! Al llegar a mi trabajo me comuniqué con mi agente de viajes y le dije que en esta ocasión me expidiera un boleto sin retorno.
Durante los últimos 15 años antes de dejar Nueva York trabajé dentro del sistema de justicia penal. Así que, todos los días veía crímenes y luego encima de eso el clima frío, era MUY desgastante. Cada ocasión que regresaba a mis vacaciones en Cozumel decía a mis compañeros de trabajo: "Me mudo a México".  Ese frío día fui a la oficina de mi Supervisor y le dije: "¡Renuncio! Me mudo a México". Ella me contestó: "¡Jajajaja!¡Sí claro, me lo vienes diciendo desde hace 4 años!". Entonces azoté mi renuncia sobre su escritorio. No hace falta decir que la expresión de su cara no tenía precio.
Así que el 28 de enero de 1990  empaqué a mis perros (de ninguna manera los iba a dejar), mi equipo de buceo y mi equipo de sonido  (era lo típico en esa época; no podía vivir sin mi música), y comencé mi nueva vida sin botas, sin sombreros y un abrigo, y nunca miré hacia atrás ni tampoco me he arrepentido de haberlo hecho.  Recuerdo que mi hermano dijo a mi madre: "Deja que mi hermanita vaya 6 meses para sacarse la espinita". Bueno, pues aquí sigo 27 años y medio después; y, por supuesto, mi hermano y su familia han venido de visita en diversas ocasiones.
Así que me encontraba en Cozumel con poco dinero, pero como toda mi vida había interpretado música (fui maestra de música durante muchos años y toqué en la Sinfónica de Queens por 15 años) y sabía cómo servir en un bar, supuse que podría encontrar trabajo de inmediato. Después de todo, los servicios de músicos y de camareros se necesitan en todo el mundo, ¿no es así? JA, aquí no. Así que hice lo que la mayoría de los ciudadanos estadunidenses hacen al mudarse a Cozumel… me dediqué a vender tiempo compartido. Sí, lo se; pero en ese entonces era un éxito y durante varios años obtuve grandes ingresos. Luego que el sector hotelero se apagara, me uní a la industria de la venta de joyería que había acaparado la Isla; ahí acabamos la mayoría de los vendedores de tiempo compartido. Y me dediqué a la venta de joyería durante los siguientes 7 años aproximadamente.
En esa época conocí a la chica que se convertía en mi mejor amiga: Donna, modelo y diseñadora. En el 2002 recibió la solicitud de crear
joyería para un desfile de modas. Tuvo tal éxito que la animé para que abriera su propia línea de diseño de joyería. Así es como ella y yo formamos un equipo: Donna diseñaba, en tanto yo actuaba como la experta en comercialización. Y 15 años más tarde, aquí seguimos con nuestra propia empresa de diseño de joyas llamada DONNA DUNCAN Jewelry .
¿Que si acaso extraño Nueva York? ¡DE NINGUNA MANERA! Fuera del hecho que mi familia se encuentra ahí, posiblemente la pizza neoyorkina y los bagles, ah…extraño tocar en la Sinfónica, y no he usado zapatos cerrados desde hace 27 años, así que eso lo compensa.
Hace  10 años me naturalice mexicana y creo que mi hermano por fin se dio cuenta que no voy a regresar. Doy gracias por la vida que tengo aquí, por mis 5 perritos (sí, 5) y el hecho que no tengo una pala para retirar la nieve. Casi todos los días conduzco frente al mar y la vista es tan espectacular como la primera ocasión que la vi. Como dice el dicho "Nunca pasa de moda".
Estaremos publicando esta serie durante la temporada de verano, y en tanto que tenemos una fila de personas con historias peculiares, nos gustará conocer la suya también. ¿Le interesa contribuir con nuestras noticias semanales? Nos encantará saber de usted. Por favor póngase en contacto con laura@czm4you.com
Latest posts by Laura Wilkinson
(see all)