Salsa Dance Cozumel
Where to Salsa Dance in Cozumel
Laura "Salsera" Johnson Shares The Best Spots …..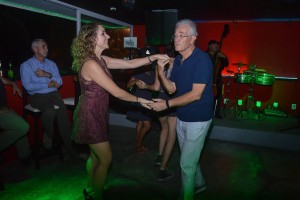 Although Mexico is mainly known for its Cumbia and Banda music, here in Cozumel the Salsa genera and Latin Dance is very common. Lots of Cuban roots have also spread to the island and we are fortunate to have several excellent Cuban musicians residing here. Salsa dancing has become ever more popular in Cozumel over the last decade, with several new venues to dance now available.  Management of these venues are always subject to change the band, but here's the latest update on where to dance Salsa in Cozumel.
La Rumba Cozumel is one of the most traditional places to dance as it's always supporting live bands (plus the owner himself is the leader of the house band).  La Rumba's Facebook page always announces a varied scheduled of live music through the week going between the full Latin band by Angelito de la Salsa, to the smaller trio and bolero nights where it's more laid-back Son and ballads. Salsa night traditionally is Friday and Saturday starting shortly after 10 pm when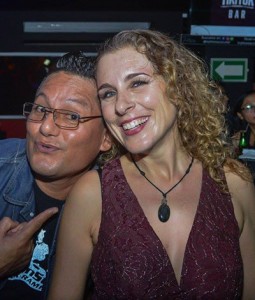 most dancers show up. Come early at 9pm for free salsa class.
Tiki Tok is the other weekend night dance club where you'll find live salsa music and dancers.  The Band Salsa Cubana plays only Friday and Saturday nights around 11pm.  Local dancers tend to show up late at this venue and stay quite late too. This club has ample space to dance, and lots of tables if you come with a group of friends.
During the week, the best bet for dancing is Wet Wendy's in the main plaza on Wednesday nights.  Starting around 8pm, Israel y su Mereketengue play a variety of popular Salsas and Cumbias.  This evening venue starts earlier than the previous mentioned locations and ends earlier too due to it being a week night.  Not recommended to wear salsa heels here as the floor is inappropriate.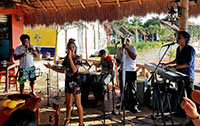 On both Saturday and Sunday afternoon there are now two options for salsa dancing at the local beach clubs.  These are family friendly venues and great for those who don't like a late night out of dancing. The largest and most popular is Sky Reef, where the band Israel y su Mereketengue play from 4-6pm.  During high season it's recommended to get there early to find a table as it gets very crowded.  The second option is Fratelli's on the beach where they have live Salsa from 4-7pm.  Salsa Cubana plays all Cuban music, mainly salsa, in a more intimate setting as they have a very small floor.  It's a great place to dance away from the crowds as it's just now starting to gain popularity. Although not technically a Salsa venue, Money Bar's weekend band Fugga is adding in quite a few Salsa songs to their regular lineup.  They play at 6pm on Saturdays and Sundays.  Occasionally a few of the local dancers will head there after Sky Reef.
For more info on the salsa scene in Cozumel check out Laura's website at www.salsacozumel.com
Laura Johnson, a Salsa addict in Cozumel, has been an island resident for over 10 years but her love affair with dancing began many years ago.  When not dancing or scuba diving Laura works on her website about Salsa dancing www.salsacozumel.com
Sitios donde se puede bailar Salsa en Cozumel
Laura "Salsera" Johnson comparte cuáles son los mejores sitios. . .
A pesar de que a México es principalmente conocido por su cumbia y la música de banda, la Salsa y los bailes latinos son muy comunes. En la Isla en gran parte se han extendido las raíces cubanas y tenemos la fortuna que diversos músicos cubanos residen aquí. Durante la última década, la Salsa se ha vuelto muy popular en Cozumel y existen diversos sitios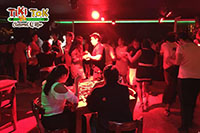 para bailarla. La administración de estos sitios siempre está sujeta a cambiar la banda, sin embargo aquí tienen la ultima actualización de los sitios donde pueden bailar Salsa en Cozumel.
La Rumba Cozumel es uno de los lugares más tradicionales para bailar ya que siempre apoya a las bandas que interpretan música en vivo (además de que el dueño es el líder de la banda de casa). La pagina en Facebook de La Rumba siempre anuncia un programa variado de música en vivo durante toda la semana, desde una banda de música latina con Angelito de la Salsa hasta los pequeños tríos y noches de bolero interpretando sones y música más relajada.  La tradicional noche de salsa son los días viernes y sábado comenzando poco después de las 10 pm cuando comienzan a llegar los bailarines. Lleguen temprano, a las 9 pm, para una clase gratuita de Salsa.
Tiki Tok es otro club nocturno para bailar el fin de semana donde encontrarán música de Salsa en vivo y bailarines. La banda Salsa Cubana sólo se presenta las noches de los días viernes y sábado, alrededor de las 11 pm. Los bailarines locales tienden a presentarse tarde en este lugar y también permanecen ahí bastante tarde. Este club cuenta con un amplio
espacio para bailar y gran cantidad de mesas para cuando viene acompañado de un grupo de amigos.
En el transcurso de la semana, los días miércoles, el mejor sitio para bailar es Wet Wendy's que se ubica en la plaza principal. Alrededor de las 8 pm, Israel y su Mereketengue interpretan una gran variedad de Salsas y cumbias populares. Este sitio nocturno comienza más temprano que los anteriores y también termina antes debido a que es una noche entre semana. No se recomienda usar zapatos para bailar Salsa con tacón debido a que el piso es inadecuado.
Tanto el sábado como el domingo por la tarde hay dos opciones para bailar salsa en los clubes de playa locales. Estos son sitios para familias y excelentes para quienes no gustan de salir muy tarde por la noche a bailar. El más grande y popular es Sky Reef, donde la banda de Israel y su Mereketengue se presentan de las 4 a las 6 p.m. Durante temporada alta es recomendable llegar temprano para encontrar mesa ya que se llena. La segunda opción es Fratelli's, en la playa, con Salsa de las 4 a las 7 pm. El grupo Salsa Cubana interpreta toda la música cubana, principalmente Salsa, en un ambiente
íntimo ya que la pista es pequeña. La banda de fin de semana de Money Bar, Fugga, ha incluido varias canciones de Salsa a su repertorio habitual. Se presentan a las 6 pm los días sábado y domingo. En ocasiones y después de haber estado en Sky Reef, algunos de los bailarines locales  se dirigen al Money Bar. Para obtener mayor información sobre el ambiente de la Salsa en Cozumel, echen un vistazo a la página web de Laura www.salsacozumel.com
Laura Johnson es una adicta a la Salsa en Cozumel; ha residido en la Isla desde hace más de 10 años y su romance con el baile comenzó hace muchos años. Cuando Laura no está bailando o buceando, trabaja en su página web sobre el baile de Salsa www.salsacozumel.com
Latest posts by Laura Wilkinson
(see all)