Salsa & Timba Fest Cozumel
Salsa & Timba Fest Cozumel
Three Day dance event scheduled for June 2nd – 4th …

Salsa y Timba Fest Cozumel is Cozumel's only true salsa congress.  It's a 3 day event that focuses on Salsa, Timba (Cuban Style), Bachata, and other Latin rhythms.
Dancers from all over the country will be arriving to participate in workshops from International level instructors, perform shows on stage, enjoy evenings of social dancing, and of course soaking up some sun at the salsa pool party.
This year's event features world famous dancer Alien Ramirez offering 2 Master Class workshops for attendees. The event will be held at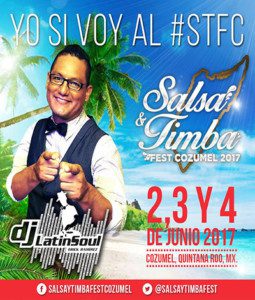 Cozumel Hotel and Resort.
Salsa Congresses are a great way for new dancers to gain more experience, and for seasoned dancers to connect with old and new friends on the dance floor.
For the dancer who wants to take full advantage of the event, be sure to purchase your full pass for access to all activities.  And even if your schedule only permits you to attend one evening of the event, you can purchase Night Passes at the door to enjoy the professional shows and social dancing.  See details at their Facebook Event Page.
Laura Johnson, a Salsa addict in Cozumel, has been an island resident for 10 years but her love affair with dancing began many years ago.  When not dancing or scuba diving Laura works on her website about Salsa dancing www.salsacozumel.com
 Salsa y Timba Fest en Cozumel
Un evento de tres días de baile programado para Junio 2 al 4…
Salsa y Timba Fest Cozumel es el único y verdadero congreso de salsa de Cozumel. Es un evento con una duración de 3 días que se centra en los bailes de salsa, timba (estilo cubano), bachata y otros ritmos latinos.
Bailarines de todos los rincones del país llevarán para participar en talleres impartidos por instructores de nivel internacional, realizar espectáculos en escenarios, disfrutar noches de bailes sociales y, claro está, disfrutar del sol en la fiesta salsa en la piscina.
El evento de este año presenta a Allen Ramírez, famoso bailarín, que ofrece dos talleres de clases a nivel maestría. El evento tendrá lugar en el Cozumel Hotel and Resort.
Los congresos de salsa son una forma fabulosa de conocer a nuevos bailarines y obtener mayor experiencia, y para que  los bailarines veteranos se conecten viejos amigos y hagan nuevos amigos en la pista de baile.
Para el bailarín que desea aprovechar el evento en su totalidad, adquiera su pase completo a todas las actividades: Incluso si su horario sólo le permite asistir a un evento, usted puede comprar los pases de la noche en la entrada, para así disfrutar los espectáculos profesionales y baile social. Vean los detalles en la Página de Eventos Facebook.
Laura Johnson, una adicta al baile de salsa en Cozumel, ha vivido en la Isla desde hace 10 años y su amor al baile comenzó hace muchos años. Cuando ella no está bailando o buceando, Laura trabaja en su sitio web sobre el baile de salsa www.salsacozumel.com
Latest posts by Laura Wilkinson
(see all)