San Gervasio Museum Cozumel Reopen
San Gervasio Archaeological Site & Museo de la Isla Cozumel to Reopen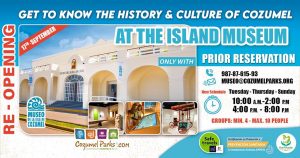 Recently representatives from the FPMC (Foundation of Parks & Museums Cozumel)  have announced that both the Museo de la Isla ( the Cozumel Museum) as well as the Archaeological site San Gervasio will open this week.
The Museo de la Isla will re-open on the 17th of September.  The Museum will open only Tuesdays, Thursdays and Sundays from 10am to 2pm and from 4pm to 8pm to help reactivate downtown Cozumel.  The Museum has 11 interactive exhibits, mayan archaeoastronomy video mapping, mayan hut exhibit and carnival exhibit room dedicated to 146 years of Cozumel Tradition. Safety protocols include small groups from 4 – 10 people with prior reservations required.  Reservations can be made by calling 987 8761593  (call or whatsapp) or emailing museo@cozumelparks.org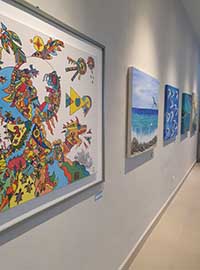 The Mayan Archaeological site San Gervasio has already opened on September 14th.  The parks hours are Monday – Sunday 9 am – 3 pm.
Other attractions under the FMPC such as Punta Sur and Chankanaab Park have been open since July 1, after closing in March due to the pandemic.
The northern part of the state of Quintana Roo went from orange to yellow as of September 7, which means that historic sites, theme parks and beaches such as those operated by the FPMC can open at 60 percent of their capacity.
Reabrirán el sitio arqueológico de San Gervasio y el Museo de la Isla
En fechas recientes, representantes de la Fundación de Parques y Museos de Cozumel (FPMC) informaron que tanto el Museo de la Isla como
el sitio arqueológico de San Gervasio, abrirán esta semana al público.
El Museo de la Isla reabrirá sus puertas el 17 de septiembre, y abrirá sólo los martes, jueves y domingos de 10 am a 2 pm, y de 4 pm a 8 pm para apoyar en la reactivación del centro de Cozumel. El Museo cuenta con 11 exhibiciones interactivas, un video-mapa de arqueoastronomía maya,  la exhibición de una choza tipo maya y una sala de exhibición dedicada a 146 años de tradición carnestolenda en Cozumel.  Los protocolos de seguridad incluyen pequeños grupos de 4 a 10 personas. Es necesario reservar. Puede hacer su reservación llamando al 9878761593 (llame o envíe mensaje por WhatsApp), o por correo electrónico a museo@cozumelparks.org.
El sitio arqueológico de San Gervasio se encuentra abierto desde el 14 de septiembre. El horario es lunes a domingo, de 9 a 15 horas.
Después de haber cerrado el 1º de marzo debido a la pandemia, otras atracciones de la FPMC como lo son Punta Sur y el Parque de Chankanaab abrieron a partir del 1º de julio.
El 7 de septiembre la zona norte del Estado de Quintana Roo cambio de semáforo naranja a amarillo, lo que quiere decir que los sitios históricos, parques temáticos y playas, como lo son las que opera FPMC, pueden permanecer abiertos 60 porciento de su capacidad.
Latest posts by Laura Wilkinson
(see all)