Scuba Hunt Cozumel
New Shallow Dive Option Challenge for Experienced Cozumel Divers:  Scuba Hunt
Cozumel island has recently welcomed the Caribbean's FIRST part scavenger hunt, part escape room, part labyrinth one tank scuba challenge. Sound a little challenging? That's because it is. In fact, owner Steve Belkin claims that not everyone will complete the course and that's why this new excursion is specifically geared toward experienced certified divers.
Afternoon, Last Day or More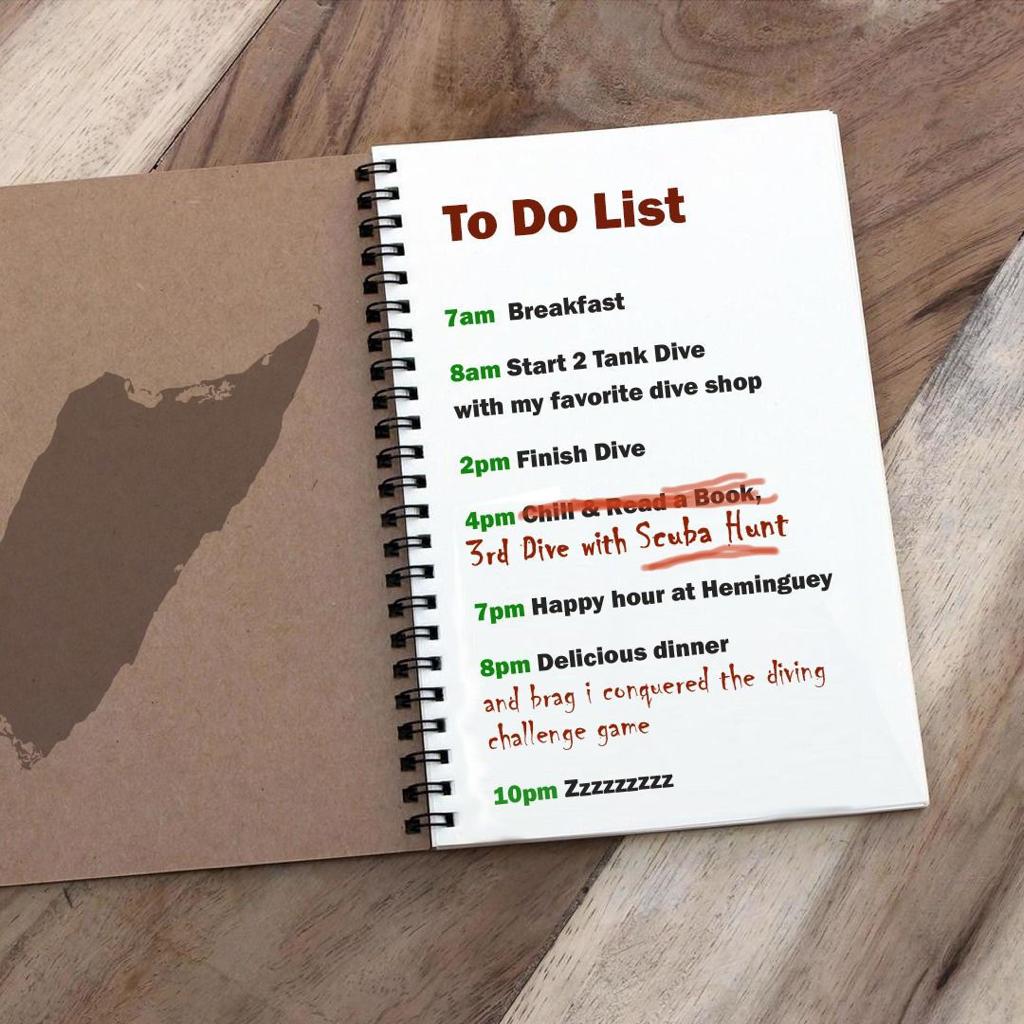 Most divers arriving to Cozumel have already pre-planned their dive itinerary so they assume they don't have any additional time for diving.  Scuba Hunt can complement their existing 2-tank dive schedule with their favorite dive shops, as a late afternoon 3rd dive or even the day before flying since it's a shallow depth.
The Divers Alert Network (DAN) recommends a 12-hour minimum surface interval before flying, and the Professional Association of Diving Instructors' (PADI) Flying After Diving guidelines say divers should not ascend to a high altitude within 12 hours of completing a single dive. (source: Leisure Pro.), so this is a great activity for your last day on the island.
Traditionally, certified divers consider shallow dives  too easy. This  part scavenger hunt – part escape room – part labyrinth challenge will challenge even the most experienced divers.  Scuba Hunt requires participants to navigate a 90 block maze, find hidden clues, decipher codes and mastering unique twists on scuba skills. Divers work in teams, so communication and coordination are key with the eventual goal to collect enough clues to and open the final lockbox to win the prize.
How did Scuba Hunt Come About?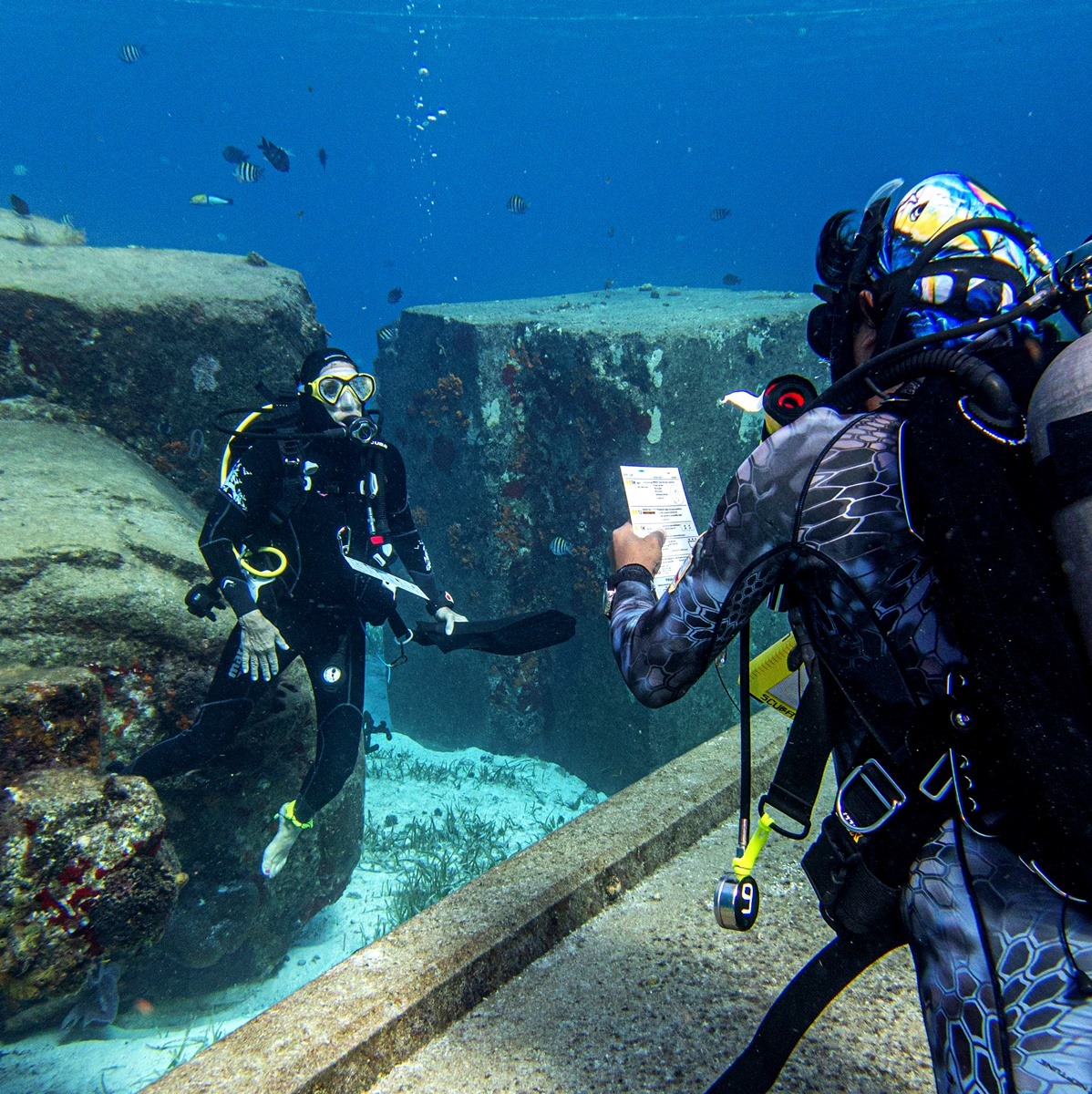 PADI Instructor, world-traveler and creator Steve Belkin was in downtown Cozumel, and intrigued by the cement structures found underwater at "Playa Las Casitas," located directly off the shore from Hemmingway's. Finding the location was the easy part, especially since the boat ride to the site is only 2 minutes. For Steve, the hardest part was "finding something that was just the right amount of challenging: too easy and everyone finishes, so the multi-option course needs to be hard, but not too hard."` "This is nothing like a drift dive inside the national marine park, and we're not a traditional dive shop. We don't teach courses. We are an activity center. Consider this an added activity to what you have already set up with your regular dive center."
About Scuba Hunt
To learn more about Scuba Hunt, check out their website. You can also follow them on social media, like Facebook. Island resident, Steve Belkin, is not only the creator of Scuba Hunt, but he's also the author of "Mileage Maniac: My Genius, Madness and a Touch of Evil, to Amass 40 Million Frequent Flyer Miles," available on Amazon.
Nuevo reto y opción de buceo poco profundo para buzos experimentados de Cozumel: Scuba Hunt
En fechas recientes la Isla de Cozumel dio la bienvenida al PRIMER desafío de buceo en el Caribe que en parte es la búsqueda de un tesoro, en parte es una sala de escape y en parte es un laberinto buceando un tanque. ¿Le parece algo desafiante? Pues sí lo es. De hecho, el propietario Steve Belkin afirma que no todo el mundo podrá concluir el recorrido y que por eso esta nueva excursión está orientada específicamente a buzos certificados y con experiencia.
Por la Tarde, el Ultimo Día o Más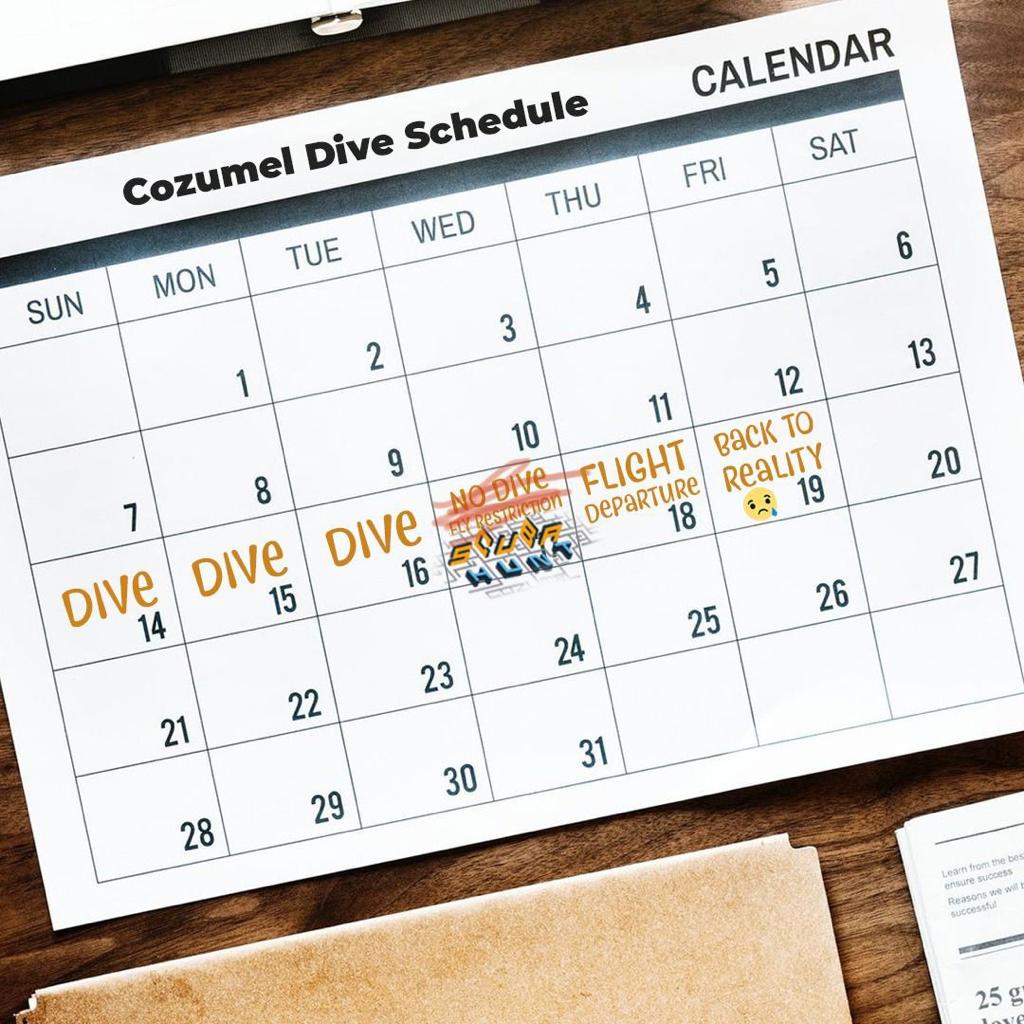 La mayoría de los buzos que llegan a Cozumel han planeado su itinerario de buceo con anterioridad, por lo que suponen que no tendrán tiempo adicional para bucear.  Scuba Hunt puede complementar su programa de buceo de 2 tanques con sus tiendas de buceo favoritas, haciendo una tercera inmersión en las últimas horas de la tarde o incluso el día antes de tomar el vuelo ya que es a poca profundidad.
Divers Alert Network (DAN) recomienda un intervalo mínimo de 12 horas en superficie antes de volar, y las pautas que disponen Flying After Diving (Volar después de bucear) y la Professional Association of Diving Instructors (PADI) indican que en las siguientes 12 horas posteriores a un buceo los buzos no deben ascender a gran altitud (fuente: Leisure Pro.), por lo que esta actividad es genial para llevar a cabo durante su último día en la Isla.
Por lo general los buzos certificados consideran que las inmersiones poco profundas son demasiado sencillas. Esta parte del reto de la búsqueda del tesoro – parte sala de escape – parte del laberinto desafiará incluso a los buzos con mayor experiencia.  Scuba Hunt requiere que los participantes se desplacen a través de un laberinto de 90 bloques de hormigón, para encontrar pistas ocultas, descifrar códigos y dominar giros únicos en habilidades de buceo. Los buzos trabajan en equipo, por lo que la comunicación y la coordinación son imprescindibles ya que el objetivo al final es reunir suficientes pistas y abrir la caja de seguridad para ganar el premio.
¿Cómo surgió Scuba Hunt?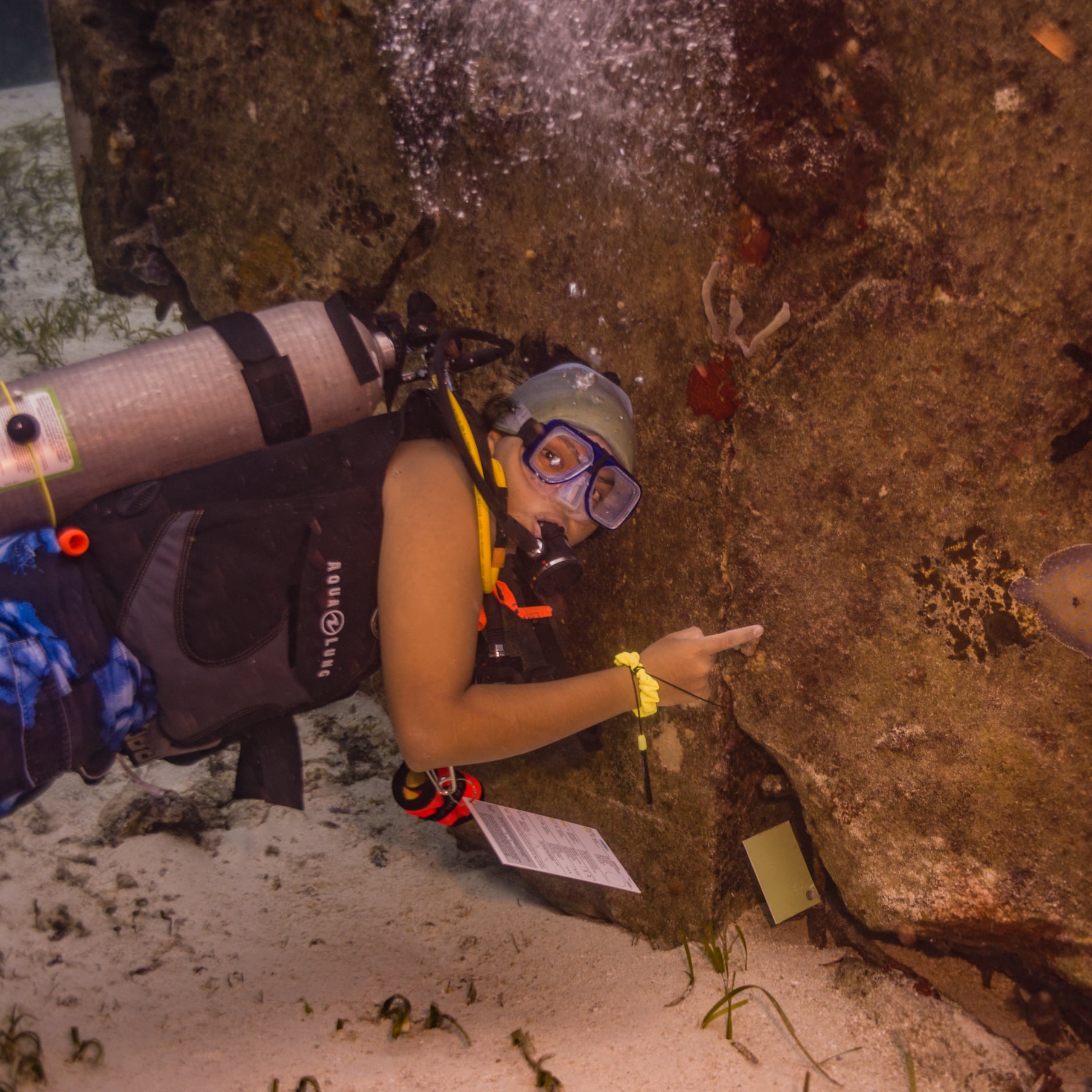 Steve Belkin, instructor PADI, viajero del mundo y creador estaba en el centro de Cozumel, y le intrigaron las estructuras de cemento que se encuentran bajo el agua en "Playa Las Casitas", frente al restaurante Hemingway. Encontrar dónde ubicarlas fue la parte fácil, sobre todo porque el viaje en barco hasta el sitio tiene una duración de tan sólo 2 minutos. Para Steve, la parte más difícil fue "encontrar algo que tuviera la justa medida para ser un reto: de ser demasiado fácil, todos lo terminan;  por lo que la trayectoria con múltiples opciones tiene que ser difícil, pero no demasiado". "Esto no se asemeja en nada  a un buceo de corriente en el  Parque Marino Nacional, y no somos una tienda de buceo tradicional. No impartimos cursos. Somos un centro de actividades. Consideren esto como una actividad adicional a lo que ya tienen preparado con su centro de buceo habitual".
Acerca de Scuba Hunt
Para más información acerca de Scuba Hunt, consulte su página web. También puede seguirlos en las redes sociales como Facebook. Steve Belkin, quien vive en la Isla, no sólo es el creador de Scuba Hunt sino que también es el autor del libro "Mileage Maniac: My Genius, Madness and a Touch of Evil, to Amass 40 Million Frequent Flyer Miles", disponible en Amazon.
Latest posts by Laura Wilkinson
(see all)