Support Cozumel
Island Businesses That Pay it Forward:  A New Series
#SupportCozumel #ShopLocal  #CozumelCommunity….
Editors Note:  For the next several weeks, we're going to highlight Cozumel businesses that are really part of the island community.  Now that high season is over, it's time to support Cozumel, by shopping local, assisting charities, hosting beach cleanups, working together or even offering discounts or local promotions.  If you'd like to nominate a business please reach out to laura@czm4you.com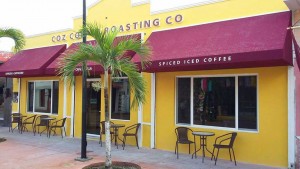 COZ Coffee Roasting Company Cozumel is now offering a punch card for their frequent customers!! Each time you visit, each one of your purchases count as a punch – 10 punches & you will receive the item of your choice FREE! (just as an fyi – this applies to coffee, drinks & food – gift bags, vanilla & chocolate gifts are not included! What a great way to say thank you to the local community!
Coz Coffee Roasting Company is a Cozumel based business founded at the end of 2015 with a mission to roast the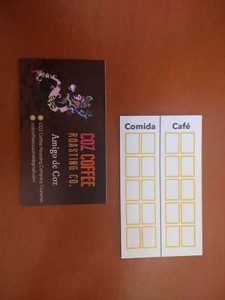 best mexican specialty and gourmet coffees.  We started with high altitude organic coffee from Vera Cruz and shortly after added Chiapas and Oaxaca to create our blend of three origins.  All 3 coffees are high altitude, 100% arabica, shade grown and hand picked.  Our standard is to work with a direct/fair trade agreement with the farmers so that we obtain high quality coffee and all parties involved win. We roast small batches of coffee every two days to insure coffee stays fresh.  During the first three weeks after roasting, coffee is considered a superfood, full of nutrients and antioxidants. While our primary business is to sell bags of premium coffee,  we have different methods of brewing, hot and cold for any palate and also have a very high quality espresso  machine to prepare exquisite drinks at our downtown location and also at  Discover Mexico.
Una nueva serie: Negocios en la Isla que retribuyen
#SupportCozumel #ShopLocal #CozumelCommunity. . .
Nota de la Editora: durante las siguientes semanas vamos a resaltar los negocios en la Isla que verdaderamente forman parte de la comunidad de la misma. Ahora que ha concluido la temporada alta, es momento de brindar apoyo a Cozumel comprando en las tiendas locales, apoyando a los grupos de beneficencia, organizando limpiezas de playas, trabajando conjuntamente o incluso ofreciendo descuentos o promociones locales. En caso que desee nominar a algún negocio, por favor póngase en contacto con laura@czm4you.com
COZ Coffee Roasting Company Cozumel ofrece una tarjeta perforada a sus clientes frecuentes. Cada vez que los visite, cada una de sus compras cuenta como una perforación; 10 perforaciones y recibirá GRATUITAMENTE un artículo de su elección (para su información esto aplica a café, bebidas y alimentos. No incluye bolsas de regalo, vainilla y chocolates de regalo) ¡Qué gran manera de dar las gracias a la comunidad local!
Coz Coffee Roasting Company es una empresa que nació en Cozumel al
final del año 2015, con la misión de tostar los mejores cafés mexicanos de especialidad y gourmet. En estas mismas fechas empezamos a comercializar café orgánico de Veracruz, por lo tanto ya contamos con una mezcla de tres diferentes origenes: Veracruz, Chiapas y Oaxaca. Son cafés de altura, 100% arábica, cultivado bajo las sombras de arboles frutales y cosechados a mano, orgánicos y de muy alta calidad. Nuestra meta es llevar a cabo un comercio directo con los campesinos; que con la ventaja de poder obtner café gourmet, nos permite garantizarles una justa ganancia. Tostamos cada dos día pequeñas cantidades para quedar siempre con la maxima frescura. De hecho el café, en las primeras tres semanas después del tueste, es considerado un superalimento, lleno de nutrientes y antioxidantes. Aquí en Coz Coffee contamos con diferentes métodos de extracción, calientes y fríos aptos para cualquier paladar, contamos con máquina de espresso de excelente calidad para la preparación de exquisitas bebidas bebidas en nuestra tienda del Centro y en Discover Mexico.
Latest posts by Laura Wilkinson
(see all)