TODOS SOMOS COZUMEL Cozumel Charity
TODOS SOMOS COZUMEL:  Helping Cozumel's Most Vulnerable
by Joan Hynes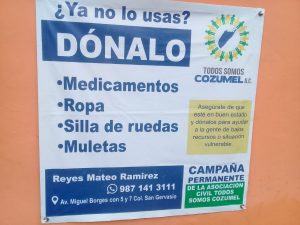 Did you know that there is an organization in Cozumel dedicated solely to helping its most vulnerable people? Todos Somos Cozumel is a non- governmental accredited charity organization founded and led by Don Reyes Ramirez. He is a retired military person who spends his days, and many times his nights, helping the forgotten of the island. He brings much empathy to his work because as a child he lived as one of the most vulnerable and forgotten. He has been given several formal recognitions for his selfless work including one by UNID for "being a hero by giving testimony to values which benefit our Cozumel society".
He currently has a data base of over 200 families and individuals who fall into the above category. Included in the data base are details like whether or not the person has the ability to cook so as to know what kind of food to bring them. Every effort is made to include fresh fruits and vegetables in the deliveries.
Each beneficiary is thoroughly vetted by Don Reyes by doing an economic assessment, a home visit and an identification check. His services include providing food, medicines, clothes, arranging for medical care, visiting hospitals for those without families, helping with obtaining government assistance, making funeral arrangements etc.
Recently, an extremely poor family lost everything when their house, which was little more than a shack, burned to the ground. Don Reyes solicited building materials from benefactors, found workers to donate their labor, got donations of clothing, hammocks and food. Within just a few days the family once again had food, clothing and shelter.
Don Reyes has developed an impressive network of contributors in the five years that he has been doing this work in Cozumel. He has negotiated discounts for his beneficiaries with several clinics and pharmacies. He receives quarterly donations of medicines from the military. As requests for medicines come in, he dispenses these medicines free of charge. If he does not have the medicine on hand, he looks for a donor to contribute the medicine.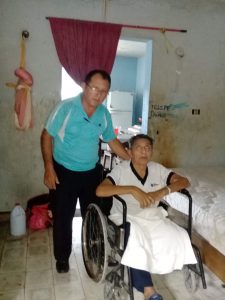 He has obtained commitments from several doctors and nurses, a physical therapist and psychological therapist to offer their services free of charge or for a very nominal fee. What is lacking is a place to offer these services. Someone has donated a rent-free apartment to him which he hopes to remodel for use as a medical dispensary from which the medical professionals can work. His most urgent needs are for a sink, a door and a wall to separate the examining room. The labor to install these will be donated, but there is no money for materials.
As I write this article, I'd like to share how I came to know Don Reyes.
When it became obvious that Cozumel would be devastated by the Covid crisis, I went to my parish church to see how I could help. I was introduced to Don Reyes who had offered to coordinate the parish food pantry and distribution program. Our pastor gave me some background on how he himself had gotten to know Don Reyes during his daily hospital rounds. He would inevitably meet Reyes there either visiting the sick or advocating on their behalf. He told me how Do Reyes spent his days collecting and distributing to the poorest people on the island. For me this seemed the perfect way to be involved. The more I got to know Reyes and watch his daily operation, the more I was astounded at what he accomplishes for those who would otherwise have no way to help themselves.
If you wish to participate in this project or to donate for medicines, food or clothing, please contact us at hynescozumel@gmail.com (for US donors /English speaking)  or todosomoscozumelac@hotmail.com  or call 987 141 3111  (for local donors/Spanish speaking)for the banking information to set up an online transfer to the organization's account. Most US banks do not charge for the transaction if it is done in Mexican pesos. Neither does the receiving bank here charge a fee.
Thank you in advance for helping those who might otherwise be forgotten.
Joan Hynes
Joan Hynes has been a resident of Cozumel for over 25 years.   since she is not active on social media – you can reach her via her email – hynescozumel@gmail.com.   After being sole caregiver for her husband for a number of years, she is able to once again more actively participate in the community which she loves.
TODOS SOMOS COZUMEL; ayudando a las personas más vulnerables
por Joan Hynes
¿Sabían que en Cozumel existe una organización que se dedica exclusivamente a ayudar a las personas más vulnerables?  Todos Somos Cozumel es una organización no gubernamental acreditada, fundada y dirigida por Don Reyes Ramírez dedicada a la beneficencia. Él es militar retirado que, durante el día y muchas veces durante las noches, se la pasa ayudando a los desprotegidos que viven en la Isla. Aporta gran empatía a su trabajo porque de niño vivió de manera vulnerable y desprotegida. Ha recibido diversos reconocimientos formales por su trabajo desinteresado, incluyendo uno por parte de la UNID por "ser un héroe dando testimonio de los valores que benefician a nuestra sociedad de Cozumel".
En la actualidad cuenta con una base de datos de más de 200 familias y personas dentro de la categoría antes indicada. La base de datos incluye detalles tales como si la persona tiene o no la capacidad de cocinar para así saber qué tipo de comida llevarle. En las entregas se hace todo lo posible para incluir frutas y verduras frescas.
Todo beneficiario es verificado minuciosamente por Don Reyes evaluando su situación económica, visitando su casa y verificando su
identificación. Los servicios que él brinda incluyen el suministro de alimentos, medicinas, ropa, hacer los arreglos para recibir atención médica, visitas a hospitales para quienes no tienen familia, ayuda para obtener el apoyo del gobierno, hacer las gestiones funerarias, etc.
En fechas recientes, una familia considerablemente pobre perdió todo cuando su casa, que era poco más que una choza, se quemó hasta los cimientos. Don Reyes pidió a diversos benefactores los materiales de construcción, encontró trabajadores que donaran la mano de obra, consiguió que le donaran ropa, hamacas y comida. En pocos días la familia volvió a tener comida, ropa y refugio.
Durante los cinco años que se ha dedicado a realizar esa labor en Cozumel, Don Reyes ha desarrollado una impresionante red de colaboradores. Con varias clínicas y farmacias ha hecho las negociaciones pertinentes para lograr descuentos para sus beneficiarios. Recibe donaciones trimestrales de medicamentos de parte de los militares. A medida que llegan las solicitudes de medicamentos, los distribuye sin costo alguno. Cuando no cuenta con el medicamento, busca a alguna persona que pueda contribuir con dicho medicamento.
Logró comprometer a varios médicos y enfermeras, un fisioterapeuta y un terapeuta psicológico para que brinden sus servicios de forma gratuita o por un precio simbólico. Lo que hace falta es un sitio donde se puedan brindar estos servicios. Alguien le ha donado un departamento, libre de renta, el cual espera remodelar para usarlo como consultorio médico en el que puedan trabajar los profesionales de la medicina. Sus necesidades más inmediatas son: un lavabo, una puerta y una pared para separar la sala de reconocimiento. La mano de obra para instalarlos será donada; sin embargo, no hay dinero para materiales.
En tanto redacto este artículo, me gustaría compartir cómo conocí a Don Reyes.
Cuando se hizo patente que Cozumel sería devastada por la crisis del Covid, fui a mi iglesia para ver de qué manera ayudar. Me presentaron a Don Reyes quien se había ofrecido coordinar la despensa de alimentos de la iglesia, así como el programa de distribución. El pastor me platico parte de la historia de cómo conoció a Don Reyes durante sus rondas diarias al hospital. Era inevitable toparse ahí con Reyes , ya sea visitando a los enfermos o abogando por ellos. Me contó cómo Reyes pasaba sus días recolectando y distribuyendo a la gente más pobre de la Isla. Esta me pareció la forma perfecta en la que yo podría participar. Cuanto más conocía a Reyes y observaba su operación diaria, más me asombraba lo que hacía por aquellos no tendrían manera de ayudarse a sí mismos.
Si desea participar en este proyecto o hacer donar medicamentos, alimentos o ropa, por favor póngase en contacto a través de hynescozumel@gmail.com (para donadores de los EUA/angloparlantes) o de todosomoscozumelac@hotmail.com, o llame al 987 141 3111 (para donantes locales/hispanohablantes) para obtener la información del banco para efectuar una transferencia en línea a la cuenta de la organización. La mayoría de los bancos estadounidenses no cobran comisión por la operación si se realiza en pesos mexicanos. El banco receptor tampoco cobra comisión.
De antemano, gracias por ayudar a aquellos que de otra manera pudieran ser olvidados.
Joan Hynes
Joan Hynes ha vivido en Cozumel desde hace más de 25 años. Como no está activa en los medios sociales, se le puede contactar a través de su correo electrónico: hynescozumel@gmail.com.  Después de haber cuidado a su marido durante muchos años, de nuevo le es posible participar de manera más activa en la comunidad a la que ama.  
–
Latest posts by Laura Wilkinson
(see all)