Upcoming & Continuing Cozumel Events
July 27, 2016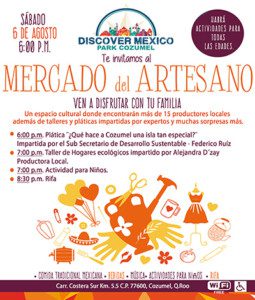 Discover Mexico To Host Lost Artists Fair – On Saturday August 6 – starting at 6 pm, Discover Mexico Park, which is located just south of the Puerta Maya Cruise Ship pier, will be hosting a local artists fair.  It's a great way to get out there, buy local and see all the interesting crafts & merchandise made on the island.  For more information, check out their event page.
Discover Mexico presentará la Feria de Artistas – El sábado 6 de agosto a partir de las 6 pm, el parque Discover Mexico ubicado justo al sur de el Muelle Puerta Maya, presentará la Feria de Artistas Locales. Es una gran forma de ir, comprar a los locales y ver toda artesanía y mercancía que se crea en la Isla. Para mayor información, echen un vistazo a su página de eventos.
Ecology Olympics at the Museo de La Isla – As part of their summer program the museum is hosting an "ecology Olympics" for children, to find out more check out their Facebook page.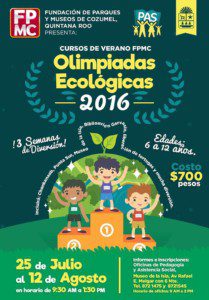 Olimpiada ecológica en el Museo de la Isla – Como parte del programa de verano, el Museo tendrá una "Olimpiada ecológica" para niños. Pueden encontrar más información en su página en facebook.
2 x 1 Happy Hour Daily on All Drinks At Rock'N Java – 2 x 1 Daily Happy Hour has been expanded to include ALL drinks – including beer & wine. Happy Summer!  For more information, follow them on Facebook.
Hora feliz 2 x 1 en bebidas diariamente en Rock'n Java  – La hora feliz 2 x 1 diariamente se expande para incluir TODAS las bebidas, cervezas y vino. ¡Feliz verano! Síganlos en facebook.
2016 Turtle Nesting Season – If you're interested in more information as to how you can help with the turtles you can find more information outlined here, or for more information on this year's turtle season check out the only official source, the Department of Ecology's facebook page.
Temporada 2016 de anidación de tortuga  – Si les interesa saber cómo pueden ayudar con las tortugas, encuentren más información aquí, o para mayores detalles acerca de la temporada de torturas de este año visiten la única fuente oficial de información: la página facebook de la Dirección Municipal de Ecología.
ITU World Triathlon – slated to take place September 11 – 18th It's expected that 5,000 competitors from over 100 countries will arrive and that nearly 20,000 visitors will arrive for the event, including many Olympic athletes. For more information, check out their website.
Triatlón Mundial ITU  – Está programado para Septiembre 11 al 18. Para el evento se espera la llegada de 5,000 competidores procedentes de todo el mundo y de casi 20,000 visitantes, incluyendo muchos atletas olímpicos. Visiten su sitio web para obtener mayor información.
Cozumel's Own Completes in the Olympics – Demita Vega De Lille, from Cozumel, has arrived in Rio de Janeiro to compete in the 2016 Summer Olympic Games!  Follow her on Facebook to cheer her onto the Gold!!
Deportista oriunda de Cozumel compite en la Olimpiada  – Demita Vega De Lille, nacida en Cozumel, ha llegado a Río de Janeiro para competir en los juegos olímpicos de verano 2016. Síganla en facebook para animarla a obtener la medalla de oro.
Seafood Sundays at the Hotel Coral Princess – By Chef Toni Parente.  Enjoy A traditional Sunday Full of Seafood.  Order what you like, Paella, Cerviches, Carpaccios, homemade pasta, fried fish, oysters and clams, best of all 10% discount for locals.  For more information, check out their Facebook page.
Los días domingo son de mariscos en el Hotel Coral Princess, por el Chef Toni Parente. Disfruten un domingo tradicional lleno de mariscos. Ordenen lo que quieran: paella, ceviches, carpaccios, pasta hecha en casa, pescado frito, ostiones y almejas. Lo mejor de todo es el 10% de descuento a los habitantes locales. Visiten su página facebook para mayor información.
Latest posts by Laura Wilkinson
(see all)