"Vibrant Curiosity"  Yacht Calls into Cozumel
Information on Last Week's Mega-Visitor…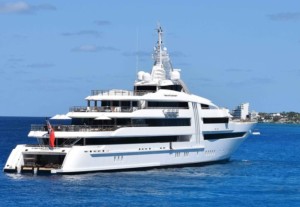 The 85 meter luxury yacht "Vibrant Curiosity" recently called into Cozumel harbor.  The modern design of the craft allows natural light to pass into the interior due to a unique window placement in the bow and stern.   The "Vibrant Curiosity"  can accommodate up to 18 guests in an owner's suite and 6 additional guest rooms.  There is also space for 39 crew members.   It's rumored that the yacht cost close to $75 Million Euros.
Owned by Reinhold Würth, known as "The Lord of the Screws,"  the German business mogul is reported to employ over 65,000 people.  According to reports from the Port Authority, this is the first time this particular vessel has called into the island.
Interested in learning more about this yacht? Check out this link.
El mega yate "Vibrant Curiosity" arribó al puerto de Cozumel
Información acerca del mega visitante de la semana pasada. . .
En fechas recientes llegó al puerto de Cozumel el yate de lujo de 85 metros de eslora "Vibrant Curiosity". El moderno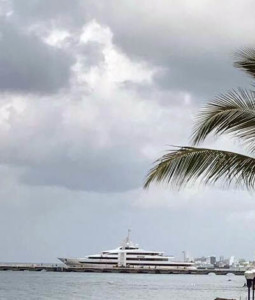 diseño de la embarcación permite que la luz natural cruce hacia el interior gracias a la particular ubicación de ventanas en la proa y en la popa. El "Vibrant Curiosity" puede alojar hasta 18 clientes en una suite del propietario y cuenta con 6 camarotes adicionales. También tiene espacio para 39 tripulantes. Se rumora que el yate tiene un costo de alrededor de $ 75 millones de euros.
El yate es propiedad de Reinhold Würth, conocido como el "Señor de los Tornillos". El magnate alemán emplea a 65,000 personas. De acuerdo a reportes emitidos por la Autoridad Portuaria, esta fue la primera ocasión que el particular yate arribó a la Isla.
Si le interesa saber más acerca de este yate, eche un vistazo a este enlace.
Latest posts by Laura Wilkinson
(see all)