Lionfish Cozumel
New Lionfish Studies Commissioned for Cozumel
First time in 4 Years…
For the first time in 4 years, new studies will be conducted on Cozumel's invasive reef predator. Slated for September and October, the new studies will encompass the density of the species, the population, lionfish predators and their prey.  Since Cozumel has become an important reference for the combat and control of these species, it's hoped that these studies will provide an important benchmark and reference for not only the island but other locations inhabited by these fish.
According to the 2013 study, there are, on an average, of 30 lionfish in a hectare. After this study was conducted, there was great effort to diminish and control the population.  There were lionfish hunting contests, contests for local restaurants to create the best lionfish dish, and even the world's largest lionfish cerviche was created.
Environmentalists are hoping that these efforts, as well as the increase in demand for lionfish fillets have caused a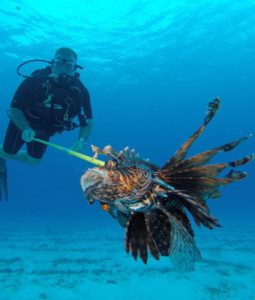 significant decrease in the island's lionfish population.
Se han encargado nuevos estudios para Cozumel respecto al pez león
Por primera ocasión en 4 años. . .
Por primera ocasión en 4 años se realizaran estudios del depredador invasor de los arrecifes de Cozumel.  Estos estudios programados para Septiembre y Octubre abarcarán la densidad de las especies, la población, los depredadores peces león y sus presas. Ya que Cozumel se convirtió en modelo para el combate y control de esta especie, se espera que los estudios arrojen parámetros y referencias importantes no solo para la Isla sino también para otros sitios donde habitan estos peces.
De acuerdo con un estudio realizado en el 2013, existen en promedio 30 peces león por hectárea. Posterior a la realización de dicho estudio, se han llevado a cabo grandes esfuerzos para disminuir y controlar la población de éstos. Se efectuaron concursos de caza de pez león, concursos para que los restaurantes locales prepararan el mejor platillo de pez león, e incluso se creó el ceviche más grande de pez león.
Los ambientalistas esperan que dichos esfuerzos así como el aumento en la demanda de filetes de pez león hayan tenido buenos resultados en la disminución de la población de pez león en la Isla.
Laura Wilkinson is the Editor for Cozumel 4 You. An ex-Connecticut Yankee who has called Cozumel home for over 15 years, Laura ran away to the Caribbean years ago, bumped around the islands teaching SCUBA diving, lost some time in Jamaica, and finally stopped in Cozumel for a 2 week vacation that hasn't ended yet. With a degree in Journalism from a fancy private college she convinced her parents to pay for, Laura writes, edits, and creates the weekly Cozumel 4 You news, promotional articles about the island, and her very own blog, which she finds hilarious. Her long suffering husband, the Fabster, has long since resigned himself to having zero private life, as he's been involved in her various schemes and plots since his arrival. Proud parents to a variety of rescue dogs and cats, Laura continues to be the bane of her traditional Mexican mother-in-law's existence, as she muses her way through life in the Mexican Caribbean.
Latest posts by Laura Wilkinson (see all)