Cozumel Cedral Festival 2016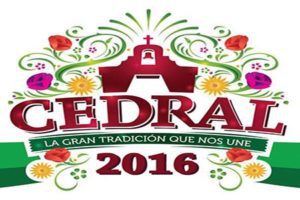 Cozumel Island Ready to Celebrate "Las Ferias de Cedral y Santa Cruz de Sabán"
The town of Cedral, and the Cozumel authorities have been prepping for the   "Feria de El Cedral 2016,"   which will take place from April 29 – May 3, for what promises to be one of the island's largest celebrations.  Over 65 municipal employees have been repairing street lights, painting curbs and providing the special maintenance that comes with hosting what is arguably Cozumel's most historic event.
In fact, 40 additional trash receptacles have been installed in public areas to accommodate the extra refuse and with PASA, the island's refuse contractor, maintaining a truck at Cedral for daily collection.  Also on site will be a CFE team from 6 pm – 3 am so that the concerts and shows will not be affected in the case of an electrical issue.  Two 5,000 liter water tanks have also been delivered, and CAMAR, the recycling contractor will also have an infrastructure set so that recyclable materials can also be collected.  There will also be public buses at a reduced rate running from San Miguel Cozumel to Cedral.
During the 5-day event there will be shows, concerts, traditional horse racing, cycling, wrestling, bullfighting , dances, as well as a presentation of  a Yucatecan trova , workshops for children , a fair with rides and other family friendly activities.  The musical headliners for the event include Los Súper Lamas" scheduled for the 1st of May, and  "Banda Calibre 50" for May 2nd.   For more information, check out the Facebook page.
The Ferias de Cedral and Santa Cruz de Sabán date all the way back to 1848,  and since then, people from the all over the Yucatán come to El Cedral every year to join the festivities. The festivities end with the traditional dance,  "La Cabeza de Cochino"   Cozumel municipal officials have applied to UNESCO (United Natons Educational, Scientific and Cultural Organization) to secure the Feria de El Cedral and the Feria de Santa Cruz de Saban as cultural and historical event.
For more great Cozumel Information
This story originally appeared in the weekly Cozumel 4 You NEWS – the island's number one source of positive information about our island!  Be sure and subscribe to the weekly NEWS to find out all the island events!
Latest posts by Laura Wilkinson
(see all)