Cozumel 2016 Turtle Season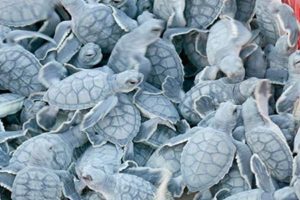 Cozumel 2016 Turtle Season Officially Underway
Biologist Rafael Chacon who oversees the Cozumel Municipal Department of Ecology recently reported on social media that the first turtle nest of the 2016 season has been identified, meaning Cozumel's 2016 turtle nesting season has begun!
Cozumel officials have also installed new rustic style signage featuring a white turtle icon.  These have been placed on beaches where turtles have been known to nest and will serve to alert beachgoers to keep an eye out for nests.  Additionally they've also increased signage with realistic sculptures of the two different types of turtles that nest here on the island.
According to a recent statement issued by EcoSur, an estimated 20,000 sea turtle nests are expected to be marked in the State of Quintana Roo in the coming weeks, and due in part to ecological efforts, such as marking and tracking, 80% of the eggs in the nest are expected to hatch.
The Cozumel Department of Ecology is expected to start their turtle efforts May 15th.
Latest posts by Laura Wilkinson
(see all)