Cozumel 2022 Carnaval Parade
Parade Nights:  2022 Cozumel Carnaval Slated for This Weekend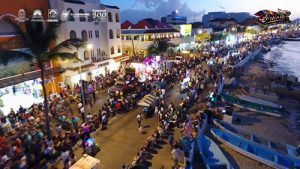 Cozumel's long awaited Carnaval parades are scheduled to take place this weekend – Saturday May 21, Sunday May 22 and Tuesday the 24, starting at 6:30 pm.
This is the first time in 2 years the island has celebrated Carnaval, in fact, the events were pushed back from their traditional dates, to coincide just prior to the Catholic event of Lent, to their current May dates in order to provide more safety and sanitary protocols to both participants and spectators related to the COVID-19 Pandemic.
The route starts at the Municipal Palace runs down Cozumel's waterfront, where it turns at the statuary at Airport road and returns back down the Malecon to the Municipal Palace.
Cozumel's Civil Protection  will be inspecting each float to ensure their safety compliance before entering the parade.
Noches de los paseos: el Carnaval Cozumel 2022 está programado para este fin de semana
Los esperados desfiles del Carnaval de Cozumel están programados para este fin de semana: sábado 21, domingo 22 y martes 24 de mayo, a partir de las 18:30 horas.
Después de 2 años, la Isla de Cozumel celebra el Carnaval. De hecho, las fechas tradicionales de los eventos se retrasaron para coincidir justo antes del evento católico de la Cuaresma para realizarse en mayo con el objeto de dar más seguridad y dar cumplimiento a los protocolos de salud relacionados con la pandemia COVID-19 tanto para los participantes como para los espectadores.
La ruta comienza en el Palacio Municipal y recorre el malecón de Cozumel, donde da la vuelta en donde se ubican las estatuas de la vía hacia el aeropuerto y vuelve a bajar por el malecón hasta el Palacio Municipal.
Protección Civil de Cozumel estará inspeccionando cada carro participante para cerciorar el cumplimiento de seguridad antes de entrar al desfile.
Latest posts by Laura Wilkinson
(see all)