Cozumel Bike Path
Plans to Repair Eastern Bike Path Underway
In time for Cozumel's Triathlon season …
A representative of SINTRA (Secretariat of Infrastructure & Transport) announced in a recent press conference that plans are underway for the repair and restoration of the bicycle lane on the Eastern, or Windward, side of Cozumel island.
Although the bike lane is located on Federal land, to complete the repairs, the Municipal government – specifically the Office of Urban Development, and the City Council- will need to support the SINTRA project by agreeing to issue environmentally approved permits.
Expectations are high that this project will be completed before September, when the Half Ironman 70.3 occurs on September 24th.
Ya están en marcha los planes para reparar la ciclopista del oriente
Justo a tiempo para la temporada de triatlón de Cozumel. . .
En una conferencia de prensa reciente, un representante de SINTRA (Secretaría de Infraestructura y Transporte) informó que ya se tienen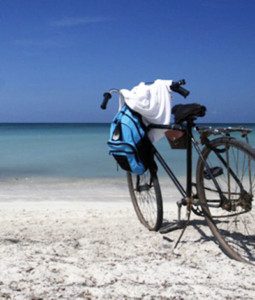 planes para reparar y restaurar la ciclopista del lado oriental o de barlovento de la Isla de Cozumel.
A pesar de que la ciclopista se encuentra en tierras federales, para concluir las reparaciones el gobierno municipal, específicamente la oficina de Desarrollo Urbano y el Ayuntamiento, necesitarán apoyar el proyecto de SINTRA dando su consentimiento a la emisión de permisos aprobados ecológicamente.
Las expectativas son altas en cuanto a que el proyecto se concluirá antes de Septiembre, cuando se realice el medio Ironman 70.3 el día 24.
Latest posts by Laura Wilkinson
(see all)