Cozumel Flights
Cozumel Gains 2 New National  Flights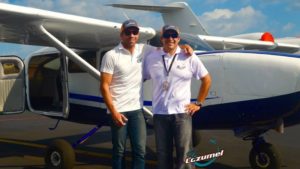 Magnicharters & Volaris Will Now Service Cozumel….
Representatives from the Municipal Tourism Department recently announced that 2 national carriers will shortly begin providing direct flights to Cozumel:  Magnicharters and Volaris
Starting in June, Volaris will implement their Guadalajara/Cozumel flight and in July Magnicharters will start their planned Monterrey/Cozumel runs.
Encouraged by high numbers from Easter week; the busiest week of the year for national travel, as well as upcoming events such as Scubafest 2017, the Hotel Presidente Golf Tournament, and the entire Triathalon season, have generated interest for the island.
The additional service will also allow island residents to easily visit other areas of Mexico, by air, and avoid lengthy travel times.
 Cozumel obtiene 2 nuevos vuelos nacionales
Magnicharters y Volaris ahora darán servicio a Cozumel . . .
Representantes de la Dirección de Turismo municipal en fechas recientes anunciaron que en breve 2 empresas aéreas harán vuelos directos a Cozumel: Magnicharters y Volaris.
A partir de Junio, Volaris implementará el vuelo Guadalajara/Cozumel y en Julio, Magnicharters comenzará sus vuelos Monterrey/Cozumel.
Las altas cifras de Semana Santa, la más activa en cuanto a viajes nacionales, así como por los próximos eventos como lo son Scubafest 2017, el torneo de golf del hotel Presidente y la temporada completa de Triatlón, son una motivación que  ha generado gran interés en la Isla.
El servicio adicional permitirá a los habitantes de la Isla visitar otras áreas de México, vía aérea, y así evitar viajar durante largas horas.
Latest posts by Laura Wilkinson
(see all)