Cozumel Booksigning
"If Fish Could Talk"  Author Booksigning
Children's author Barbara Petersen at New Especias April 26…..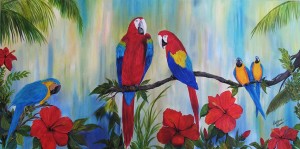 Part-time Cozumel resident and children's book author Barbara Petersen will host a book signing for "If Fish Could Talk" at the New Especias Restaurant on Thursday April 26th from 6:30 – 8:30 pm. Additionally she will also have a collection of her artwork and jewelry for sale.
She wrote If Fish Could Talk for her six grandchildren, whose names appear in the book, as well as the names of friends and fellow divers.
About "If Fish Could Talk" 
Imagine if fish could talk! This book gives children of all ages the chance to explore the undersea world while learning about the creatures living in the ocean. The photos make this fun yet educational book come alive and children will love the lively, rhyming verses. It's never too early or too late to teach children the importance of appreciating and caring for our oceans.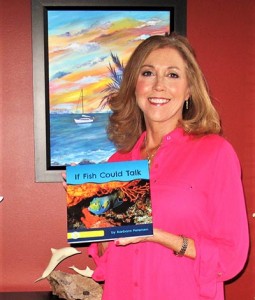 About Barbara Petersen
Barbara has been an avid scuba diver and underwater photographer for over twenty-five years and has explored much of the Caribbean both underwater and on land. She has dived in Cozumel, Bonaire, Belize, Roatan, Grand Turk, Grand Cayman, Cayman Brac, Little Cayman, St. John, and Florida and swam with whale sharks off Holbox Island.
She is an artist and many of her paintings have an underwater or tropical theme. To see a collection of her work please visit her website at barbara-petersen.com or her Facebook page at Facebook.com/bapcreations.   You may contact Barbara at bpetersenart@gmail.com,
Firma de libros de la autora de If Fish Could Talk
La escritora de libros para niños, Barbara Petersen, estará en el restaurante New Especias el 26 de abril. . .
El jueves 26 de abril de las 6:30 a las 8:30 pm en el restaurante New Especias, Barbara Petersen, quien vive parcialmente en Cozumel y escribe libros para niños, tendrá un evento de firma de su libro If Fish Could Talk ("Si los peces pudieran hablar"). Además tendrá creaciones artísticas y joyería a la venta.
Ella escribió If Fish Could Talk para sus seis nietos cuyos nombres aparecen en el libro al igual que los nombres de amigos y compañeros de buceo.
Acerca de  If Fish Could Talk .
¡Imaginen qué sucedería si los peces pudieran hablar" Este libro ofrece a niños de todas edades la oportunidad de explorar el mundo submarino aprendiendo, a la vez, sobre las criaturas que viven en el océano. Las fotografías hacen que este libro divertido y educativo, cobre vida y a los niños les encantarán las alegres rimas. Nunca es muy pronto ni muy tarde enseñar a los niños la importancia de valorar y cuidar nuestros océanos.
Acerca de Barbara Petersen
Por más de veinte años Barbara ha sido una ávida buzo y fotógrafa submarina, y ha explorado gran parte del Caribe, tanto la parte subacuática como tierra firme. Ha buceado en Cozumel, Bonaire, Belice, Roatán, la Isla Gran Turca, Gran Caimán, Caimán Brac, Pequeña Caimán, St. John y Florida,  y ha nadado con los tiburones ballena en Holbox.
Es una artista y muchas de sus pinturas exponen el tema submarino o tropical. Para ver una colección de sus obras, por favor visiten su página web en barbara-petersen.com o su página en Facebook en Facebook./bapcreations. Pueden ponerse en contacto con ella a través de bpetersen@gmail.com
Latest posts by Laura Wilkinson
(see all)