Cozumel Birds
New Species of Bird Nest Detected in Cozumel
Red-Throated Becard Nest Discovered …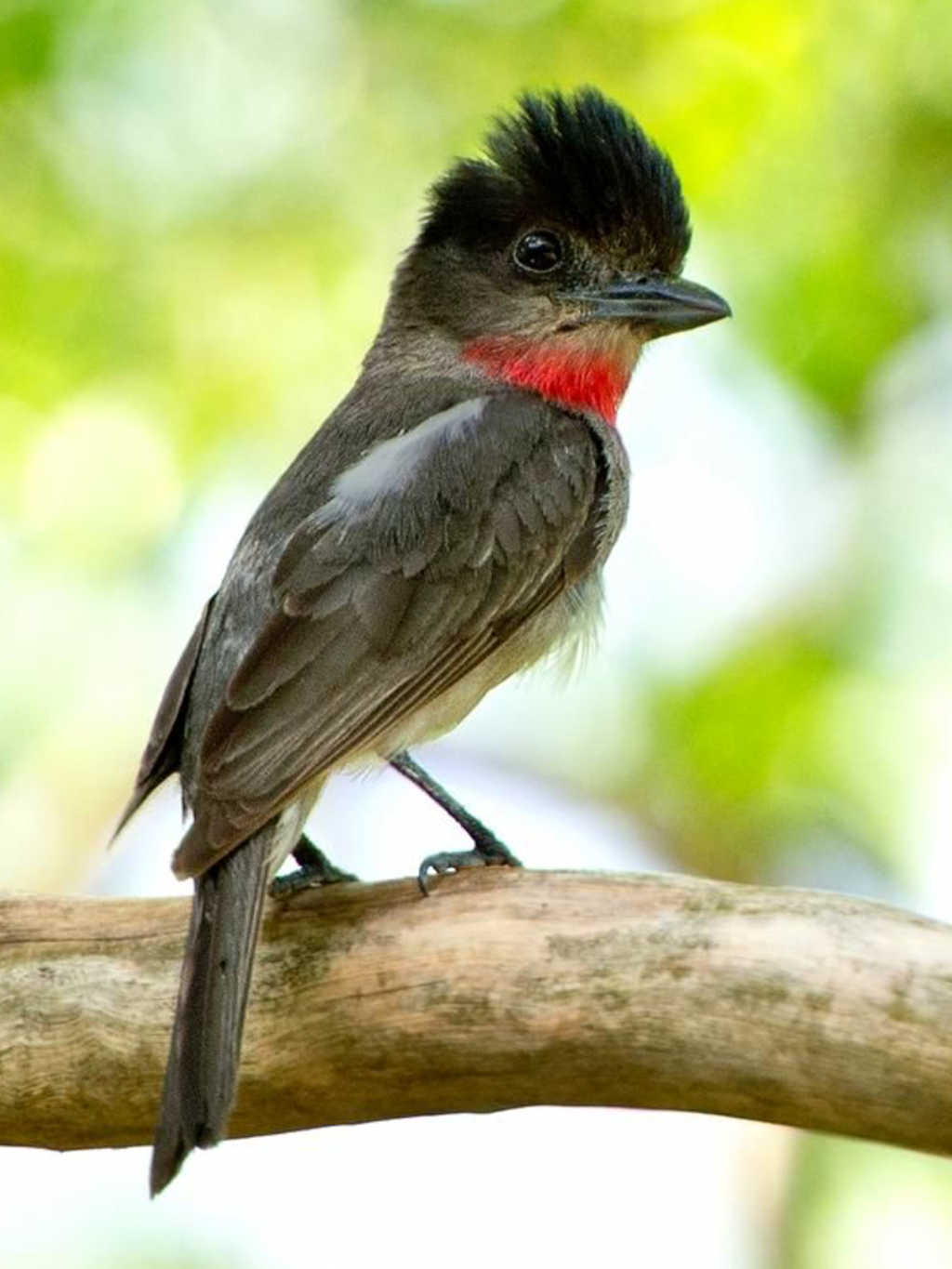 Island Biologist, and Director of the Center for Conservation and Environmental Education (CCEA),  Rafal Chacon recently announced that a nest of a Rose-Throated Becard, or Pachyramphus aglaiae, ( Monica- in spanish it's called a as "Cabezón degollado") was recently discovered in the Palancar area of Cozumel.
What makes this Rose-Throated Becard nest significant is that while this bird has been sighted occasionally here in Cozumel, it has never been recorded as nesting here in the island, although it apparently does migrate through Mexico.
"Rose-throated Becards are notable for their bulky, messy, domed nests that are globular or pyriform with an entrance near the bottom. The nests are suspended from the drooping ends of branchlets, often high above the ground. Clutch size varies from three to six eggs. Females alone incubate, but both sexes build nests and feed young. This becard is sexually dimorphic and socially monogamous. The male has a hidden white shoulder patch that it can erect during courtship. He also has a truncated ninth primary as an adult that is functionally mysterious. The species exhibits geographic plumage variation and currently eight subspecies are recognized, two of which reach the United States. Populations of Rose-throated Becard in northern Sonora and the Arizona borderland are migratory, while birds in Texas often occur during winter and the migratory status of that Gulf coastal subspecies is uncertain."  Source:  Neotropical.birds.cornell.edu
The Center for Conservation and Environmental Education (CCEA), which falls under the Direction of the Foundation of Parks and Museums here in Cozumel, offers environmental awareness education to the island's youth.  Most notably they will be hosting a Sea Turtle Festival, which includes workshops, an art contest and more!  Their offices are located on Av. 65 in the industrial zone.  For more information on this very worthy organization, check out their CCEA Facebook page.
Se detecta en Cozumel una nueva especie de ave
Se descubre un nido de cabezón degollado. . .
En fechas recientes Rafael Chacón, biólogo de la Isla y director del Centro para la Conservación y Educación del Ambiente (CCEA), informó que hace poco en la zona de Palancar en Cozumel, se descubrió un nido de cabezón degollado o Pachyramphus aglaiae.
Lo que hace que este nido de cabezón degollado sea importante es que en tanto que ha habido avistamientos ocasionales de esta ave en Cozumel, nunca se había registrado la anidación en la Isla, a pesar que aparentemente migra a través de México.
"Los cabezones degollados sobresalen por sus nidos en forma globular o piriforme, voluminosos, desordenados y en forma de cúpula cuya entrada se encuentra cerca de la parte inferior. Los nidos se encuentran suspe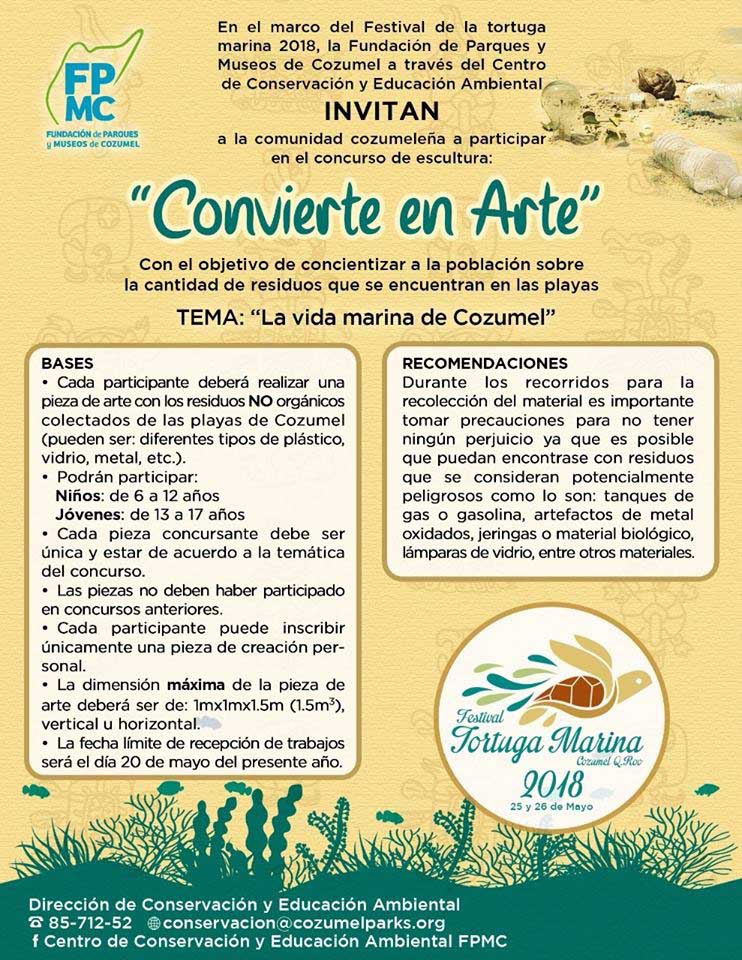 ndidos de las puntas colgantes de ramas pequeñas; con frecuencia muy por encima del suelo. La cantidad de huevos en el nido varía de tres a seis. Las hembras incuban solas, sin embargo ambos  alimentan a los jóvenes. El cabezón presenta dimorfismo sexual y es monógamo. El macho presenta un parche color blanco oculto en el hombro que puede  erguirse durante el cortejo. Además, cuando el macho es adulto tiene truncada la novena pluma primaria, cuya función es un misterio. La especie presenta variaciones en el plumaje según la geografía, y en la actualidad se han reconocido ocho subespecies de las cuales dos llegan a los Estados Unidos. El cabezón degollado en la zona norte de Sonora y la línea fronteriza de Arizona es migratorio; en tanto que las aves en el estado de Texas aparecen durante el invierno y es incierta la situación migratoria de las subespecies de la costa del Golfo": Fuente: Neotropical.birds.cornell.edu
El Centro para la Conservación y Educación del Ambiente (CCEA), que se encuentra bajo la Dirección de la Fundación de Parques y Museos en Cozumel, ofrece a la juventud de la Isla educación de sensibilización hacia el medio ambiente.  Lo más sobresaliente es que serán anfitriones del Festival de la Tortuga Marina que incluye talleres, un concurso de arte, ¡y más! Sus oficinas se ubican en la Avenida 65, en la Zona Industrial. Para obtener mayor información sobre esta valiosa organización, echen un vistazo a la página CCEA en Facebook.
Latest posts by Laura Wilkinson
(see all)