Cozumel Conch
Island Fishermen Seek a Re-evaluation of the Conch Ban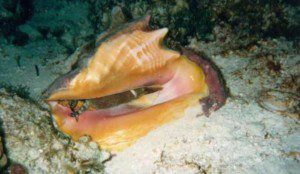 Area fishing cooperatives are asking for a re-evaluation of the ban on conch harvest.  According to some sources, Pink Conch (Lobatus Gigas)  continues to be harvested on the island by as many boats without permits.  As a result, new studies are being called for a request a current assessment of the pink conch population in Cozumel.   Four cooperatives in the state of Quintana Roo are requesting a feasibility study as to whether conch can be harvested in a sustainable manner, and thusly be regulated, reports of poaching continue.
Due to it's culinary popularity, overfishing and sand extraction, the species was in serious danger of extinction.  On January 30th 2009 the Secretariat of Agriculture, Livestock, Rural Development, Fisheries and Food (Sagarpa) imposed a ban on the harvesting of Queen Conch, or Pink Conch, as it is also known until 2017.
While several island restaurants continue to serve conch, it's important to note, that Belizean conch is imported into Quintana Roo, which means that as long as the conch came from Belize – the embargo isn't broken.  If you're insistent on eating conch, please check and make sure that it was, in fact, purchased from Belize, and not poached from the area, at least until the situation has been properly evaluated.
If you happen to see poachers, or individuals removing other forms of protected species  contact the Marine Park authorities.
Los pescadores de la Isla solicitan se reevalúe la veda de caracol
¿Podría un programa sustentable concluir la veda al 2017 del caracol en Cozumel? . .
Las cooperativas pesqueras de la zona solicitan se reevalúe la veda para la captura de caracol. De acuerdo a algunas fuentes muchas embarcaciones de la Isla que carecen de permiso, continúan capturando caracol rosa (Lobatus Gigas). En consecuencia, se solicita la realización de nuevos estudios para evaluar a la población de caracol rosa en Cozumel. Cuatro cooperativas pesqueras en el estado de Quintana Roo han pedido que se realice el estudio de factibilidad en cuanto a la posibilidad de recolectar el caracol de manera sustentable y, por ende, se regule. Continúan los reportes de capturas furtivas.
Debido a su popularidad culinaria, la captura excesiva y la extracción de arena  la especie se vio en grave peligro de extinción. El 30 de enero de 2009 la Secretaría de Agricultura, Ganadería, Desarrollo Rural, Pesca y Alimentación (Sagarpa) impuso la veda hasta el 2017 del caracol reina o caracol rosa, como también se le conoce.
En tanto que diversos restaurantes de la Isla continúan sirviendo caracol es importante destacar que se importa caracol beliceño hacia, lo que significa que si el caracol proviene de Belice no se ha infringido la veda. Si usted insiste en comer caracol, por favor verifique y asegúrese que realmente fue adquirido en Belice y no fue pescado ilegalmente en la zona. Lo anterior por lo menos hasta que la situación haya sido debidamente evaluada.
Si llegara a toparse con pescadores furtivos o personas que retiran alguna otra especie protegida, póngase en contacto con las autoridades del parque marino.
Latest posts by Laura Wilkinson
(see all)