Lola: Cozumel's Unofficial Police Dog Gets Her Memorial
LOLA … Cozumel's Island Dog, Town Dog, Police Dog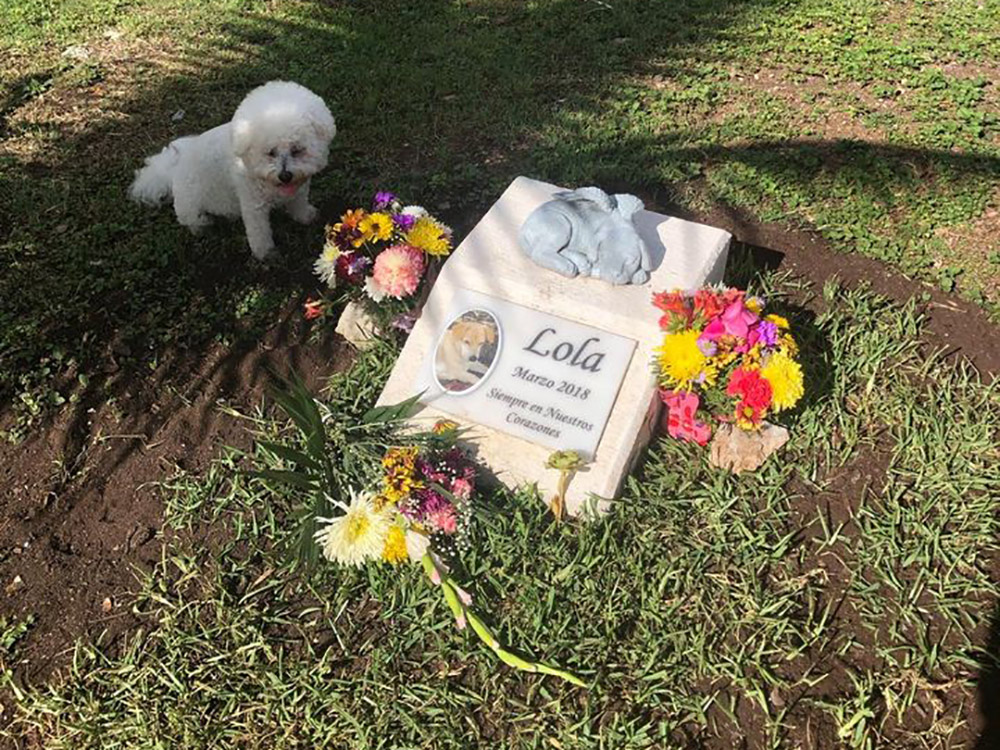 Brought to Benito Juarez Park in 2003 as a puppy by one of the policemen from the Police Park Surveillance team, Lola enjoyed her younger years as the official volunteer Police Dog! She took her job seriously and helped apprehend many a "bad guy"!!
Years later when the Police Team left, Lola stayed in the park which was her home by then. It took over a year for her to accept me and my pup Katie as her good friends. We would visit her several times a week always taking bits of chicken or beef as treats as we did our walks around the park. Several shopkeepers in the town square fed her, gave her water and let her sleep in their stores when she wanted. As she aged, we gave her medicine for arthritis and my Katie became her seeing eye dog as we continued our walks around the park.
Lola passed away March 2018. She touched the hearts of many of us and our lives were brightened by her being in it. She is a shining example of what makes Cozumel so special to many of us. She lived her life to the fullest doing what she wanted to do when she wanted to do it.  – Gen Hartman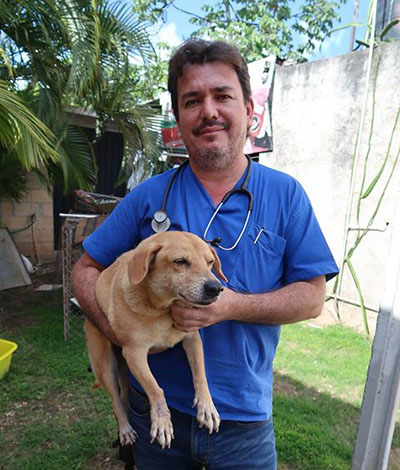 Although Lola passed in 2018, she's not forgotten. Through the dedication of Gen, area merchants, citizens and the Cozumel municipality, Lola received her formal commemorative monument in June 2021. Prior to that, she had an unofficial stone, which was destroyed during 2020's twin hurricanes.
Lola had a very long life and an even bigger personality. She was a downtown icon, the recipient of more than a complete wardrobe, a lover of a good hot dog, and especially in her later years, could be quite choosy as to who she denied to pay attention. Over the years, hundreds of people took their photo with Lola to show their love of such a unique personality.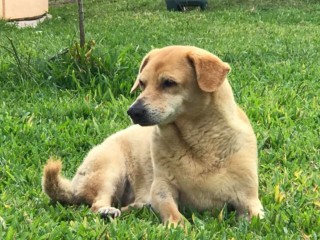 If you're passing through Benito Juarez park, take a moment and remember the island's police dog. For more information on Lola, and her fabulous island life, check out her previous stories here in the Cozumel 4 You archives.
Homenaje a Lola, la perra policía no oficial de Cozumel
LOLA . . . La perra de la Isla de Cozumel, la perra del pueblo, la perra policía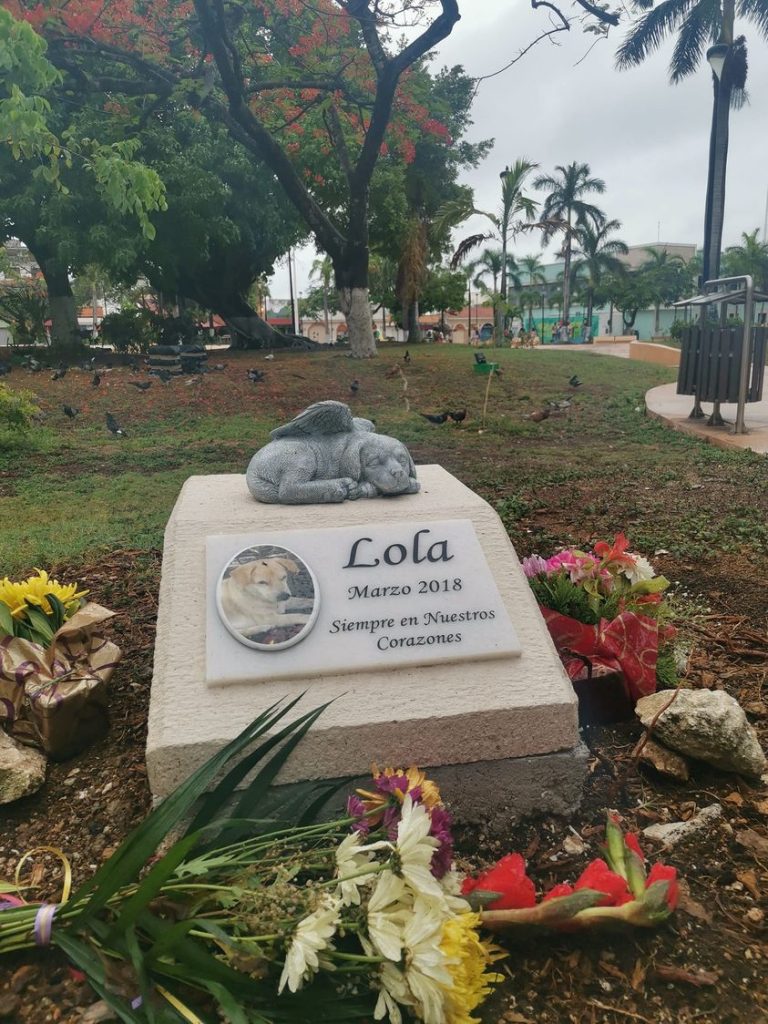 Uno de los policías del equipo de vigilancia del parque trajo a Lola al parque Benito Juárez en el 2003 cuando aún era una cachorrita. Lola disfrutó de su juventud como una perra policía y voluntaria. ¡Se tomó su trabajo muy en serio y ayudó a detener a muchos "malos"!
Años más tarde, cuando el equipo de vigilancia del parque se marchó, Lola se quedó en el parque, que ya para entonces era su hogar. Tomó más de un año que nos aceptara como buenos amigos a mi y a mi cachorra Katie. Cuando paseábamos por el parque, varias a la semana la visitábamos y siempre le llevábamos trozos de pollo o carne como premios. Varios de los comerciantes de la plaza la alimentaban, le daban agua y la dejaban dormir en sus tiendas cuando ella quería. Conforme envejecía, le dimos medicamentos para la artritis y mi Katie se convirtió en su perro lazarillo mientras paseábamos en el parque.
Lola falleció en marzo del 2018. Tocó los corazones de muchos de nosotros y nuestras vidas se iluminaron con su presencia. Ella es un brillante ejemplo de lo que hace que Cozumel sea tan especial para nosotros. Vivió su vida al máximo, haciendo lo que quería, cuando ella quería hacerlo. – Gen Hartman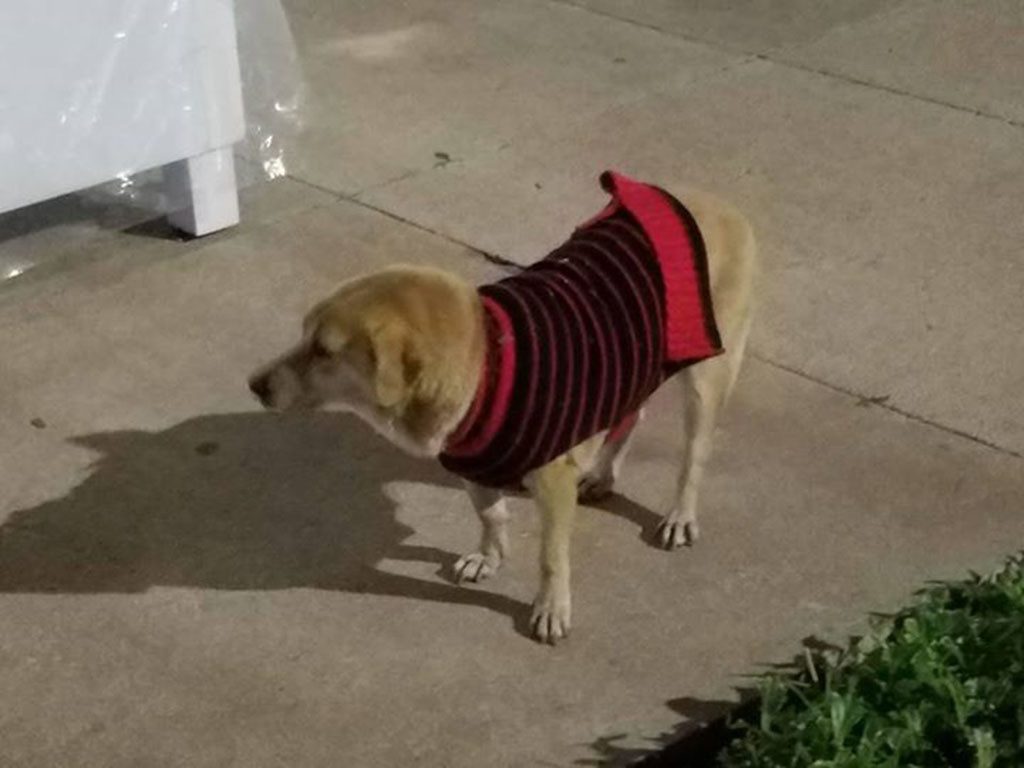 Aunque Lola falleció en el 2018, no se le olvida. Gracias a la dedicación de Gen, los comerciantes de la zona, los ciudadanos y el municipio de Cozumel, en junio de 2021 se erigió un monumento oficial conmemorando a Lola. Antes de eso, se había colocado una piedra de manera que no era oficial y fue destruida durante los huracanes gemelos del 2020.
Lola gozó de una vida muy larga y fue una personalidad aun mayor. Era un emblema del centro de la ciudad, destinataria de más de un guardarropa completo, amante de un buen perro caliente y, particularmente en sus últimos años, podía ser bastante exigente en cuanto a quien se negaba a prestarle atención. A lo largo de los años, cientos de personas se fotografiaron con Lola para demostrar su cariño a una personalidad tan singular.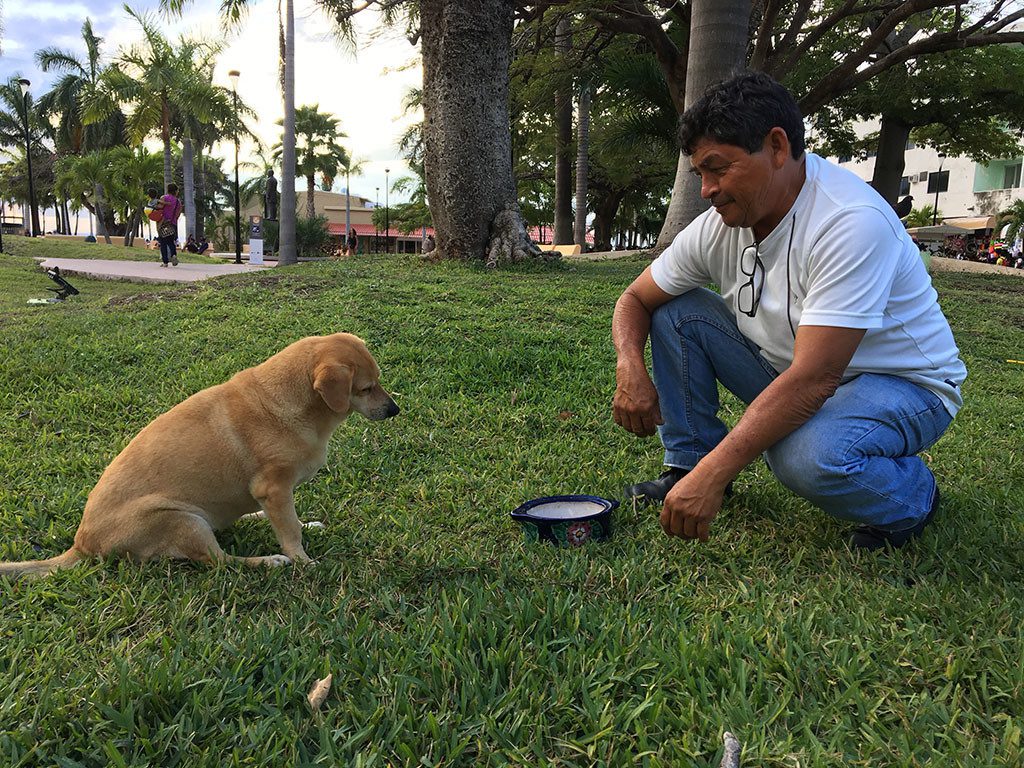 Si pasa por el parque Benito Juárez, tómese unos minutos y recuerde a la perra policía de la Isla. Para más información acerca de Lola y su fabulosa vida en la Isla, echen un vistazo a sus historias anteriores en los archivos de Cozumel 4 You.
Latest posts by Laura Wilkinson
(see all)