Cozumel Island Resident Celebrates 105 Years
by Prof. Veudi Vivas Valdez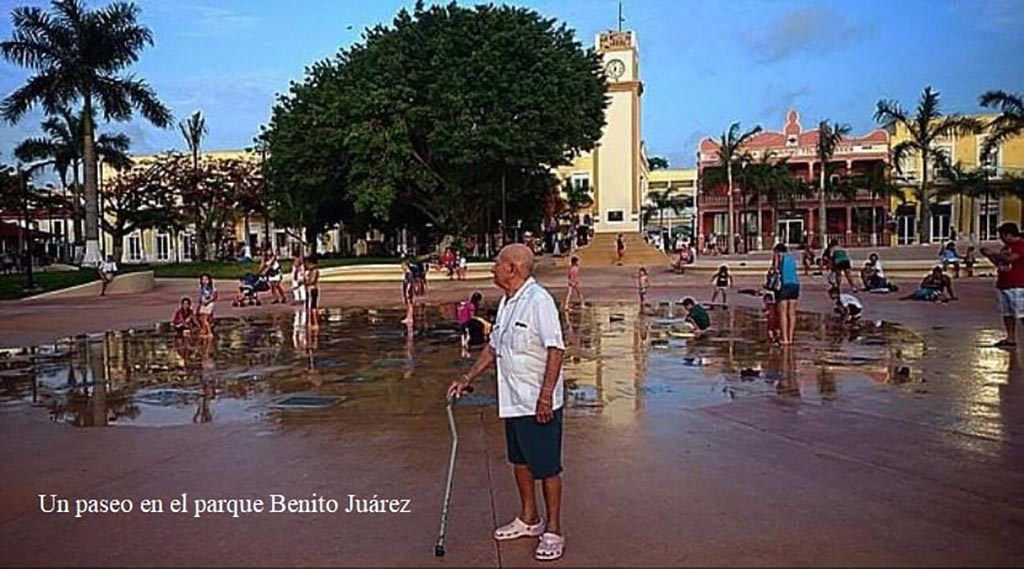 Last year I presented – with certain delay, by the way – this work that I had already read on the radio and today I consider there is reason enough to publish it with some additions due to the 105th anniversary of the birth of a great cozumelenian, whose heigh was short but with irreplaceable traits, not only for is longevity, but also for his kind character; always smiling. A person who has known how to enjoy life in a healthy way, cultivating friendships with at least three generations of cozumelenians; a hood boss, a good neighbor. And, it goes without saying, his family environment, a good son, a good brother, a goo husband, a hood father, a good grandfather and hood great grandfather. With a highest sense of responsibility and high level of moral, civic and patriotic education.
A quote from Bill Gates:" In life you have to choose between earning money or spending it, there is no time for both."
But Miguelito had time to earn it and also spend it.
Don Miguel Marrufo Orozco
Miguel Marrufo Orozco, (Totoshito, a nickname oven to him by his grandmother because of his height), was born in San Miguel de Cozumel on July 5, 1916. He was the fifth among 14 siblings, of which only him and his younger sister – Guadalupe who was born in 1931 and wife of Tránsito Villanueva Martin, whom everyone knew as Chapus-, are still alive. The list of siblings and their year of birth are: Elvira 1910, María Germana 1912, Manuel J. 1914, Elvira 1915, Miguel 1916, Eligo 1918, Francisco 1919, Teresa 1920, Fernando 1921, Dolores 1923, Francisco 1924, María del Socorro 1926, Leonor 1930 and Guadalupe Marrufo Orozco 1931. Possibly the names Elvira and Francisco were repeated due to the death of the former ones.
The Marrufo Orozco were children of Eligio Marrufo Hernández, born in Mérida, and Dolores Orozco Delgado born in Belize, H.B., grandchildren of Francisco Marrufo Campos and Juana Hernández , and Fernando Orozco and Teresa Delgado; great grandchildren of Francisco Marrufo Moreno and Rita Campos Trejo and great-great-grandchildren of Juan Marrufo from Motul and Luisa Trejo from Labcah, (Solferino).
n Miguel was married to a Noemí Castro. their children were, Miguel (deceased), married Noemí Piña from Merida and Elsy Noemí (deceased) married Edgardo Villanueva Polanco (deceased), both children already deceased as well as a Noemí. So, Miguel, almost 105 years old, lives today with his granddaughter Irasema Guadalupe, her husband David and his great grandchildren. His other grandchildren are Miguel Edgardo, Manuel Jesús and José Antonio Villanueva Marrufo, who live in other addresses and of whom he makes a total of 8 great-grandchildren. Three grandchildren of his son Miguel live in Merida. Children of his grandchildren are Miguel Angel and Maribel Marrufo Piña and of whom he has 3 great grandchildren: Miguel and Alvar Marrufo Torres and Daniela Marrufo Piña.
His daughter Elsy Noemí has five great-grandchildren: Sara Patricia Villanueva Leal, Miguel Dair, Noemí and Elsy María Pinto Villanueva and Zahía Villanueva Sandoval.
Miguel's education was up to 6th year in the "Benito Juárez" school and at 13 started working pro bono for the local with the Deputy of the Government of that time (1929), Gabriel Cortines, who upon seeing Miguel's performance promoted him to gardener and put him in charge of the public clock, with a monthly salary of $100.00 pesos. Back then through the Royal School, a typing academy which came to Cozumel, he earned obtained a diploma as a typist, which would open doors for him in the future.
In the thirties he worked as a policeman and even took detainees all the way to Mérida (back then we were once again part of Yucatán.)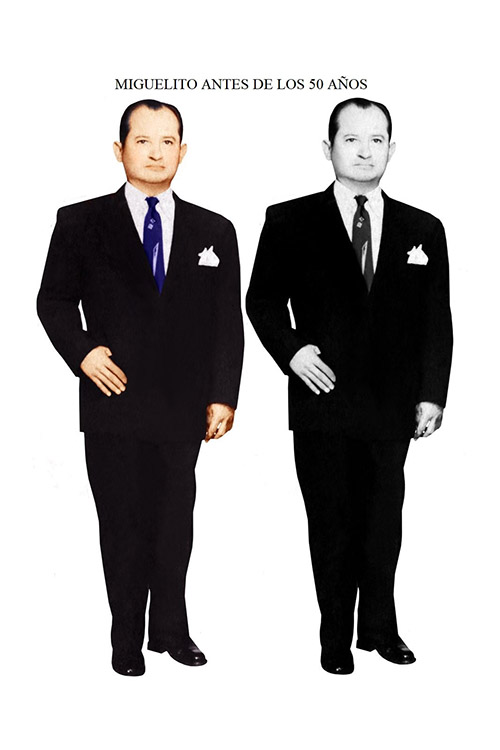 In 1940, he began working at the branch office, the post office, which was then on Rafael E. Melgar streett, almost at the corner with 2nd. street north. The Administrator of the local office in those days was Tranquilino Cervantes Sosa, from Tekax, and he learned how to hanle the mail. Back then, there were over with more than 2000 workers from other places building the airport. Their presence considerably increased the work at the post office and staff was needed. Thanks to this, in 1942 he was hired in as a post office assistant, until he became Administrator and retired 36 years later, at 62 years of age.
He was a founding member of the now extinct Club Leones and a member of the Obreros del Porvenir Masonic lodge, where he is currently a free member of the order. He also served as an advisor to Fundación de Parques y Museos until 2005. By the way, him along with his brother Manuel, were owners of Rancho Chankanaab which included the lagoon and almost all the land currently occupied by the National Park of the same name.
As an exemplary citizen, Miguel received diplomas and awards for his work taking care of the public clock. A work that lasted decades, even without pay. He was also a regular at town ceremonies where his presence, neatly dressed and hat in hand was an irreplaceable part of the decor, always with a smile of joy and love for life and his fellow men.
To talk with him is to open a chest of memories; is to know the Cozumel of yesteryear. Is to travel back in time and live exciting episodes of an island with a population 1500 people, with streets of sand or grass; it is to hear again the hoarse call of the jotuto (conch) inviting people to buy mullets or fresh snails.
A small town with electric power only from 6 pm to 10 pm. With trips on wooden boats to Progreso, Chicxulub or Telchac, to reach Merida in two days after and exhausting journey; remembering dances and parties featuring orchestras from Mérida, dancing on the dock when the musicians arrived and farewell dance also as fundraiser for the orchestra before it returned to Merida.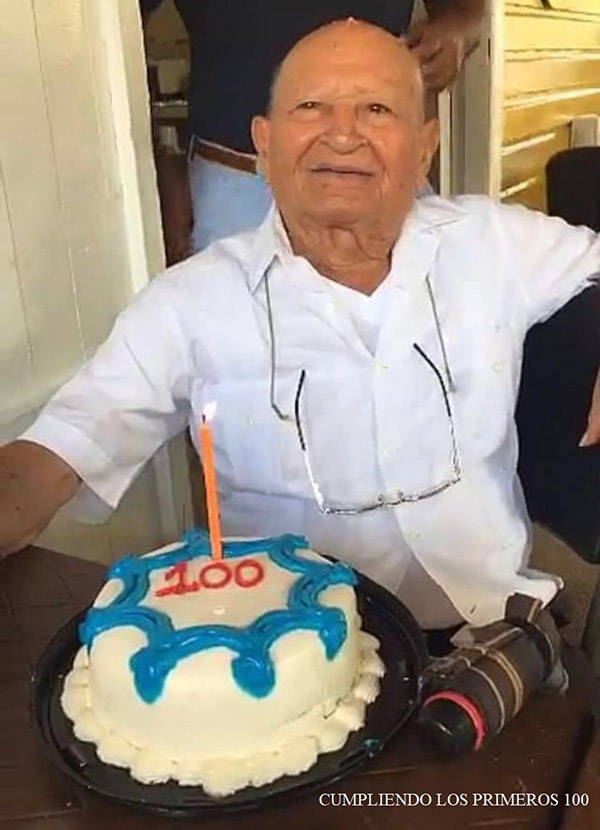 Oh, black tie dances! Songs dedicated to lovers, with a buffet for a nicer get-together, with tacos and panuchos served at the entrance. In short, those were unforgettable days.
Finally, my best wishes to his family and my best wishes so you may have Miguelito Totosh for many more years to come. Many thanks to his grandchildren Irasema and Manuel for their support in preparing this work.
Be proud of being the descendants of such a special and uniqyue character, may God continue to preserve him.
This work was presented on the radio 6 years ago and today, on his 105th birthday, I share it with you again and hope to do so again many more times.
Cozumel, Q. Roo, July 5, 2021.
Habitante de Cozumel celebra 105 años
por el Prof. Veudi Vivas Valdés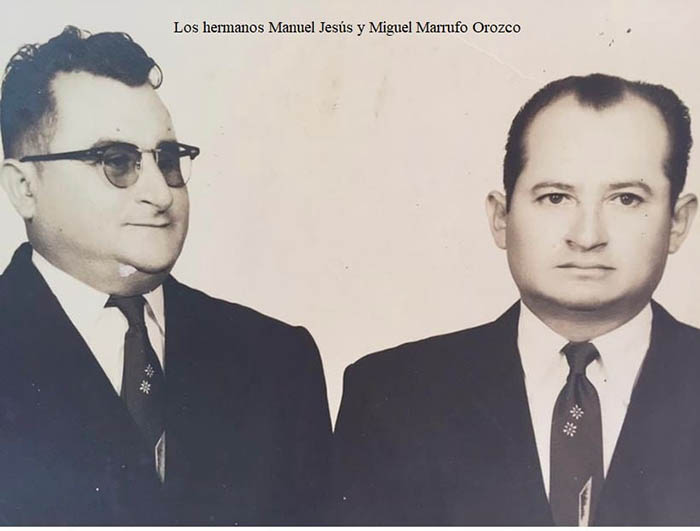 El año pasado presenté, por cierto con retraso, este trabajo que ya había leído en la radio y que hoy considero suficiente motivo volver a publicarlo con algunas adiciones por de la celebración del 105 aniversario del nacimiento de un gran cozumeleño, de reducida estatura física, pero de características irrepetibles y no solo por su longevidad, sino por ese carácter amable, siempre sonriente, un ser que ha sabido disfrutar la vida sanamente, cultivando amistades en por lo menos 3 generaciones de cozumeleños, buen jefe, buen vecino y ni que decir de su entorno familiar, buen hijo, buen hermano, buen esposo, buen padre, buen abuelo y buen bisabuelo, poseedor de un gran sentido de responsabilidad y con alto nivel de educación Moral, Cívica y Patriótica.
Una frase de Bill Gates: En la vida hay que escoger entre ganar dinero o gastarlo no hay tiempo para los dos.
Pero Miguelito ha tenido tiempo para ganarlo y también para gastarlo.
Don Miguel Marrufo Orozco.
Don Miguel Marrufo Orozco, (Totoshito, apodo que le puso su abuela por su estatura.) nació en San Miguel de Cozumel el 5 de julio de 1916, quinto entre 14 hermanos, de los que solo viven él y su hermana menor Guadalupe, quién nació en 1931 y fue esposa de Don Tránsito Villanueva Martín, al que todo mundo conoció como don Chapus. La lista de los hermanos con su año de nacimiento es: Elvira 1910, Ma. Germana 1912, Manuel J.1914, Elvira 1915, Miguel 1916, Eligio 1918, Francisco 1919, Teresa 1920, Fernando 1921, Dolores 1923, Francisco 1924, Ma. Del Socorro 1926, Leonor 1930 y Guadalupe Marrufo Orozco 1931, repitieron Elvira y Francisco posiblemente por defunción de los primeros.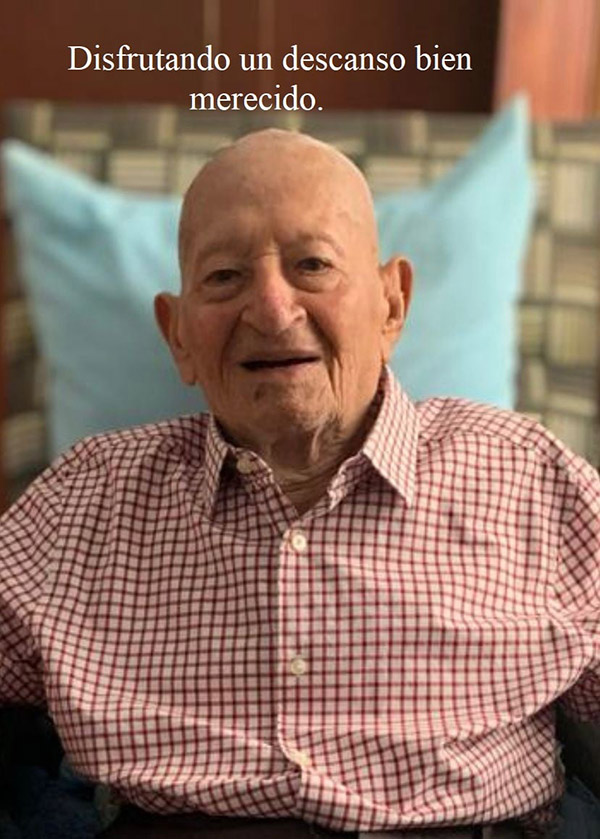 Los Marrufo Orozco fueron hijos de Eligio Marrufo Hernández nacido en Mérida y Doña Dolores Orozco Delgado de Belize, H. B., nietos de Francisco Marrufo Campos y Juana Hernández y de Fernando Orozco y Teresa Delgado, bisnietos de Francisco Marrufo Moreno y Rita Campos Trejo y tataranietos de Juan Marrufo de Motul y Luisa Trejo de Labcah, (Solferino).
Don Miguel estuvo casado con Doña Noemí Castro, sus hijos fueron, Miguel qepd casado con la meridana Noemí Piña y Elsy Noemí, qepd, casada con Edgardo Villanueva Polanco, qepd, ambos hijos ya fallecidos lo mismo que Doña Noemí, así Don Miguel a sus casi 105 años vive hoy en compañía de su nieta Irasema Guadalupe, su esposo David y sus bisnietos. Sus otros nietos son Miguel Edgardo, Manuel Jesús y José Antonio Villanueva Marrufo, que tienen domicilio aparte y de quienes tiene en total 8 bisnietos. Tres que viven en Mérida nietos de su hijo Miguel. Hijos de sus nietos Miguel Ángel y Maribel Marrufo Piña y de quienes tiene 3 bisnietos; Miguel y Alvar Marrufo Torres y Daniela Marrufo Piña.
De su hija Elsy Noemí tiene cinco bisnietos, Sara Patricia Villanueva Leal, Miguel Dair, Noemí y Elsy María Pinto Villanueva y Zahía Villanueva Sandoval.
Don Miguel cursó hasta 6º. Grado en la "Benito Juárez" y a los 13 años empezó a trabajar en el Municipio como meritorio (sin sueldo), con el Delegado de Gobierno de esa época (1929), que era don Gabriel Cortines, el que al ver el desempeño de Miguel lo ascendió a jardinero y encargado del reloj público, con sueldo de $100.00 al mes, en esos días llegó a Cozumel la Royal School, academia de mecanografía, en la que obtuvo diploma como mecanógrafo, lo que le abriría las puertas en el futuro.
En los años treinta cumplió como policía llegando a conducir hasta a Mérida a algún detenido (En aquél entonces, éramos nuevamente parte de Yucatán).
En 1940, empezó a asistir después de su trabajo en la Delegación, a la oficina de correos, que en esos días estaba en la Rafael E. Melgar casi esquina con calle 2 norte, el Administrador de la oficina local en esos días era el tekaxeño, Don Tranquilino Cervantes Sosa, para aprender el manejo de la correspondencia, que en esos días con más de 2000 trabajadores foráneos que construían el aeropuerto, habían multiplicado considerablemente el trabajo del correo y se necesitaba personal, gracias a esto causó alta en 1942 como auxiliar postal, hasta llegar a Administrador y jubilarse 36 años después, a los 62 años de edad.
Fue socio fundador del desaparecido Club de Leones y miembro de la logia masónica "Obreros del porvenir", de la que actualmente es miembro libre de la orden, también fungió como consejero en la Fundación de Parques y museos de la isla hasta el año 2005, por cierto que él junto con su hermano Manuel, fueron dueños del Rancho Chankanaab, que incluía en su jurisdicción la laguna y casi todo el terreno que ocupa actualmente el Parque Nacional del mismo nombre.
Don Miguel como ciudadano ejemplar ha recibido diplomas y reconocimientos por su labor al cuidado del reloj público, que se prolongó por décadas aún sin sueldo, también como asiduo asistente a las ceremonias cívicas donde su presencia, pulcramente vestido y sombrero en mano era parte insustituible del decorado, siempre con una sonrisa de alegría y de amor por la vida y sus semejantes.
Conversar con él es abrir el arcón de los recuerdos, es conocer el Cozumel de antaño, es viajar en el tiempo y vivir emocionantes episodios de aquella isla de 1500 habitantes, con sus calles de arena o de zacate, es volver a escuchar el ronco reclamo del jotuto invitando a los compradores a adquirir lizetas o caracoles frescos.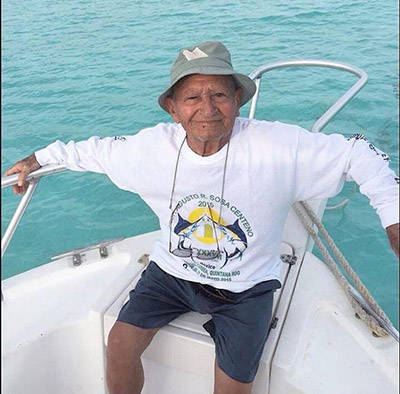 Un pueblito con luz eléctrica solo de 6 de la tarde a 10 de la noche, con viajes en barco de madera hasta Progreso, Chicxulub o Telchac, para llegar a Mérida en dos días de agotador viaje, recordar los bailes y fiestas amenizadas por orquestas meridanas, con baile en el muelle a la llegada de los músicos y baile de despedida y a beneficio de la orquesta, antes de que retornara a Mérida.
Ah, aquellos bailes de traje y de corbata, con dedicación de piezas a las enamoradas, con ambigú para departir familiarmente y con tacos y panuchos a la puerta del salón, en fin qué días tan inolvidables aquellos.
Para terminar, un saludo a sus familiares, con mis mejores deseos
de que conserven muchos años más a Miguelito totosh y mi agradecimiento a sus nietos Irasema y Manuel por su apoyo para elaborar el presente trabajo.
Siéntanse orgullosos de descender de un personaje tan especial e irrepetible, que Dios lo siga conservando.
Trabajo presentado por radio hace 6 años y hoy al cumplir 105 años, se los comparto nuevamente y espero repetirlo muchas veces más.
Cozumel, Q. Roo a 5 de julio de 2021.

Latest posts by Veudi Vivas Valdez
(see all)