Cozumel Electric Horse Carriages
Electric Carriages Arrive in Cozumel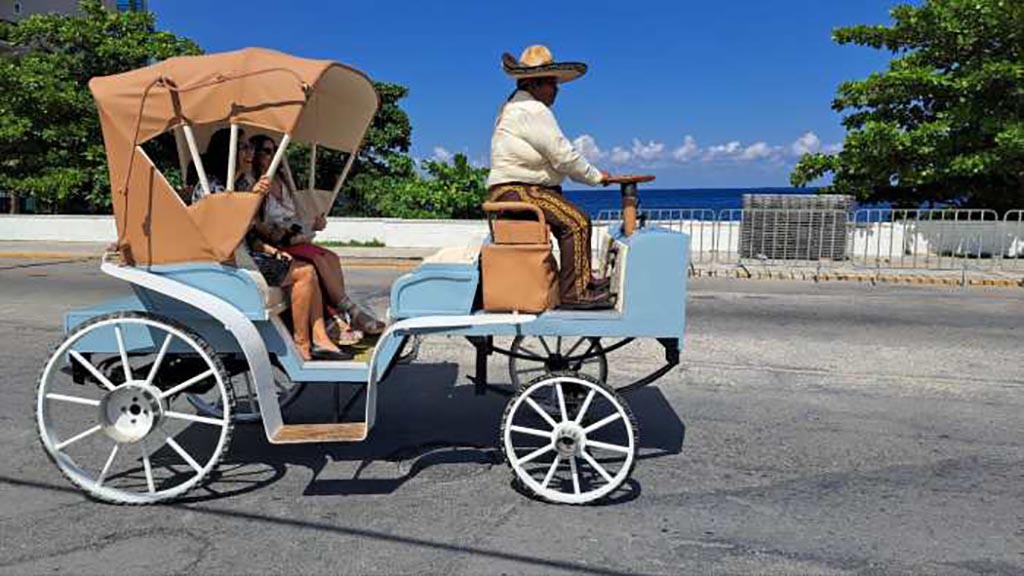 Several weeks ago electric carriages arrived in the island of Cozumel.  The carriages, which feature room for 3 passengers, a shade covering, and an antique old time look, are baby blue in color, yet run on a high tech lithium battery that can last for nearly 100 KMs.
The electric – and horse-less carriages – have a speed of about 13 KM/hour which is about the same as a horse drawn carriage.  This is considered to be the first step in putting an end to overheated and exhausted horses collapsing in Cozumel.
There is literally no island tradition of a horse drawn carriage here in Cozumel.  In fact, in 2019 the Animal Protection and Welfare Act was passed on a state-wide level, banning horse drawn carriages.  In 2020 the City of Cozumel also passed a regulation against the use of horses to pull carriages.  Previous operators have been "grandfathered in," and are allowed to operate for the past 3 years.
The owner of the electric carriage operation is also the owner of 10 horse drawn carriages, who hopes to keep his horses off the streets, and working on his ranch.
Llegan las carretas eléctricas a Cozumel
Las carretas eléctricas llegaron a Cozumel hace algunas semanas. Las carretas, con espacio para 3 pasajeros, un toldo y con aspecto antiguo, son de color azul claro, y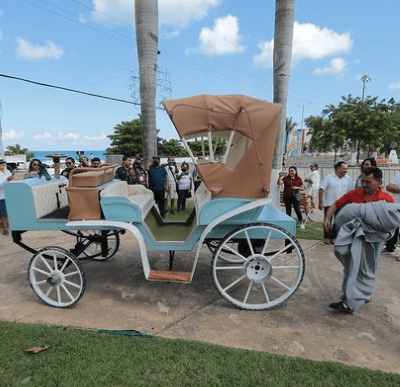 funcionan con una batería de litio de tecnología de punta cuya carga puede durar hasta casi 100 Kms.
Las carretas eléctricas, y sin caballos, tienen una velocidad de 13 km/hr, que es más o menos la misma que si fueran jaladas por caballos. Se considera que este es el primer paso en Cozumel paso para acabar con caballos que se desploman exhaustos y agotados a causa del calor.
De manera literal, no hay nada que se relacione con una tradición isleña de carretas tiradas por caballos. De hecho, en 2019 y para todo Estado se aprobó la Ley de Protección y Bienestar Animal que prohíbe las carretas tiradas por caballos. En 2020, en el municipio de Cozumel también se aprobó un reglamento contra el uso de caballos para tirar carretas. Los operadores anteriores fueron "protegidos" y se les permitió operar durante los últimos 3 años.
El propietario de la operación de carretas eléctricas también es propietario de 10 carretas tiradas por caballos, y espera mantener sus caballos fuera de las calles, trabajando en su rancho.
Latest posts by Laura Wilkinson
(see all)