Cozumel Feria Cedral 2022
Cozumel's Feria del Cedral:  Religious Small Scale Ceremonies Only in 2022
Although the Feria del Cedral has been postponed for the 3rd consecutive year due to the pandemic, residents of the Cedral village of the island of Cozumel, will continue over 171 years of tradition and continue to celebrate El Dia de la Santa Cruz, on a much smaller scale, with the events that are tired to the religious celebration.
The Ferias de Cedral and El Dia de Santa Cruz date all the way back to 1848, and since then, people from the all over the Yucatán have come to El Cedral every year to join the festivities that include regional handicraft exhibitions, horse races, bull fights, rooster fights, gastronomy, and many cultural events.
Traditionally, festivities start on the 28th of April and  end on the 3rd of May  – El Dia de la Santa Cruz – with the traditional dance,   "Cabeza de Cochino."
Last year, the Feria del Cedral was cancelled,  celebrations continued for the Dia de la Santa Cruz, but were significantly smaller, and held by various families in their front yards as they danced the traditional "Cabeza de Cochino" in their own gardens, keeping this important tradition alive.  This year, once again plans remain the same.
Cozumel Carnaval 2022 Dates & Schedule
New dates for the events before the Carnival and the Carnival have been announced, taking place from Saturday April 23 to Wednesday, May 25, and the performers line-up will be revealed soon.
Feria de El Cedral de Cozumel: en 2022 sólo ceremonias religiosas, pero a menor escala
No obstante que la Feria de El Cedral se pospuso por tercer año consecutivo debido a la pandemia, los habitantes del pueblo del El Cedral en la Isla de Cozumel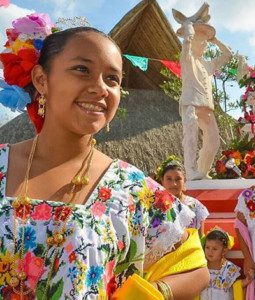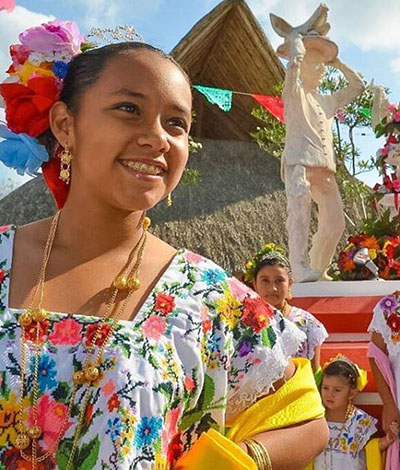 continuarán con los más de 171 años de tradición, celebrando el Día de la Santa Cruz a menor escala, con eventos ligados a la celebración religiosa.
Las Ferias de El Cedral y del Día de la Santa Cruz se remontan a 1848. Desde entonces, todos los años gente de todo Yucatán acude a El Cedral para unirse a los festejos que incluyen exposiciones de artesanías, carreas de caballos, corridas de toros, peleas de gallos, gastronomía y diversos eventos culturales.
Como ya es tradición, los festejos comienzan el 28 de abril y concluyen el 3 de mayo, el Día de la Santa Cruz, con el típico baile de la "Cabeza de Cochino".
El año pasado, la Feria de El Cedral se cancelo. Las celebraciones continuaron la el Día de la Santa Cruz pero fueron mucho más pequeñas y celebradas por varias familias en sus jardines mientras bailaban el típico baile de la "Cabeza de Cochino" manteniendo, así, viva esta importante tradición. Una vez más, los planes siguen siendo los mismos este año.
Fechas y programa del Carnaval Cozumel 2022
Se han dado a conocer nuevas fechas para los eventos previos al Carnaval y para el mismo Carnaval. Tendrán lugar el sábado 23 de abril al miércoles 25 de mayo, y en breve se informará el elenco de artistas.
Latest posts by Laura Wilkinson
(see all)