Cozumel's City Council Approves New Landfill Site:  Island Residents Urged to Amp Up Recycling Efforts:
Cozumel's City Council recently approved the creation of a new landfill for the island, making that the 10th landfill for the island of swallows.
Council Members Genny Martínez Koh and Ana Arana Martin made the announcement and at the same time urged Cozumel residents to increase recycling efforts, not only so the newest landfill would last longer, but, obviously it would lessen the environmental impact.
Cozumel's wate collection company:  Promotora Ambiental de la Laguna, SA de CV (PASA), has agreed to work on an environmental education awareness project.
Cozumel's Centro de Acopio de Materiales Reciclables (CAMAR) has been collecting reciclable materials since 2012.   CAMAR is located at  Calle 140 with 1st
What CAMAR Accepts
CAMAR (Centro de Acopio de Materiales Reciclados) accepts:
Tin cans (including sodas, canned vegetables, orange juice tins, metal covers from glass jars)
Paper (newspapers, grocery receipts, magazines, movie tickets, flyers)
Glass (food jars, bottles, wine, beer, juice)
Plastic (detergent containers, PET, bleach bottles)
Cardboard (boxes, food containers, product packaging)
Batteries
Motor Oil
Appliances
El ayuntamiento de Cozumel aprueba un nuevo relleno sanitario. Se exhorta a los habitantes de la Isla que aumenten sus esfuerzos de reciclaje.
En fechas recientes el ayuntamiento de Cozumel aprobó la creación de un nuevo relleno sanitario para la Isla, convirtiéndolo en el décimo relleno sanitario para la Isla de las Golondrinas.
Las regidoras Genny Martínez Koh y Ana Arana Martín hicieron el anuncio y a la vez exhortaron a los cozumeleños a incrementar los esfuerzos de reciclaje no sólo para que el nuevo relleno sanitario dure más tiempo, sino también para disminuir el impacto ambiental.
La empresa encargada en recolectar los deshechos en Cozumel, Promotora Ambiental de la Laguna, S.A. de C.V (PASA) aceptó colaborar en un proyecto concientización sobre la educación ambiental.
Desde 2012 el Centro de Acopio de Materiales Reciclables (CAMAR) de Cozumel se ha encargado de recoger materiales reciclables. CAMAR se ubica en la calle 140 con 1ª.
Lo que CAMAR acepta:
El Centro de Acopio de Materiales Reciclables (CAMAR) acepta recibir los siguientes: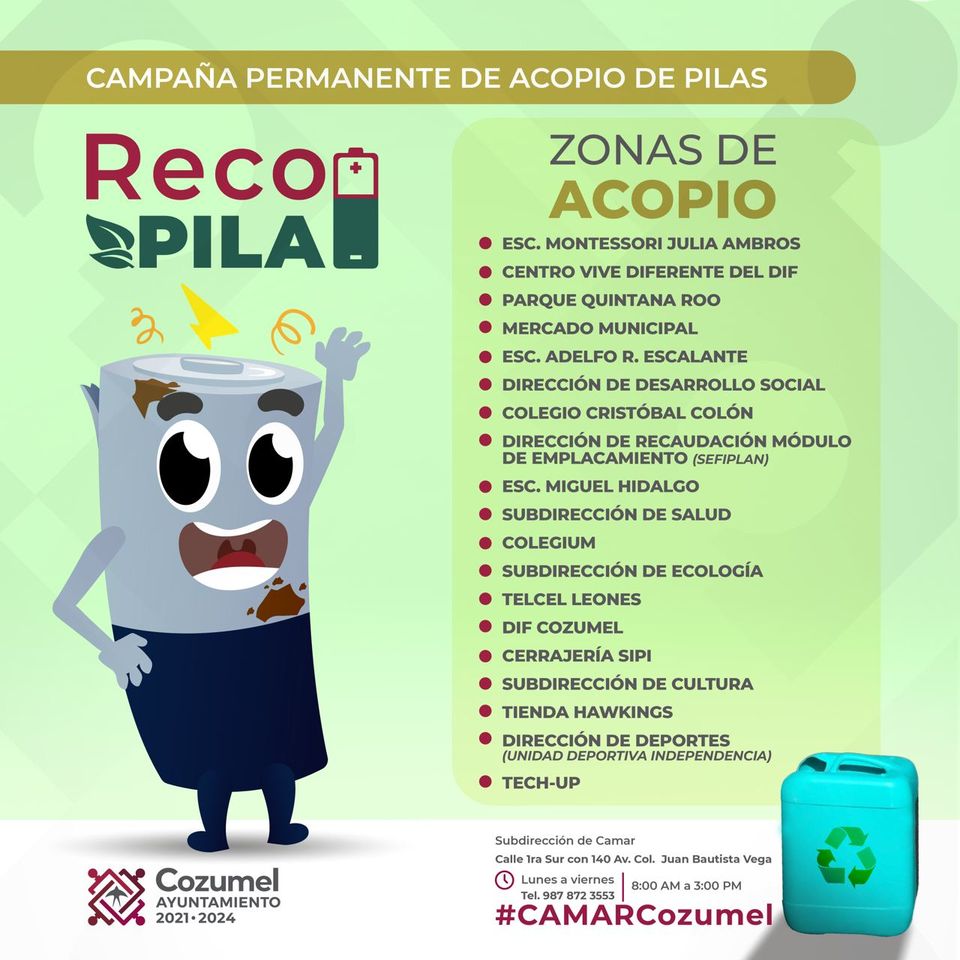 Latas (de refrescos, verduras enlatadas, de jugo de naranja, tapas metálicas de frascos de vidrio)
Papel (periódicos, recibos de compra, revistas, boletos para el cine, folletos)
Vidrio (frascos para comida, botellas, vino, cerveza, jugo)
Plástico (envases para detergente, PET, botellas para cloro)
Cartón (cajas, envases para alimentos, empaques)
Baterías
Aceite para motor
Electrodomésticos
Latest posts by Laura Wilkinson
(see all)