Cozumel Ferry Prices
Ferry Companies from Playa del Carmen to Cozumel Hike Prices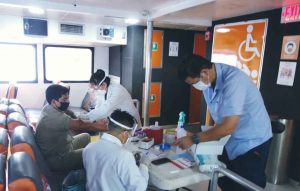 In the midst of a pandemic, both  Ultramar and Winjet, the ferry companies that cross from Cozumel to Playa del Carmen have either increased or petitioned to increase the prices of their tickets.
Affective June 30th Ultramar implemented a  $50 peso  per ticket increase, which  affects both general fares and passengers who live in the State of Quintana Roo (who receive a discounted price on their tickets).
The Ultramar price increase does not currently affect Cozumel residents with a Plan Local, Inapam, or valid IMNE card.
Winjet has announced their intention to raise their prices in a similar fashion.  The price increase has been sent to the Comisión Federal de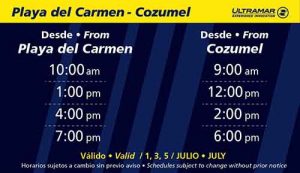 Competencia Económica (COFECE) for appeal.
Both Ultramar and Winjet have recently increased their daily crossings between Cozumel and the Yucatan Peninsula, after a once-daily crossing due to the Covid-19 pandemic.    As tourism continues to increase, it's expected that the current crossing schedules for both companies should increase accordingly.
Las empresas de ferris de Playa del Carmen a Cozumel aumentan sus precios
En medio de la pandemia, Ultramar y Winjet, las empresas que ofrecen el servicio de Cozumel a Playa del Carmen han aumentado sus precios o solicitado el incremento de precios de sus boletos.
A partir del 30 de junio Ultramar implemento el incremento de $50 pesos a sus boletos, hecho que afecta tanto a las tarifas generales como a los pasajeros que viven en el Estado de Quintana Roo (y que reciben un descuento en sus boletos).
El aumento de precio por parte de Ultramar en la actualidad no afecta a los habitantes de Cozumel que tienen Plan Local, Inapam o INE vigente.
WInjet anunció que pretende incrementar los precios de manera similar. La solicitud del aumento ha sido enviada a la Comisión Federal de Competencia Económica (COFECE) para su apelación.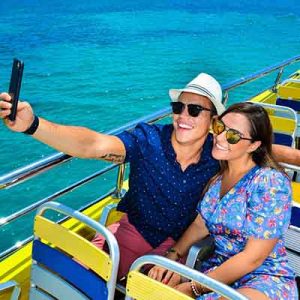 En fechas recientes tanto Ultramar como Winjet aumentaron la frecuencia de cruces entre Cozumel y la Península Yucatán después de haber realizado una sola travesía al día debido a la pandemia de Covid-19. A medida que la llegada del turismo continúe aumentando, se espera que, como resultado, aumente la frecuencia y los horarios actuales de los cruces de ambas compañías .
Latest posts by Laura Wilkinson
(see all)