Cozumel Ironman 70.3 2021
Cozumel Ironman 70.3 To Be Held This Weekend:
Sept 25 & 26
The  Cozumel Ironman 70.3  is scheduled to take place on September 25 and 26, 2021.  This is the 10th year of the event, since there was no 2020, did not happen.
Cozumel's Ironman 70.3 – an international event  – is one of the first athletic events that informally marks what has now become known as "triathlon season" in Cozumel.  Previous years have been sold-out events, in fact, the 2019 event was attended by more than 1,500 athletes and their families cheering them on.
The 2021 IRONMAN 70.3 Cozumel will take place over 2 days.  In accordance with local authorities and the protocols established in IRONMAN's Safe Return to Racing guidelines, the event will consist of two days of races instead of one as originally scheduled. On Saturday, September 25, all female age groups, all men 45 & over plus relay teams will compete. Then on Sunday, September 26, all men ages 18 – 44 will compete.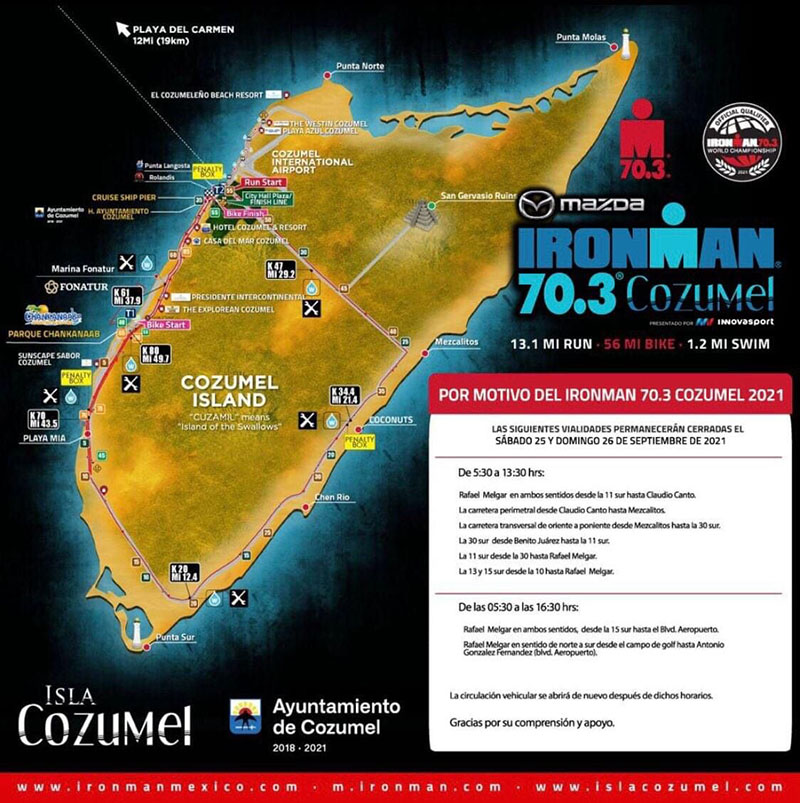 Both days will feature a rolling start. Athletes will enter the water in a continuous stream through a controlled access point, similar to how running road races are started.
An athlete's times will start when they cross timing mats at the start line. Athletes will be directed to self-seed on race morning based on their projected swim time.
Volunteers and staff will be in the staging area with signs and will assist with this process. Self-seeding will not be mandatory but will be encouraged.
Ironman 70.3 de Cozumel se realiza este fin de semana: 25 y 26 de septiembre
Cozumel Ironman 70.3  está programado para llevarse a cabo el 25 y el 26 de septiembre de este año. Este es el décimo año del evento puesto que en 2020 no se realizó.
Ironman 70.3 de Cozumel es un evento internacional y uno de los primeros eventos atléticos que marca informalmente lo que ahora se conoce como la "temporada del triatlón" en Cozumel. En años anteriores se han agotado las entradas; de hecho, en 2019 asistieron más de 1,500 atletas y sus familias quienes los animaban.
Ironman Cozumel 70.3 se llevará a cabo en un lapso de 2 días. De acuerdo con las autoridades locales y los protocolos establecidos en el Regreso Asegurado de la competencia Ironman, el evento consistirá en dos días de competencias en lugar de uno como fue originalmente planeado. El sábado 25 de septiembre participarán en la competencia grupos femeninos de todas las edades, todos los hombres de 45 años y mayores, así como los equipos de relevos. Y el domingo 26 de septiembre competirán los hombres de 18 a 44 años.
Ambos días tendrán un inicio continuo. Los atletas entrarán al agua de manera continua a través de un punto de acceso controlado, similar a como se inician las carreras atléticas.
Los tiempos de los atletas comenzarán al momento de cruzar las alfombras de cronometraje en la línea de salida. La mañana de la competencia se indicará a los atletas su preclasificación de acuerdo con el tiempo de nado.
Los voluntarios y el personal deben estar en el área de preparación con carteles y ayudar en este proceso. La preclasificación no es obligatoria, pero se recomendará.
Latest posts by Laura Wilkinson
(see all)