Cozumel Lent Easter Semana Santa
Busiest Weeks of the Year for Seafood:  Lent & Easter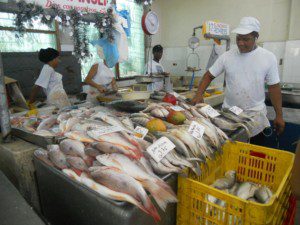 Cozumel has long been known for it's amazing and fresh seafood, and at this busy time of year, sales in both fish and seafood will only continue to rise on the island, as we enter Lent and approach Easter.
Sales of locally caught seafood is as much as 15% higher on Wednesdays and Fridays, the days when during Lent it is traditional to give up red meat dishes.
Easter, or Semana Santa, is considered the second busiest week of the year for national tourism, as flocks of landlocked Mexican's hit the beach with their families.
Savvy Chefs are already stocking up on lobster, lionfish and other high-end seafood delicacies for the big week.
Island providers have been stocking up at  a variety of venues, such as the municipal market.  Vendors from the market are reporting increased sales which seem to be split evenly between higher priced fish such as fillets and Grouper and more economical fish such as Hogfish and Snapper.
Las semanas de mayor actividad en el año para los productos del mar: Cuaresma y Semana Santa
Desde hace mucho tiempo Cozumel es conocida por sus productos del mar frescos e increíbles, y en esta época del año tan activa, las ventas tanto de pescado como de
mariscos continuarán aumentando en la Isla a medida que nos adentramos en la Cuaresma y nos acercamos a la Semana Santa.
Las ventas de pescado y marisco capturado localmente aumentan hasta 15% los miércoles y viernes; días en los que durante la Cuaresma es tradicional prescindir de platillos con carnes rojas.
La Semana Santa es la segunda semana del año en la que hay mayor actividad de turismo nacional ya que los mexicanos que viven en lugares donde no hay salida al mar, visitan la playa con sus familias.
Para la semana grande, los chefs más avezados se están abasteciendo de langosta, pez león y de otros manjares marinos de primera calidad.
Los proveedores de la Isla se han abastecido en diversos lugares, como el mercado municipal. Los vendedores del mercado informan que las ventas han aumentado, lo que parece dividirse equitativamente entre el pescado de mayor precio, como los filetes y el mero, y pescados más económicos como el boquinete y el pargo.
Latest posts by Laura Wilkinson
(see all)