Cozumel News Karina Carrion School supplies for students in Cozumel
School supplies for students in Cozumel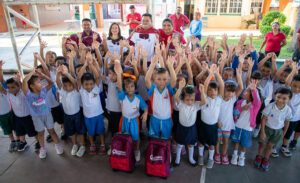 By Karina Carrión
COZUMEL, October. – The Government of the State, through the Fundación de Parques y Museos de Cozumel (FPMC – Cozumel Parks and Museums Foundation) and the municipal government headed by Juanita Alonso, delivered supplies for school children in the Island.
During the event at the Leona Vicario elementary school, Juanita Alonso, the mayor, expressed her gratitude to Mara Lezama, governor of the State, for the uniforms and schools supplies that be quite helpful to the students of the Island, and an important aid to the economy of the each of the children's families.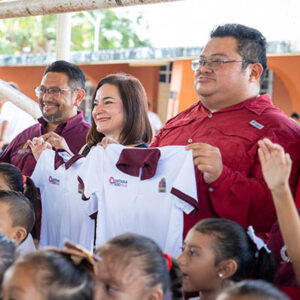 Meanwhile, the director of the FPMC, José Luis Chacon Méndez, representing Mara Lezama Espinosa, said that supporting education is an investment as we know that children, parents, teachers, the institution, as such, is formative, which means that we are paving the path of good for future generations.
The school's headmaster, Luis Ángel Méndez Ramos, thanked the authorities for supplying these tools to 18 groups formed by 616 students, and for choosing the school as the first venue for delivering this support.
On Wednesday, October 4, authorities also went to the Independencia pre-school, where 157 packages were delivered. Later, on the afternoon shift of the Andrés Quintana Roo elementary school, 70 students received this support, while 98 packages were delivered to Benito Juárez elementary school. Finally, the support was given to students of the Andrés Quintana Roo junior high school.
In total, more than 16 thousand packages are to be delivered to middle school students, 16 pre-schools, 27 elementary schools and eight junior high schools. Packages consist of a backpack, two uniforms and school supplies consisted with each educational level, which will be very helpful to students for the 2023-2024 school year.
Celebración en honor al Santo Patrono de la Isla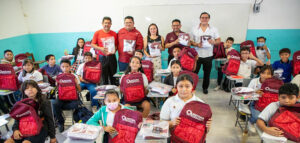 Por Karina Carrión
COZUMEL,  octubre.- El Gobierno del Estado, a través de la Fundación de Parques y Museos de Cozumel y el Gobierno Municipal encabezado por Juanita Alonso, llevan a cabo la  entrega de los apoyos escolares en la isla.
Durante la entrega en la escuela primaria Leona Vicario, la presidenta municipal, Juanita Alonso Marrufo, expuso su gratitud hacia la gobernadora del estado Mara Lezama, por los uniformes y materiales escolares que le servirá de mucha utilidad a los estudiantes de la isla, y un importante apoyo para la economía de las familias de cada uno de los niños, niñas.
En tanto que el director de la FPMC, José Luis Chacón Méndez, en representación de la gobernadora, Mara Lezama Espinosa, refirió que apoyar a educación es una inversión porque sabemos que las niñas, niños, padres de familia, maestros y maestras, la institución como tal es formación, lo que significa que estamos labrando futuras generaciones hacia el camino del bien.
Por su parte, el director de la institución educativa, Luis Ángel Méndez Ramos, agradeció a las autoridades por dotar con estas herramientas a los 616 alumnos de los 18 grupos de la institución educativa, y por elegir al centro educativo como inicio para la entrega de este apoyo.
Durante este miércoles 04 de octubre, las autoridades también acudieron al jardín de niños Independencia, donde se entregaron 157 paquetes, posteriormente a la escuela primaria turno vespertino, Andrés Quintana Roo donde se dotó a 70 estudiantes de estos apoyos, mientras que, en la escuela primaria turno vespertino Benito Juárez se entregaron 98 paquetes y por último se benefició a los alumnos de la secundaria general Andrés Quintana Roo.
En total se entregarán más de 16 mil paquetes a alumnos de escuelas del nivel básico, 16 jardines de niños, 27 escuelas primarias y ocho escuelas secundarias, que consisten en una mochila, dos uniformes y útiles escolares adecuados a cada nivel educativo, los cuales les serán de mucha utilidad a los estudiantes durante este ciclo escolar 2023-2024.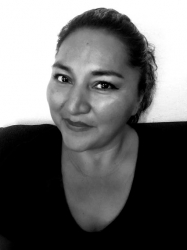 Latest posts by Kary Carrión
(see all)