Cozumel Weekly News in Photos
by Karina Carrion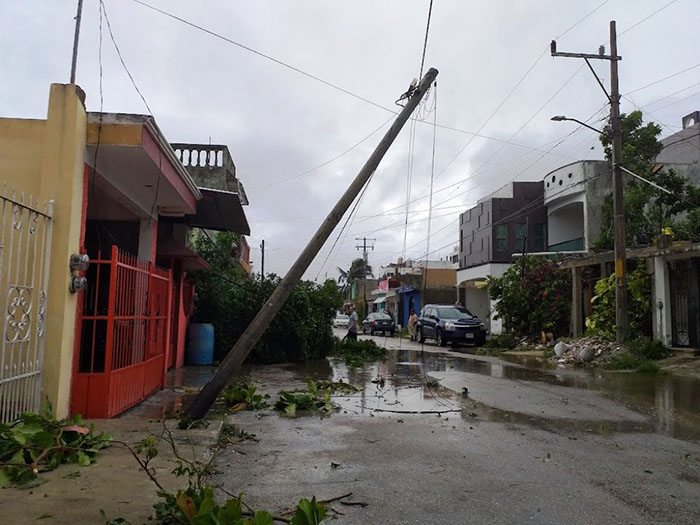 Through Cozumel4You we share graphic aspects of "Grace's" passing over the Island as a category 1 hurricane, leaving in its wake minimal material losses for some businesses and without any fatalities; no incidents were reported.
The people of Cozumel and residents continue standing out for their high prevention culture when facing threats of hydrometeorological events. One more time this applied and was recorded by the lens of Cozumel4You's correspondent. Early Wednesday August 18 warning were issued, thus leading citizens in general to carry out different tasks to protect work centers and homes.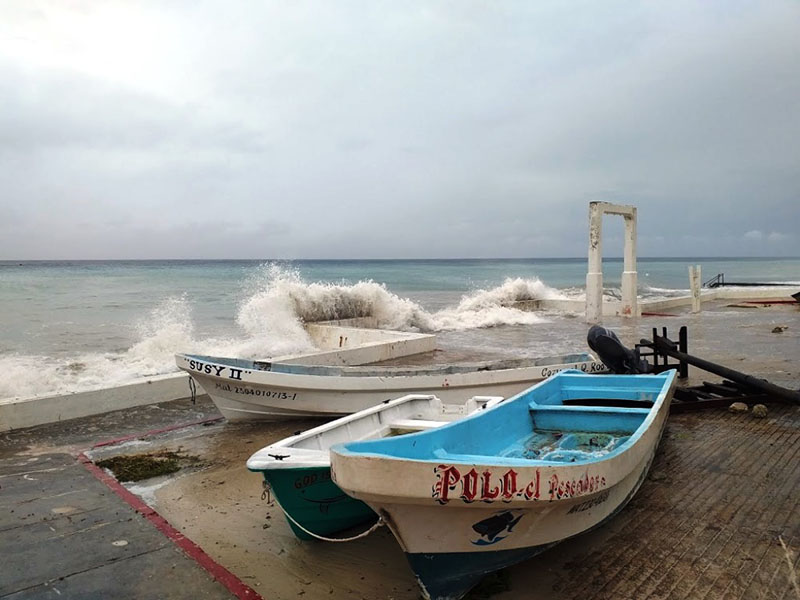 It is quite common to see that several days before the arrival of severe weather conditions or hydrometeorological impact, the main street of the Island is occupied by fishermen's boats and service providers who secure the boats to prevent damages caused by strong waves. Likewise, people who work for jewelry stores, restaurants and other sort of stores, secure warehouses, doors and windows to prevent property damages.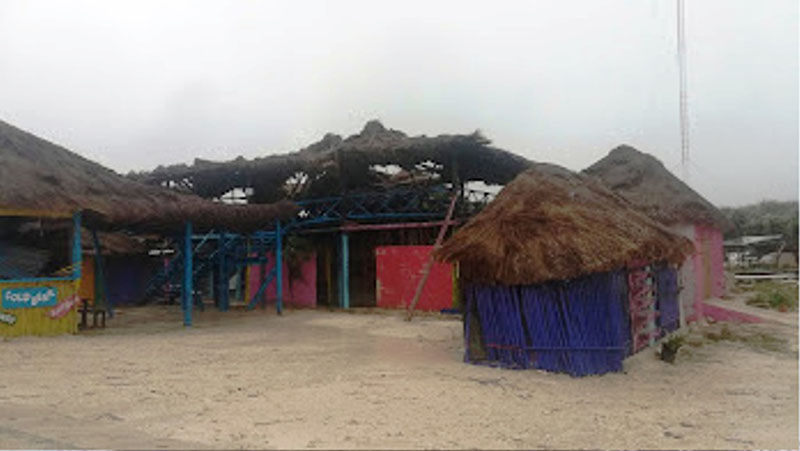 After the imminent impact of hurricane "Grace" for close five hours, on the morning of Thursday August 19 around 7 am the people of Cozumel started coming out of their homes. The Island was affected by the cancellation of at least five cruise ship arrivals and three flights, which resumed on the same day while on Friday the liners will resume their schedule.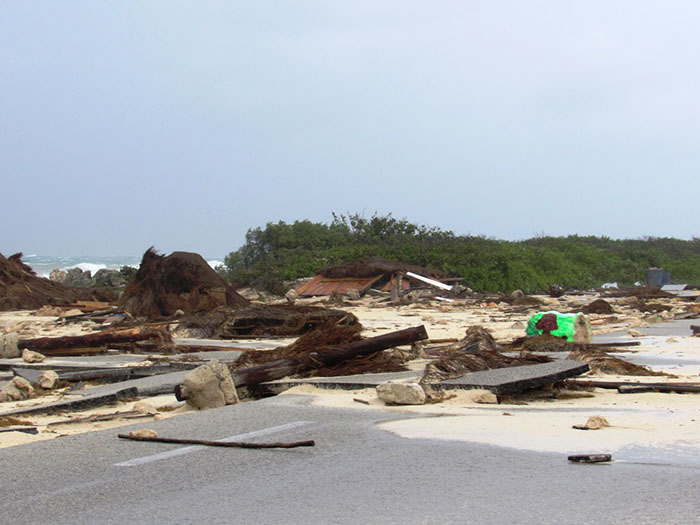 As part of the registered damages are the bicycle track in the eastern zone of the Island near the beach called "El Mirador", where at least seven businesses in that ara were destroyed when palms collapsed over on top of where their wares were stored recording important economic losses.
Also, in the south hotel zone, on kilometer 14 where there are at least five hotels there is no electricity as several posts of the Federal Electric Power Commission (CFE) collapsed. This was confirmed by the agency's staff who assured they will try to restore the service this Friday or Saturday.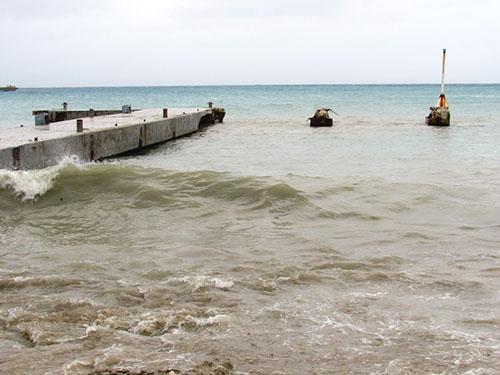 In addition to the posts and trees falling in several parts of the Island, on Thursday night citizens were touring streets that were not flooded, and then took shelter again. After Pedro Joaquin Delbouis, Cozumel's mayor, reported there were no incidents, tourism and general activities are expected to resume this Friday. Cozumel is still standing!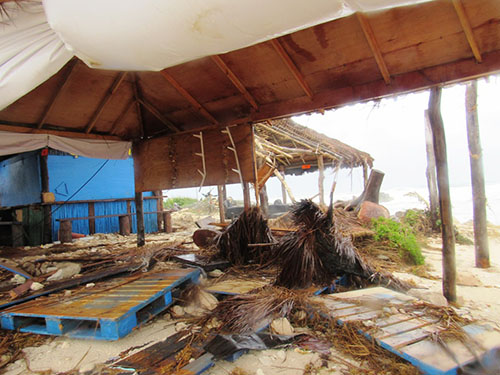 COLLAGE INFORMATIVO
Por Karina Carrión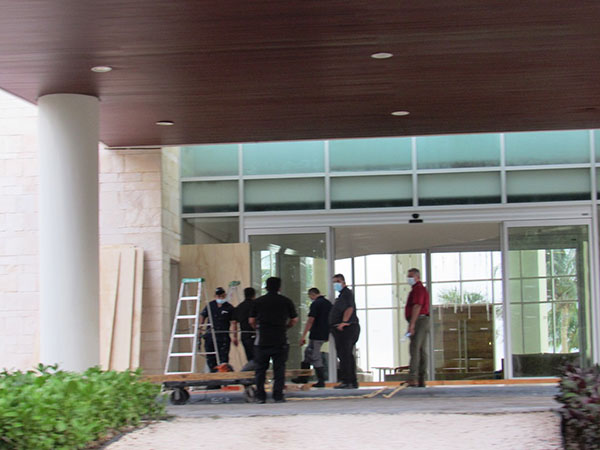 .- A través de Cozumel4You compartimos aspectos gráficos del paso del "Grace" que impactó a la isla como huracán categoría 1, dejando a su paso afectaciones mínimas de pérdidas materiales para algunos comerciantes pero sin reporte de víctimas mortales, por lo que se determinó el saldo blanco de este acontecimiento hidrometeorológico.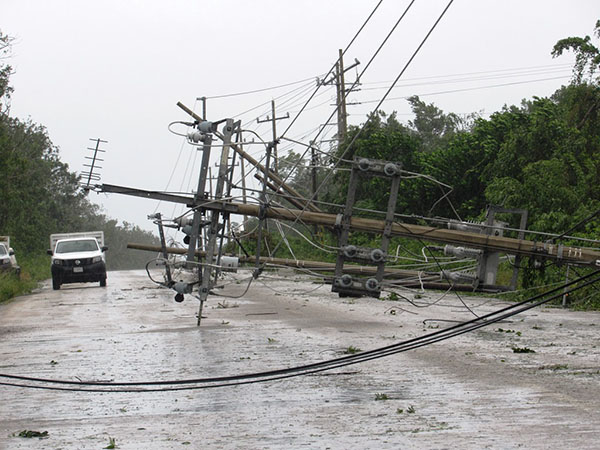 Los cozumeleños y residentes, continúan destacando por su alta cultura de la prevención ante la amenaza de los fenómenos hidrometeorológicos, lo que se aplicó una vez más y que quedó registrado en el lente de la corresponsalía de Cozumel 4You, donde se observó que desde temprana hora del pasado miércoles 18 de agosto, se anunció cada una de las alertas preventivas, lo que orilló a ciudadanos en general a realizar diversas tareas para resguardar desde sus lugares de trabajo como sus viviendas.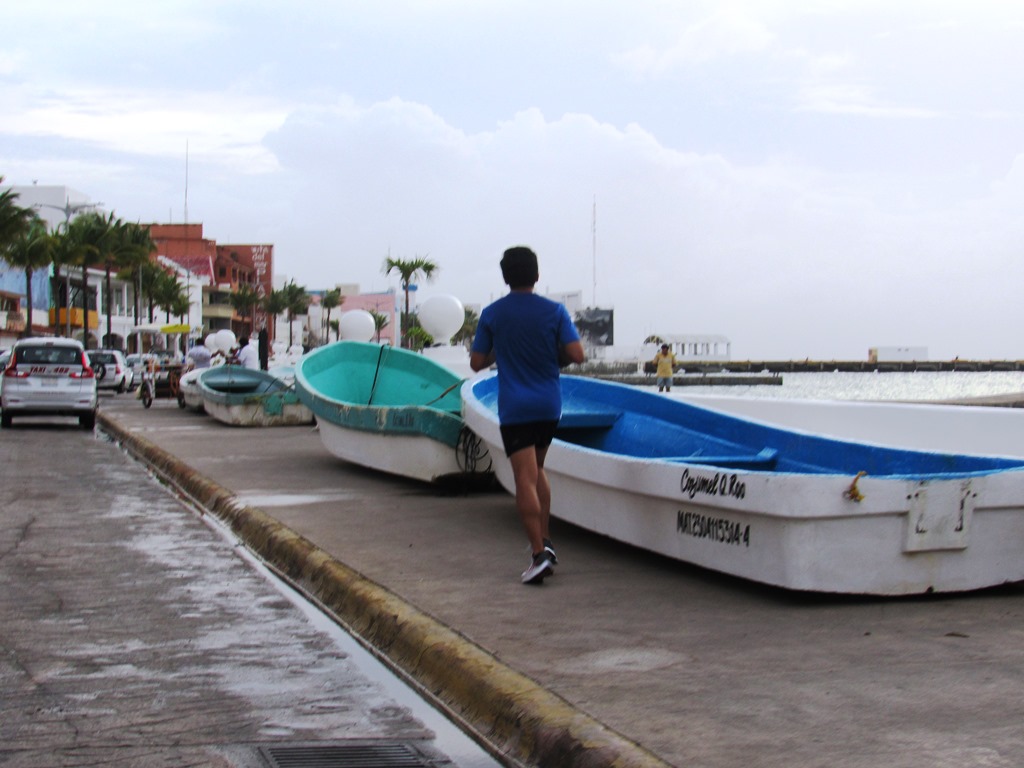 Días previos a la entrada del mal tiempo o de un impacto hidrometeorológico, es común que el malecón de Cozumel, es decir, la principal calle de la isla, sea ocupado por las embarcaciones de pescadores y prestadores de servicios que sujetan éstas para evitar que el fuerte oleaje pueda dañarlas. Paralelamente los trabajadores de joyerías, restaurantes y tiendas diversas, aseguran desde bodegas, puertas y ventanas, a fin de evitar daños a los inmuebles.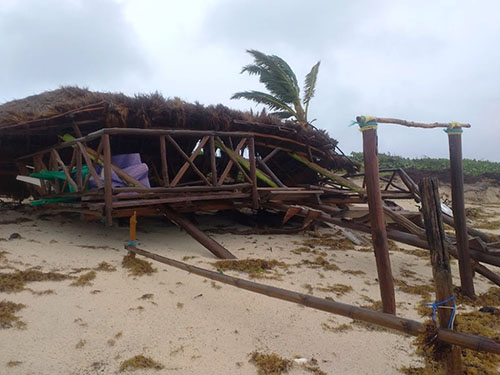 Luego del inminente impacto del huracán denominado "Grace" durante cerca de cinco horas, los cozumeleños comenzaron a salir de sus casas después de las siete de la mañana del jueves 19 de agosto, padeciendo de la cancelación de al menos cinco arribos de cruceros y de tres conexiones aéreas, mismas que fueron reanudadas para la tarde del mismo día, mientras que los trasatlánticos retomarán su programación para este viernes.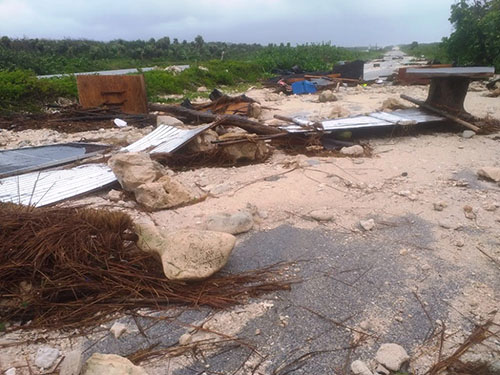 Como parte de las afectaciones que se registraron, destacan los daños en un tramo de la ciclovía en la zona oriental de la isla, a la altura de la playa denominada "El Mirador", donde al menos siete negocios que permanecían en dicho lugar, fueron destrozados al desplomarse las palabas donde estaba resguardada la mercancía de los comerciantes, quienes registraron pérdidas económicas importantes.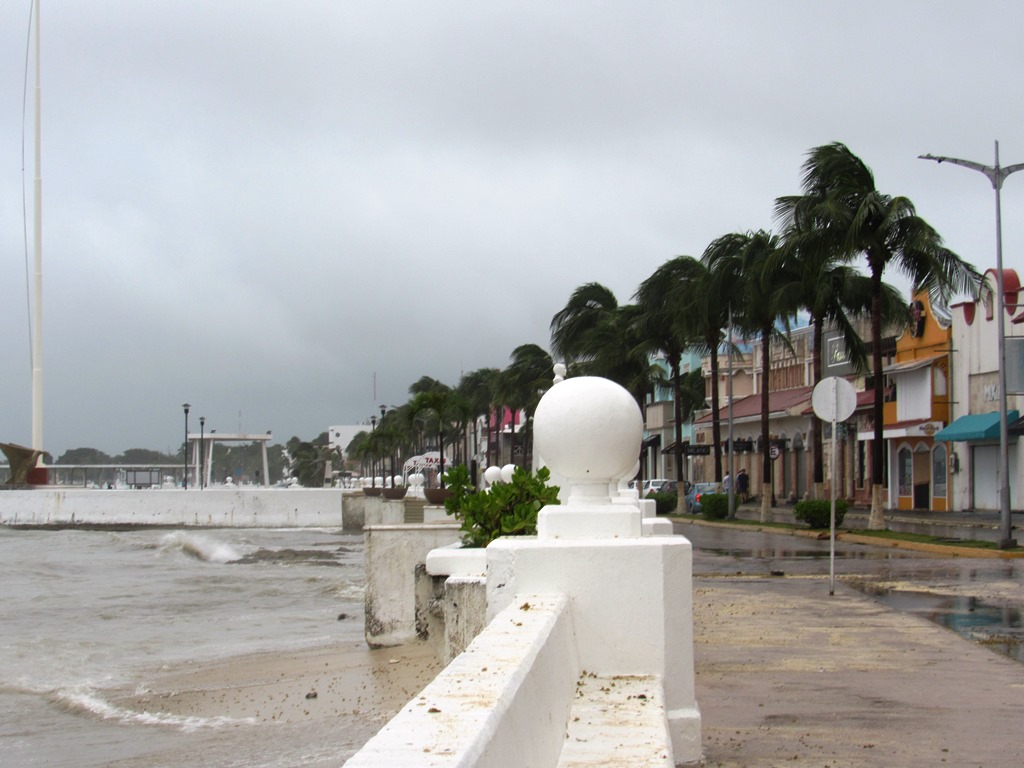 De igual manera, en la zona hotelera sur, a la altura del kilómetro 14 donde se contabilizan por lo menos cinco centros de hospedaje, permanecen sin energía eléctrica ante la caída de diversos postes de la Comisión Federal de Electricidad (CFE), lo que se confirmó con el personal de la dependencia que aseguró, buscarán que este viernes o sábado pueda quedar restablecido el servicio.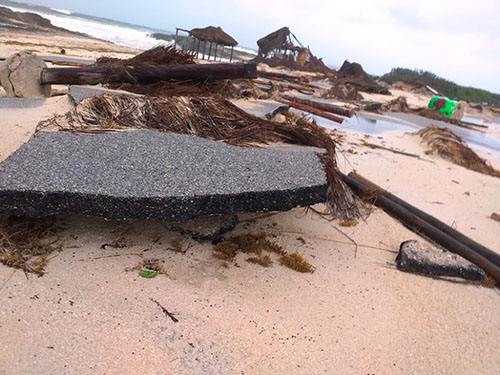 Además de la caída de postes y árboles en algunas partes de la isla, por la noche del mismo jueves la ciudadanía ya se encontraba realizando un recorrido por las calles que no fueron tan encharcadas o inundadas para luego resguardarse de nueva cuenta. Se espera que este viernes las actividades turísticas y generales regresen a la normalidad al decretarse el saldo blanco por parte del edil cozumeleño, Pedro Joaquín Delbouis. ¡Cozumel sigue de pie!.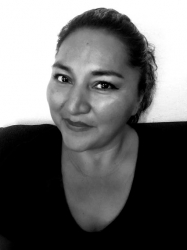 Latest posts by Kary Carrión
(see all)