Cozumel News Photos Cozumel Youth Athletes
Cozumel Weekly News in Photos
"Sunday tours" at Cozumel's Military Camp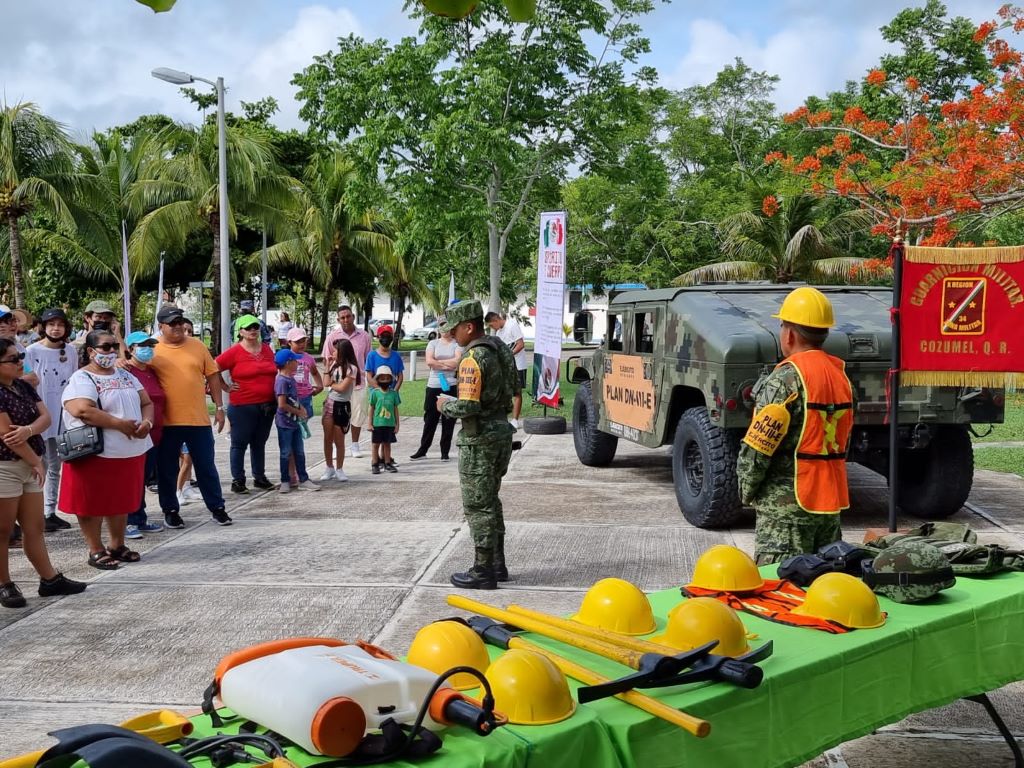 by Karina Carrion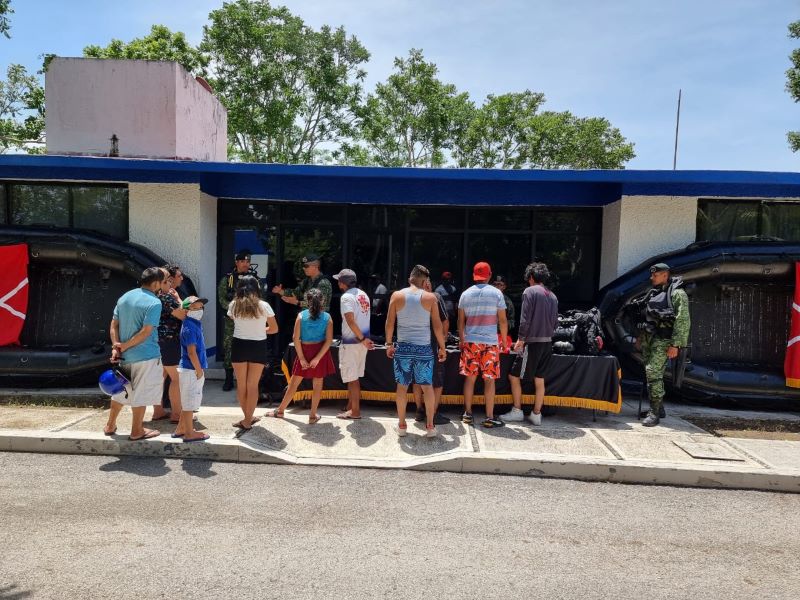 Cozumel, June. – Nearly a thousand citizens lived a unique experience at the presentation of the different areas that are part of the Ministry of National Defense (SEDENA) through the Military Garrison at Cozumel's Military Camp, as just this week the "Sunday tours" program was relaunched showing actions and equipment used for their work in protecting and ensuring national sovereignty. Visitors recognized and were amazed with the Mexican Army's high standards of professionalism and courage.
Infantry Colonel José Luis Fernandez Morales, Major of Orders of the Military Garrison extended an invitation to all residents and to people visiting the Island with the sole purpose of strengthening the relationship with the citizens and at the same time to open spaces for recreational and sports activities between the Military Garrison and the Air Force.
One of the most visited areas was the Combat Diving Sub-center of the Special Forces' training area, which in addition to the zip line that attracted the attention of children and teenagers, a camp with three samples of spaces used by soldiers to sleep when they are in missions in the jungle was set up, in addition to the equipment used by divers for missions and training.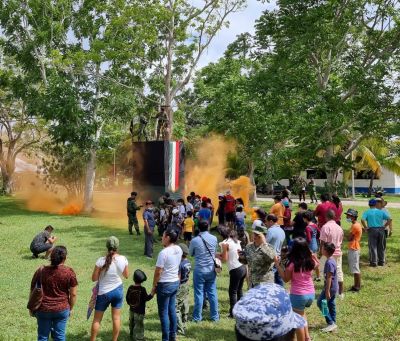 Ever since the doors to the Military Garrison opened, hundreds of people, including children, have visited the facilities such as Hangar E.A. 201 of the Military Base 4 where exhibit units of Military Weather Station Number 4 were adapted; as well as the 201st Fighter Squadron which kept children excited throughout the tour while watching the officers in special uniforms.
There was also a weaponry and aircraft exhibit, as well as equipment used by the Army Special Forces, as had been timely announced by each member in charge of their area.
The information shared revealed that the air base dates to 930 when Mexicana de Aviación a Pan-American airlines Mexican subsidiary, bought a piece of land north of the city of Cozumel owned by the Coldwell-Bonastre family where an airfield was built and used by Pan-American as a technical stopover for some of its flights to Central America.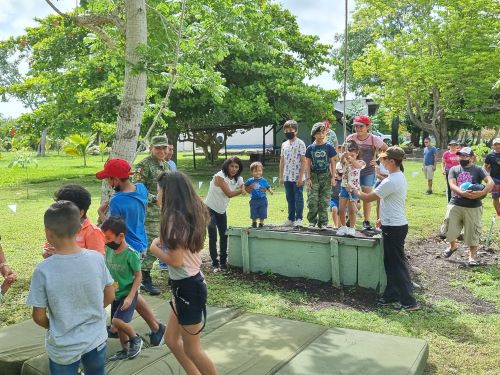 In 1937 the airfield was refurbished to be used for the American Museum of Natural History's expeditions; and on May 1st., 1948 it became the Military Air Base number 4 under the name "General de Brigada O.A. Eduardo Aldasoro Suárez." Of note is that the Military Garrison was readied for use in 1997 in the military field and given the mission to supervise and control military operations within the Island.
These can be visited when another "Sunday tour" takes place.
COLLAGE INFORMATIVO
"Paseos dominicales" en el Campo Militar de Cozumel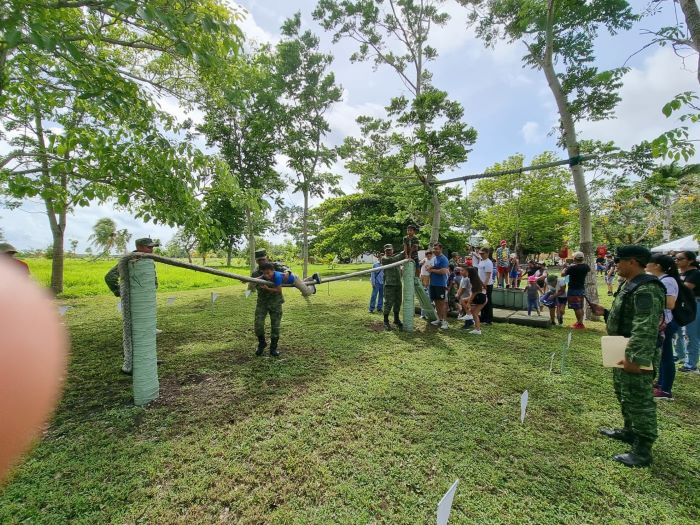 By Karina Carrión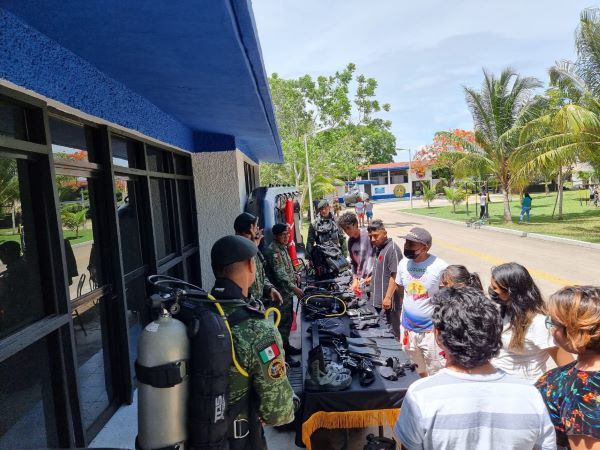 COZUMEL, junio.- Cerca de un millar de ciudadanos vivieron una experiencia única durante las presentación de elementos en las diversas áreas que conforman la Secretaria de la Defensa Nacional  (SEDENA), a través de la Guarnición Militar del Campo Militar de Cozumel, el cual reactivó esta semana su programa denominado "Paseos dominicales", permitiendo la exhibición de  las acciones y el equipo que utilizan en sus labores de protección para garantizar la soberanía nacional, siendo reconocidos  por los visitantes, que quedaron admirados por el alto grado de profesionalismo y valor de los elementos del Ejército Mexicano.
El coronel de infantería diplomado de Estado Mayor, José Luis Fernández Morales, Mayor de Órdenes de la Guarnición Militar, dio a conocer que la invitación fue extendida  para todos los Cozumeleños y  personas que se encuentran de visita en la isla, esto con el único objetivo de fortalecer un acercamiento  con los ciudadanos, y a la vez abrir  los espacios con los que cuenta para sus actividades recreativas y deportivas  entre la Guarnición Militar y Fuerza Aérea.
Una de las zonas más visitadas fue el área de adiestramiento de las Fuerzas Especiales del Subcentro de Buceo de Combate, que además de instalar una tirolesa que llamó la atención de niños y adolescentes, habilitaron un campamento con tres ejemplos de espacios que usan para dormir los soldados cuando se encuentran en misiones en la selva, además de la exhibición del equipo que emplean los buzos para sus misiones y entrenamientos.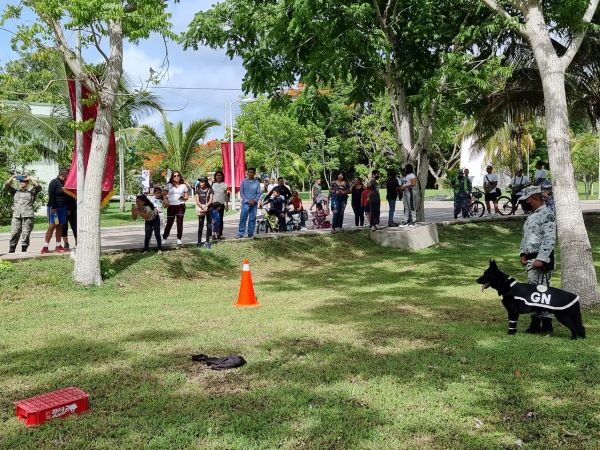 Desde que se abrieron las puertas de la Guarnición Militar, centenares de personas, entre ellos niños, visitaron las instalaciones como el Hangar E. A. 201,  donde se adecuaron módulos de la Estación Meteorológica Militar Número 4, de la  Base Aérea Militar 4; así como del Escuadrón Aéreo 201, lo cual generó que los infantes se mantuvieran entusiasmados durante todo el recorrido al tiempo en que observaban  a los elementos con uniformes especiales.
De igual manera se efectuó la exhibición del armamento, aeronaves y equipo que utiliza el grupo de las Fuerzas Especiales del Ejército, tal y como lo anunció oportunamente cada elemento encargada de su área.
Como parte de la información compartida, se refirió que  la base aérea  data desde el año 1930, cuando la compañía Mexicana de Aviación, filial mexicana de la Pan-American, compró al norte de la ciudad de Cozumel una fracción de terrenos,  propiedad de la familia Coldwell y Bonastre, donde se construyó un campo de aterrizaje que utilizó la Pan-American como escala técnica que algunas de sus rutas hacía Centroamérica.
En 1937, el campo de aterrizaje fue rehabilitado para darle uso en la expediciones que llevó a cabo el museo Americano de Historia Natural, siendo en hasta el día primero de mayo del año 1948, que pasó revista de entrada como Base Aérea Militar número 4, con el nombre de "General de Brigada P. A. Eduardo Aldasoro Suárez", destacándose  que en el año 1997 se estableció la Guarnición Militar de Cozumel, en el campo militar, con la misión de supervisar y controlar las operaciones militares realizados dentro de la isla, mismas que podrán ser visitadas cuando nuevamente se realice otro exitoso  "Paseo Dominical".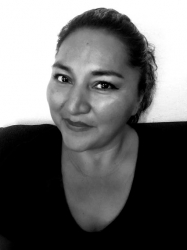 Latest posts by Kary Carrión
(see all)