Cozumel News Photos Karina Carrion Sailing  
Cozumel Weekly News in Photos
Support a Sailor Program
by Karina Carrion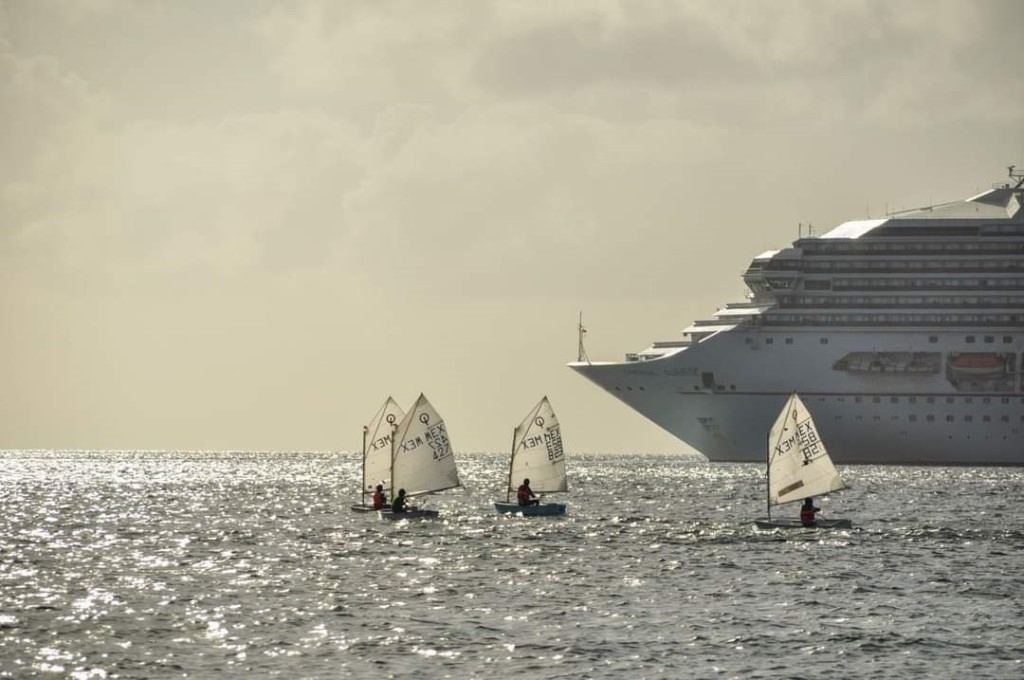 COZUMEL, MARCH, MX. – Through the "Support a Sailor" program, Héctor Uribe Vila seeks to train young people who in the future may be responsibly work and be involved in the nautical field. He believes that youngsters should be trained from an early age, thus preventing them from falling into perdition or vices as it happens nowadays; especially children and teenagers with limited resources who, with the help of sponsorships, may be able to have solid foundations for the future.
This was the opinion of the Cozumel based "Salty Sailing Society" Sailing School director, who explained that he assessed the Island's social issues where young people and children become part of the workforce at a very early age. Therefore, he seeks to create a technical training where, in addition to teaching tools that may help children in their adult life, they can be independent; tolerant to frustration, resilient to change, respectful of the rules of the game, supportive of others and respectful of the environment. These are skills that the first ten students have started to develop.  
"It occurred to me that having a school where children of limited means could have access to a sport that has not been developed in our Island and which, in addition, has an aristocratic qualification showing the exclusion of those who have less, in spite of being the ones who generate more while working for the companies. That is why we seek more sponsors that help achieve significant skills within the nautical field for the next generations."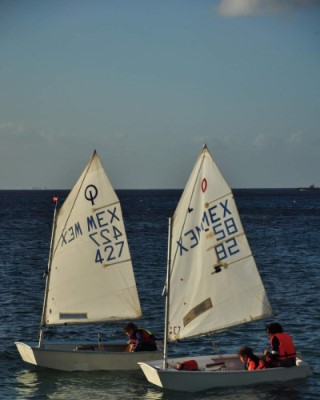 Uribe Vila recognized that the operation and existence of the Sailing School is thanks to donations. He is confident that more businessmen as well as foreign residents and retirees can join the good cause that will impact children between five to 17 years old, and who while participating in regattas, will understand that this is not a classist sport.
There are currently a dozen children at "Salty Sailing Society"; among these a girl who has recorded important participations as well as a seven-year-old boy who, within his age group, achieved second place in the state regattas. This shows that children understand both teaching as well as the performance of techniques.
As children will be competing, once again, in Bacalar on April 2 and 3, donations can be made through "Salty Sailing Society's" Facebook page.
Cozumel 4 You extends its congratulations to businessman Héctor Uribe Vila for this important initiative that will keep youngsters away from addictions, the main family disintegration problem in the community.
COLLAGE INFORMATIVO
"Apoya a un Marinerito"
Por Karina Carrión
COZUMEL, MARZO, MX.- A través del programa "Apoya a un Marinerito", Héctor Uribe Vila,  busca poder formar a jóvenes que en un futuro puedan involucrarse de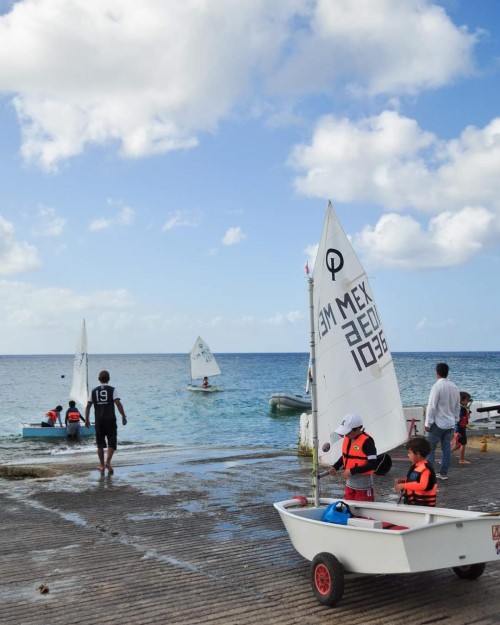 manera responsable en el ámbito laboral náutico, por lo que considera que desde temprana edad se debe de ir formando a los jóvenes, evitando así que caigan en la perdición o vicios como ocurre en la actualidad, sobre todo para los infanto-adolescentes de escasos recursos quienes mediante apadrinamientos podrán tener bases sólidas para un futuro.
Así lo consideró el director de la Escuela de Vela "Salty Sailing Society", con sede en Cozumel, quien explicó que ha realizado un análisis del problema social en la isla donde los jóvenes y niños  se insertan  muy jóvenes a la fuerza laboral, por lo que se busca crear una formación técnica  donde además de enseñarle a los niños algunas herramientas que les puede servir en su vida adulta,  se busca que sean  independientes;  tolerantes a la frustración,  resilientes al cambio, respetuosos de la regla del juego, solidarios con el prójimo y respetuoso del medio ambiente, habilidades que han comenzado a desarrollar la primera decena de alumnos.
"Se me ocurrió hacer una escuela para que los niños de bajos recursos puedan acceder a un deporte que desafortunadamente en nuestra Isla no se ha desarrollado y que además, cuenta con una calificativo  aristocrático, lo que hizo notar la exclusión de quienes menos tienen, a pesar de ser justamente  quienes más generan a las empresas al desempeñarse laboralmente, por lo que buscamos  más padrinos que permitan lograr una formación importante entre próximas generaciones dentro del ámbito náutico".
Uribe Vila, reconoció que la operatividad y permanencia de la Escuela de Vela se mantiene a través de donativos, por lo que confía en que más empresarios y residentes extranjeros y retirados, puedan sumarse a una buena causa que impactará a  infantes de entre cinco a 17 años de edad quienes a través de participaciones en regatas, comprenderán que dicho deporte no es clasista.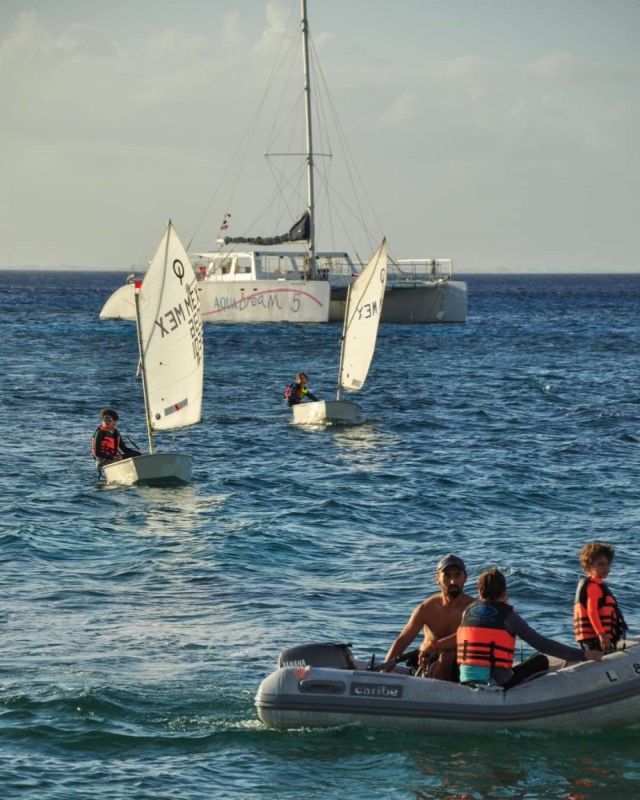 En la actualidad, "Salty Sailing Society" cuenta con una decena de alumnos en edad infante, entre éstos,  una niña que incluso registra participaciones significativas, al igual  que un pequeño de siete años que ha logrado alcanzar la segunda posición en las regatas estatales en su categoría;  reflejando así tanto la enseñanza como la ejecución de técnicas en comprensión de los pequeños.
Cada donativo podrá hacerse al consultar la página del Facebook "Salty Sailing Society", toda vez que el próximo dos y tres de abril asistirán los infantes a Bacalar para hacer nuevamente su aparición en competencias.
Cozumel 4You felicita al empresario   Héctor Uribe Vila, por importante iniciativa que formará jóvenes fuera de las adicciones, principal problema de la desintegración  familiar en la localidad.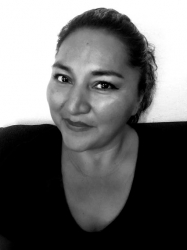 Latest posts by Kary Carrión
(see all)