Delta Airlines Returns Cozumel Karina Carrion Cozumel News
Delta Airlines returns to Cozumel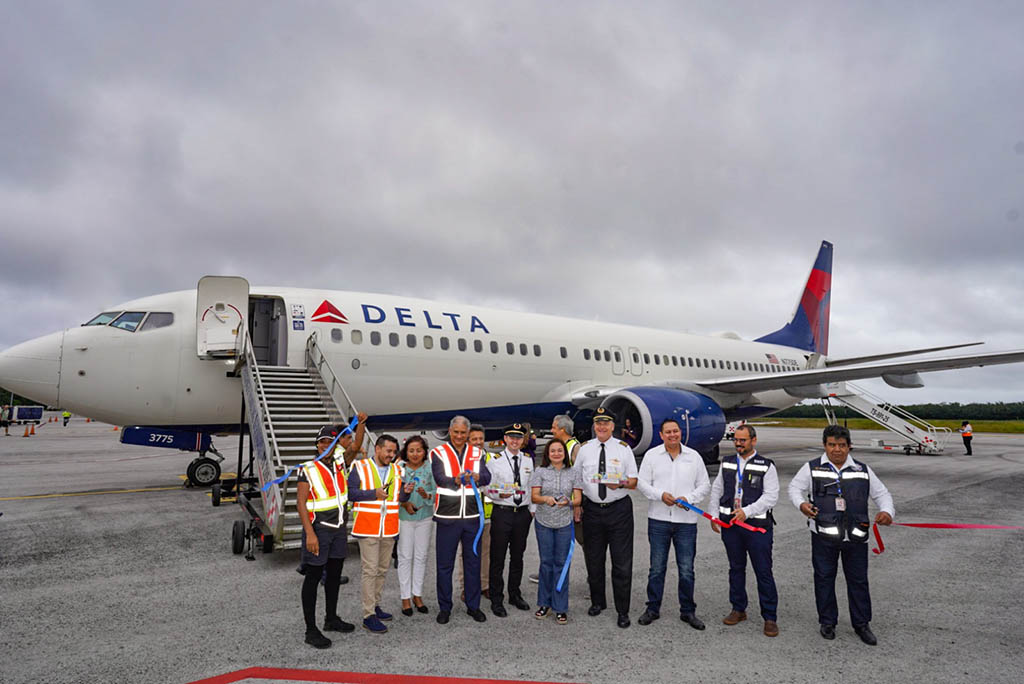 By Karina Carrión.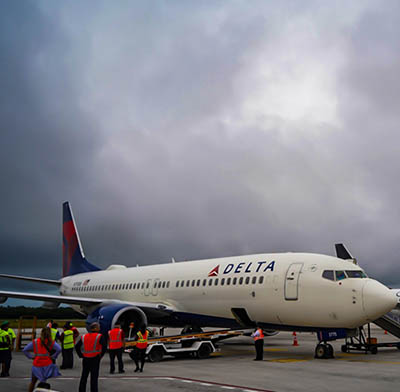 COZUMEL. – Marked as a historic day and the start of the high season for Cozumel, the mayor, Juanita Alonso Marrufo, welcomed 147 passengers and crew members who arrived last weekend to the Cozumel International Airport on Delta Airlines from Atlanta, which now arrives to this tourist destination on a daily and permanent basis after a 3-year break, thus strengthening the overnight tourism and the economy of this resort.
With the traditional "water arch" and cutting the inaugural ribbon, Delta Airlines' return was made official. This was proclaimed a historic event for Cozumel due to the airline's three-year absence as it stopped flying to Cozumel on March 2020. This marks the start of the high season with an increase of 59 flights during the week of November 6 to the 12th.
During the event, the mayor, Juanita Alonso, highlighted the coordinated work done by the Council for Tourism Promotion of Quintana Roo, given that since day one of the current administration they have been promoting this resort in different trade shows and venues, besides the work undertaken to have Cozumel be known as Pueblo Mágico (Magical Town), and be able to have a new window to advertise Cozumel to the world showing its natural wonders, its cultural and historical wealth, and the traditions that make this municipality different from other places.
Also, the mayor of Cozumel, Juanita Alonso, together with the airport administrator, Jorge Carlos Campos Romero, and the Deputy
Director of Tourism, Patricia Eugenia Marrufo Mendez, welcomed the executives of Delta Airlines Fredy Cid, Mexico Regional Manager; Jesús Peña, Manager in charge of opening the station as well as being the manager of the Monterrey and Guadalajara stations, and Herminio Pedraza, Cozumel Station Supervisor.
Pablo Alfonso Aguilar Torres, representative of the Council for Tourism Promotion of Quintana Roo in Cozumel (CPTQ), said that the achievement of Cozumel's mayor has been historic. Many other administrations would have liked to recover this number of flights, and figures have been historic. This must be held and increased for the benefit of Cozumel's residents as flights increased from 37 in a week to 44, and this week which is about to start 59 flights are arriving for the benefit of the economy of the people of the Island of the Swallows.
He said that Delta Airlines is a valuable commercial partner for Cozumel and having its flights returning is important especially for its seven arrivals in the week on a permanent basis. As well, from December 16, 2023,to April 8, 2024, this airline will increase its flights on Saturdays, Mondays and Wednesdays from Minneapolis, Minnesota.
"Soon very important sports events that are important for the residents, will be taking place. A great effort on the part of the mayor and the State government is to keep these very important international events ongoing, and they will facilitate direct flights to Cozumel for the arrival of even more tourism for events such as Ironman, meaning even more international tourism that will be flying from Houston, Dallas, Miami and even from Guadalajara", stated the CPTQ representative in Cozumel.
The airline will fly to Cozumel every day of the week with 160-passenger Boing 737-800. The inaugural flight arrived at 1:40 p.m. with 147 tourists, leaving at 3:20 p.m. with 35 passengers bound to its original destination.
La aerolínea Delta regresa a Cozumel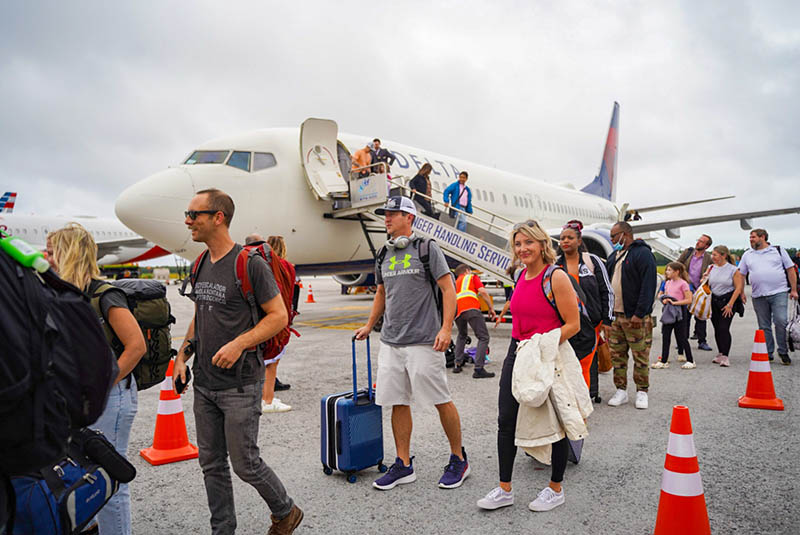 Por Karina Carrión.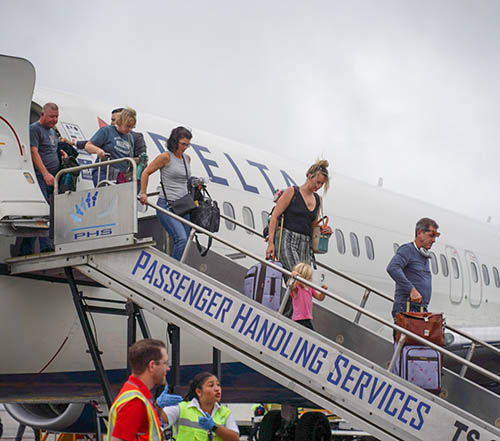 COZUMEL.- Marcado como un día histórico y el inicio de la temporada alta para Cozumel, la presidenta municipal, Juanita Alonso Marrufo dio la bienvenida a los 147 pasajeros y tripulantes que arribaron  el reciente fin de semana al aeropuerto internacional de la isla a través del vuelo Atlanta – Cozumel de la compañía Delta Airlines que de manera permanente llega a este destino turístico todos los días de la semana, luego de una pausa de 3 años, lo  cual fortalece el turismo de pernocta y por ende la economía de este polo turístico.
Con el tradicional "arco de agua" y el corte de listón inaugural, se dio por oficial la llegada del regreso de Delta Airlines, hecho que se pronunció como histórico para Cozumel debido a la ausencia por tres años de dicha aerolínea  que desde marzo de 2020 dejó de arribar a la isla y que marca el inicio de la temporada alta de turismo con el incremento de 59 vuelos durante la semana del 6 al 12 del presente mes.
Durante este acontecimiento la presidenta municipal, Juanita Alonso destacó el trabajo coordinado con el Consejo de Promoción Turística en Quintana Roo, que desde el día uno de la actual administración se trabaja en la difusión de este destino turístico en las diferentes ferias y tianguis, además de la labor realizada para que Cozumel sea nombrado Pueblo Mágico y poder tener una ventana de promoción al mundo y mostrar las bellezas naturales, la gran riqueza cultural, histórica y las tradiciones que hacen de este municipio diferente a otros sitios.
De igual manera la presidenta municipal, Juanita Alonso acompañada del administrador del aeropuerto, Jorge Carlos Campos Romero y la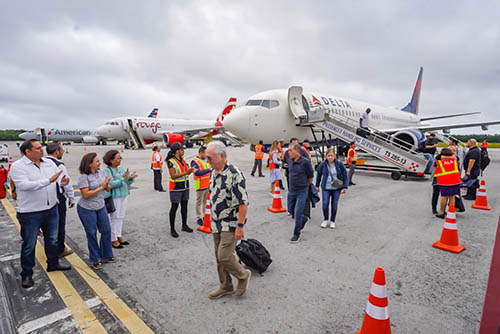 subdirectora de Turismo Patricia Eugenia Marrufo Mendez dio la bienvenida a directivos de la aerolínea Delta,  Fredy Cid, gerente Región México, Jesús Peña, Gerente encargado de apertura de estación, así como gerente de estaciones de Monterrey y Guadalajara, así como a Herminio Pedraza, supervisor de Estación Cozumel.
En tanto que el representante del Consejo de Promoción Turística  de Quintana Roo en Cozumel (CPTQ), Pablo Alfonso Aguilar Torres, señaló que este logro de la presidenta municipal ha sido histórico, muchas administraciones hubieran querido recuperar esta cantidad de vuelos y que las cifras que se han tenido son históricas, las cuales hay que mantener y acrecentar para beneficio de los cozumeleños, ya que  de 37 vuelos a la semana aumentó a 44 y en esta semana que está por iniciar serán 59 vuelos para beneficio de la economía de los habitantes de la Isla de las Golondrinas.
Dijo que Delta Airlines es un socio comercial valioso para Cozumel y tener de regreso sus vuelos es importante sobre todo por sus siete frecuencias a la semana de manera permanente y que del 16 de diciembre de este año al 8 de abril del 2024 esta misma aerolínea incrementará sus frecuencias los días sábado, lunes y miércoles, procedente de la ciudad norteamericana de Minneapolis, Minnesota.
"Ahí vienen los eventos deportivos muy importante igual para la población, lo cual también es un gran esfuerzo por parte de la presidenta municipal y del gobierno del estado, en mantener estos eventos tan importantes de talla internacional y obviamente que facilitarán estas rutas directas para Cozumel la llegada de más turismo para eventos como el full Ironman que es más turismo internacional y que obviamente pues estarán ocupando estas rutas a incrementos en vuelos de Houston en vuelos desde Dallas en vuelos desde Miami inclusive el vuelo de Guadalajara" señaló el representante del CPTQ en Cozumel.
La aerolínea en mención arribará a Cozumel todos los días de la semana con un Boing 737-800 con capacidad para 160 pasajeros, que en este vuelo inaugural arribó a las 13:40 horas con 147 turistas y partió a las 15:20 horas a su destino original con 35 pasajeros.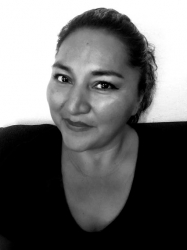 Latest posts by Kary Carrión
(see all)