"El Capitan"  Short Film Premiers This Weekend
Cozumel & World First Screening January 14th at 4 pm……
"As a drone business, Cozumel Living the Dream is a good fit for the photography business, Holiday Documentary.  Director, Abraham Elizalde first contacted Cozumel Living the Dream to take a few drone shots to include in his short film, El Capitán.  The role evolved as the film was shot.  Cozumel Living the Dream assisted with the photography and overall production during on location filming.  It was a great honor to assist with the production of El Capitán in conjunction with The Map and working with Abraham, Discover Mexico, and the talented actors.  This film was shot entirely in Cozumel.  Please join us in support of these local artists" 
Robin Chacon – Cozumel Living the Dream
Meanwhile, next Sunday January 14 we will be able to attend the first short film screening of the series named "El Capitán". This film is about a foreign boy who, in his search for someone, is assisted by a local boy and will not rest until they find that someone. The sort lasts about 18 minutes and I am certain these will seem less than 10. Screening will take place at Discover Park Mexico's audiovisual room at 4 pm, where you will be able to meet the cast and the director who will announce the next workshop. So, if you like movies, you are a professional or amateur actor and want to be part of the next short film, don't hesitate to come. Stand assured it will be a great experience. Entrance is free and you can come along with whomever you want.
Last November our Island held its first acting workshop before a movie camera which resulted in a short film, made here, with the total support of Discover park Mexico, Cozumel Living the Dream, The Map and Holliday Documentary. The beautiful Discover Park Mexico opened its doors 6 Saturdays to host the students of this workshop. Actor and director Abraham Elizalde who moved to the Island last August conducted the workshop. He has worked in many soap operas, series, movies and advertisements, and has an extensive resume; and with his work experience plans to make 4 more short films and a film as the grand 2018 finale.
Timeline 16:00 hrs. – Reception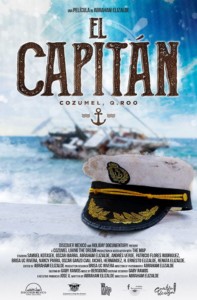 16:30 hrs. – Welcome cocktail
17:00 hrs.  – Words from Pepe Villavazo
17:00 hrs.  – Director's acknowledgements
17:45 hrs. – Cast and director Q & A
18:00 hrs. – Socialization
Here is the link to the tráiler for the film –  https://www.youtube.com/watch?v=sKzvVL0UGzg&feature=youtu.be
Este fin de semana se estrena el cortometraje "El Capitán"
En Enero 14 a las 4 p.m., Cozumel y el primer estreno mundial . . .
"Ser un negocio de drones, Cozumel Living the Dream es una buena opción para la fotografía, Holiday Documentary. Primero el director Abraham Elizalde se puso en contacto la con Cozumel Living the Dream con el objeto de incluir algunas tomas por medio de drones e incluirlas en El Capitán, su cortometraje. Conforme se filmaba la película la participación fue más allá. Durante el rodaje en locaciones, Cozumel Living the Dream ayudó con la fotografía y la producción general. Fue un gran privilegio ayudar con la producción de El Capitán en conjunto con The Map y al trabajar con con Abraham, Discover México y los talentosos actores. Esta película fue totalmente rodada en Cozumel. Únase a nosotros en apoyo de estos artistas locales".
Robin Chacon – Cozumel Living the Dream
Mientras tanto el próximo domingo 14 de Enero del presente año podremos asistir a la proyección de el primer cortometraje realizado de esta mencionada serie el cuál lleva por nombre "El Capitán" Un film que trata de la búsqueda de un niño proveniente del extranjero que recibe la ayuda de otro niño local, buscan a alguien y no descansarán hasta encontrarlo. El corto tiene una duración de aproximadamente 18 minutos y te aseguro que te parecerán menos de 10, la proyección será en la sala audiovisual de Discover Park México a las 16:00 hrs, en donde podrás conocer al elenco de esta producción además de al director quien anunciara el inicio del siguiente taller. Así que si te gusta el cine, eres actor profesional o amateur y quieres ser parte de el cast de el próximo corto no dudes en asistir te aseguramos que será una gran experiencia, recuerda que la entrada es libre y puedes ir acompañado de quien tu quieras.
En Noviembre de el año pasado se realizo por primera vez en nuestra bella isla de Cozumel un taller de Actuación frente a la cámara de cine teniendo como resultado final un cortometraje filmado aquí mismo Con el apoyo total de Discover Park México, Cozumel Living the Dream, The Map y Holliday Documentary, el taller tuvo como sede el maravilloso Discover Park México que durante 6 sábados abrió sus puertas a los estudiantes de este taller. El curso fue impartido por el actor y director Abraham Elizalde quien llego a vivir a la isla en agosto del pasado año, el ha trabajado en múltiples telenovelas, series, películas y muchos comerciales publicitarios, teniendo un currículum bastante amplio y con la experiencia que su labor le ha dado el pretende realizar una serie de 4 cortometrajes más y una película para finalizar el 2018 y cerrarlo con broche de oro.
Timeline.
16:00 Hrs – Recepción
16:30 Hrs – Cocktail de Bienvenida
16:45 Hrs – Palabras de Pepé Villalvazo
17:00 Hrs – Proyección cortometraje
17:30 Hrs – Agradecimientos por parte del Director,
17:45 Hrs – Preguntas al cast y al director 18:00 Hrs – Convivencía
Enlace para ver el tráiler de la película:
https://www.youtube.com/watch?v=sKzvVL0UGzg&feature=youtu.be
Latest posts by Laura Wilkinson
(see all)