Sweet & Sour Shrimp Tacos recipe
Los Cinco Soles Mexicatessen at home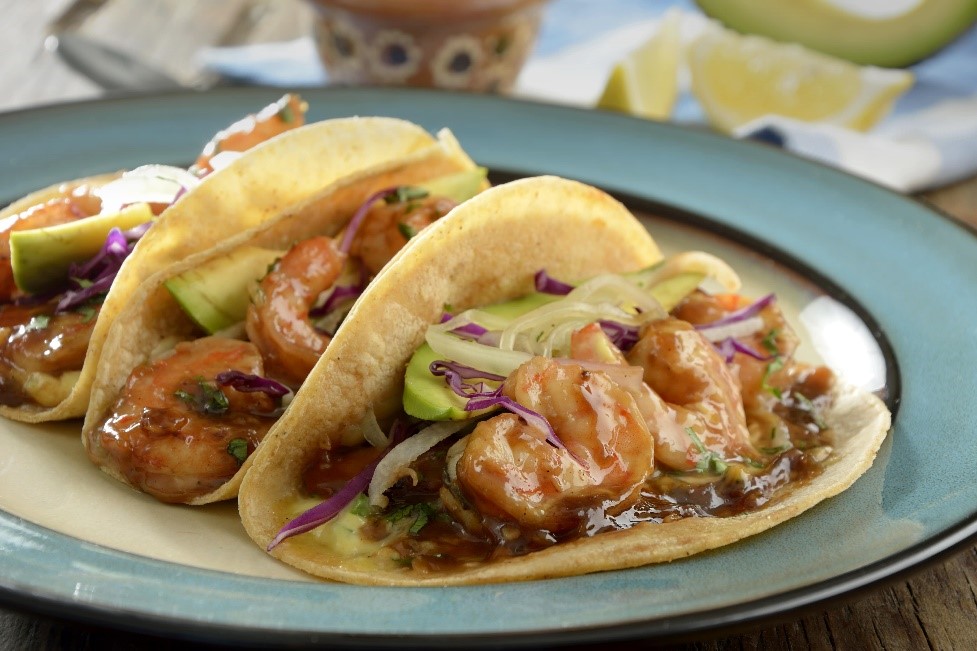 The change of residence definitely has its challenges but also the magic surprise of discovering new customs and flavors, especially flavors. Mexican gastronomy is a living expression of cultural heritage, it reflects identity and traditions. In Mexico there is a huge variety of ingredients to prepare dishes –rich in color, smell and taste-, positioning Mexico as one favorite destinations among national and international tourists looking for experience where they can taste and savor culinary products.  
Many times, we end up falling in love with the flavors; however, recreate them is a bit more difficult. How to prepare a mole or even cochinita pibil? Fortunately, there are also some shortcuts to prepare what could seem impossible and at home we can find the ingredients to recreate them.
In Los Cinco Soles you will find products that are made following traditional regional recipes. The orange Habanero pepper mixed with other first-rate ingredients, is a full-flavored side to complement your favorite dishes.
What do you think about preparing sweet and sour shrimp tacos?
Here's the recipe:
1 jar of Cocina Mestiza sweet and sour tamarind sauce (you can find it at Los Cinco Soles)
1 kilo of shrimp (2.2 lb)
500 grams of tortillas (1.10 lb)
1 shallot or onion
2 teaspoons of salt
1 teaspoon of pepper
1 cup of red cabbage
1 peeled and finely cut cucumber
1 peeled and finely cut jicama
1 avocado
½ cup of mayonnaise
1 ½ tablespoon of mustard
1 Habanero pepper
¼ bundle of coriander
Preparation
Wash and cut the vegetables (cabbage, jicama, pepper and coriander). Prepare the sauce mixing mustard, the mayonnaise and the Habanero pepper .
Heat the butter and sauté the shallot (or onion) to lightly transparent. Add the shrimp, salt and pepper. Cook until the shrimp are golden brown.
Add the Cocina Mestiza® sweet and sour tamarind sauce to the shrimp. Once it boils, turn the burner off and place in a bowl to stop the shrimp from overcooking.
Warm up the tortillas. Serve the tacos with some shrimp, cabbage, cucumber, jicama and coriander.
Serve with mayonnaise and Habanero sauce. Complement with avocado.
Photo credit "Cocina Mestiza ®"
Receta tacos de camarón en salsa agridulce
Los Cinco Soles   Mexicatessen, en casa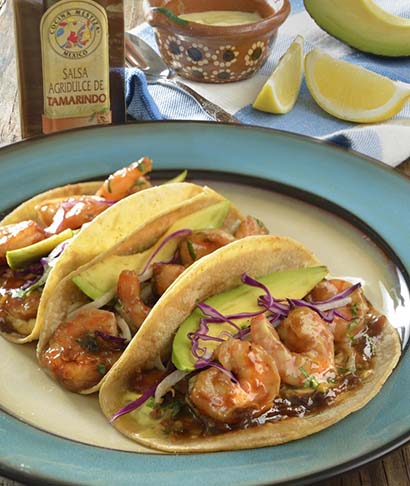 El cambio de residencia definitivamente tiene sus retos, pero también la mágica sorpresa de descubrir nuevas costumbres, y sabores, sobre todo sabores. La gastronomía mexicana es una expresión viva del patrimonio cultural, en ella se refleja la identidad y tradiciones, en México existen una enorme variedad de ingredientes para la elaboración de platillos -ricos en color, olor y sabor- lo que posiciona a México como uno de los destinos favoritos por los turistas nacionales e internacionales que buscan experiencias donde se pueda degustar y saborear productos del tipo culinarios.
Muchas veces terminamos enamorados de los sabores, pero replicarlos es una tarea un poco más difícil, ¿cómo hacer esa salsa que tanto nos gustó en los tacos, cómo preparar un mole o incluso una cochinita pibil? Bueno, afortunadamente también existen algunos atajos a esas preparaciones que parecerían imposibles, y podemos encontrar los ingredientes para replicar caseramente esos sabores en nuestra casa.
En Los Cinco Soles encontrarás productos hechos siguiendo recetas tradicionales de la región. El chile habanero naranja, mezclado con otras variedades de ingredientes de calidad superior es un acompañamiento lleno de sabor para tus platillos favoritos.
¿Qué te parece preparar unos tacos de camarón con salsa agridulce?
Te dejamos la receta
1 frasco de Salsa Agridulce de Tamarindo Cocina Mestiza (la encuentras en Los Cinco Soles)
1 kilo de camarón
500 gramos de tortilla
1 echalote o cebolla
2 cucharaditas de sal
1 cucharadita de pimienta
1 taza de col morada, lavada y rebanada finamente
1 pepino pelado y cortado finamente
1 jicama pelada y cortada finamente
1 aguacate
½ tazas de mayonesa
1 1/2 cucharadas de mostaza
1 chile habanero
¼ manojo de cilantro fresco
Preparación
Lavar y cortar las verduras (col, pepino, jícama, chile y cilantro). Preparar la salsa mezclando la mostaza, la mayonesa y el chile habanero.
Calienta la mantequilla y saltea la chalota (o cebolla) hasta que estén un poco transparentes, añade los camarones, sal y pimienta. Cocina hasta que los camarones obtengan un color dorado.
Añade la Salsa Agridulce de Tamarindo Cocina Mestiza® a los camarones. Cuando empiece a hervir, apaga el fuego y reserva en un tazón para que no se sigan cociendo los camarones.
Calienta las tortillas. Sirve los tacos con un poco de camarón, col, pepino, jícama y cilantro.
Sirve acompañados de la salsa de mayonesa y habanero. Acompaña con aguacate.
Crédito de fotos "Cocina Mestiza (R)"
Latest posts by Laura Wilkinson
(see all)