Mayan Legends Monica Sauza
Mayan Legends:  Jun Raqan, "the one legged"
by Monica Sauza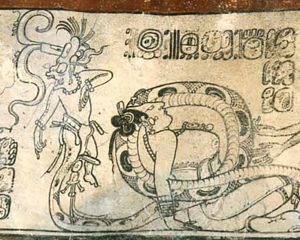 "Before Creation, there were no men, no animals, birds, fish, crabs, trees, stones, caves, ravines, herbs or wilderness… the ocean was quiet…only stillness and silence… Only the Lord and Creator, Gucumatz, Father and Mother of all that is… Gucumatz in council with the Lords Tepeu, decided to create all creatures…The creation of the trees and life came to existence as well as all else created by the Heart of the Sky, called Hurakán…". Taking the liberty of making this brief abstract from the Popol Vuh or Pop Wuj, the Maya Quiché "Book of Counsel", the creation of the world and man, we remember this still is hurricane season. The Popol Vuh was discovered in the 18th century by a Dominican friar in Chichicastenango, Guatemala, and it is believed that just as it happened with many other codices destroyed by the Spaniards when they arrived to Guatemala in 1524, this "Book of Counsel" was no exception, however, it was later transcribed by memory.
Many names are given to Jun Raqan: Jurakan, Bolon Tzacab, Hurakan, Tohil, Kawiil, Uk'ux Kaj-Uk'ux Ulew, "the one legged", heart of the sky, and others; god of the wind, tempests, fire, chaos, confusion, thunder, floods, one of the thirteen creator gods that crafted humanity on a third attempt. In the first attempt of creation, as what the gods had fashioned angered them, Hurakán was commissioned to cause the Great Flood. In the meantime, he lived in the mists, over torrential waters, and after repeating the word "earth" many times, land finally emerged from the oceans.
From the very few codices that survived, Hurakán is represented like a reptile, standing one leg, shaped as a serpent and wearing a crown.
This representation has also been attributed to another god, God K or Kawiil, who apparently is more related with agricultural wealth, cacao beans, harvests, seeming
ly of a better nature than that of one of the creator gods.
And although in Cozumel we are quite familiar with this Mayan god's wrath, we are strong community, always prepared and moving forward no matter what Jun Raqan may leave in his wake.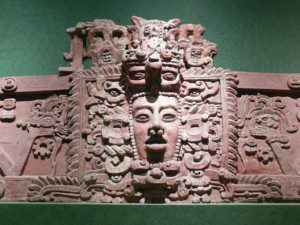 Jun Raqan, "el de una sola pierna"
por Monica Sauza
"Antes de la Creación no había hombres, ni animales, ni pájaros, pescados, cangrejos, árboles, piedras, cuevas, barrancos, hierbas o bosques… el océano estaba tranquilo … sólo la quietud y el silencio… Sólo el Señor y Creador, Gucumatz, Padre y Madre de todo lo que hay… Gucumatz en consejo son los Señores Tepeu, decidieron crear a todas las criaturas… Se manifestó la creación de los árboles y la vida y de todo lo demás que se creó por el Corazón del Cielo, llamado Hurakán…" Tomándome la libertad de hacer este breve extracto del Popol Vuh o Pop Wuj, el "Libro del Consejo" de los maya quiché, la creación del mundo y del hombre, recordamos que aún estamos en temporada de huracanes. El Popol Vuh fue descubierto en el siglo 18 por un fraile dominicano en Chichicastenango, Guatemala, y se cree que, al igual que sucedió con muchos otros códices destruidos por los españoles a su llegada a Guatemala en el año 1524, este "Libro del Consejo" no fue la excepción; sin embargo, fue posteriormente transcrito de memoria.
A Jun Raqan se le atribuyen muchos nombres: Jurakan, Bolon Tzacab, Hurakan, Tohil, Kawiil, Uk'ux Kaj-Uk'ux Ulew, "el de una sola pierna", el cora
zón del cielo, y otros; dios del viento, de las tempestades, fuego, caos, desorden, relámpago, inundaciones, uno de los trece dioses creadores que formaron a humanidad en un tercer intento. Ya que en el primer intento de la creación, lo que los dioses habían creado los enfureció, a Huracán se le dio el encargo de causar la Gran Inundación. Mientras tanto el vivió entre la neblina, sobre aguas torrenciales, y después de mucho repetir la palabra "tierra", finalmente ésta emergió de las aguas.
De los pocos códices que sobreviven, Hurakán es representado como un reptil, parado sobre una pierna en forma de
serpiente y portando una corona.
Esta representación también ha sido atribuida a otro dios, el Dios K o Kawiil, quien aparentemente está más relacionado con la riqueza agrícola, semillas de cacao, cosechas, aparentemente con mejores atributos que aquellos de uno de los dioses creadores.
Y, a pesar de que en Cozumel conocemos bien la furia de este dios maya, somos una comunidad fuerte siempre preparados y saliendo adelante sin importar lo que Jun Raqan pueda dejar a su paso.

Latest posts by Monica Sauza
(see all)