Mexican National Air Traffic Foreign Carriers
Proposed Regulation Allowing Foreign Airlines to Fly Nationally In Mexico:  More Options, Cheaper Fares & Increased Arrivals
Mexico's President, Andres Manuel Lopez Obrador (AMLO) announced last week during a regularly scheduled press conference that he would support new regulation that would allow foreign airlines to fly domestic routes within Mexico.
This is significant since Mexican law currently prohibits foreign carriers to fly within the country.  Meaning international airlines can arrive and depart but not run routes in the interior of the country.
AMLO explained the reasoning for the proposed new legislation would be to "help control prices" since there would be more competition, and allow consumers to take advantage of lower costs as well as additional flight options.  Currently airline tickets within the country can be quite expensive, if the area is even serviced.
The President went on to suggest that this would also allow air service to more destinations within Mexico.
"So we're goin
g to open up [to more] competition. That's democracy. … The important thing with democracy is for there to be competition, … there shouldn't be monopolies," he said. "… We're going to attend [to the problem of expensive air travel]; we're going to solve it."
"There are a lot of places that can't be reached by plane because they're not served by the current airlines," he said on Oct. 4. "… There are cities where there were flights before but now there are none."
Mexico's national air system has had it's challenges.  Back in March the brand-new "Felipe Angeles International Airport"  opened just outside Mexico City.  The mega structure was built, in part, by Mexico's Military, but so far the new airport hasn't seen as many flights as were projected.
This lack of air traffic could be due in part to Mexico's current aviation safety rating (in May 2021 Mexico was bumped back to Level 2 by the US FAA) which currently means that national Mexican carriers cannot add additional flights into the United States. This caps national carriers as far as expansion, and limits the number of arrivals.
When questioned about the current FAA status, AMLO stated that reinstatement of a Level 1 safety rating is of the utmost importance, and the Infrastructure, Communications and Transport Minister will be travelling to the United States this week to discuss the situation.  It's expected that "in the coming months" Mexico will regain it's Top Tier safety status, allowing more national carriers to service the USA, and resolve the lack of  traffic to the new Mexico City airport.
Propuesta de normativa que permite a las aerolíneas extranjeras volar a rutas nacionales en México:  Más opciones, tarifas más baratas y aumento de llegadas
Durante la conferencia de prensa regular, el presidente de México, Andrés Manuel López Obrador (AMLO), informó la semana pasada que apoyaría una nueva reglamentación que permitiría a las aerolíneas extranjeras volar rutas nacionales dentro de México.
Esto es relevante ya que en la actualidad las leyes mexicanas prohíben a las aerolíneas extranjeras volar dentro del país. Esto se traduce en que las aerolíneas internacionales pueden llegar y salir, pero no realizar rutas en el interior del país.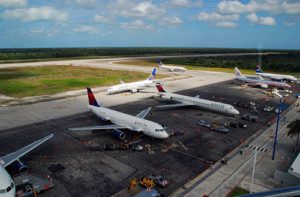 AMLO explicó que el razonamiento para la nueva legislación propuesta sería "ayudar a controlar los precios", ya que habría más competencia, y permitiría a los consumidores aprovechar los costos más bajos, así como las opciones de vuelos adicionales.  Hoy en día, los boletos de avión dentro del país pueden ser bastante caros, ello si es que la zona tiene los servicios.
El presidente sugirió que esto también permitiría el servicio aéreo a más destinos dentro de México.
"Así que vamos a abrirnos [a más] competencia. Esa es la democracia. … Lo importante de la democracia es que haya competencia, … que no haya monopolios", dijo. "… Vamos a atender [el problema de los viajes aéreos caros]; vamos a resolverlo".
"Hay muchos lugares a los que no se puede llegar en avión porque las aerolíneas existentes no proporcionan el servicio", indicó el 4 de octubre. "… Hay ciudades donde en el pasado había vuelos y ahora no los hay".
El sistema aéreo nacional de México ha tenido sus retos. En marzo se inauguró el nuevo "Aeropuerto Internacional Felipe Ángeles" en las afueras de Ciudad de México.  La mega estructura fue construida, en parte, por las Fuerzas Armadas de México, pero hasta ahora el nuevo aeropuerto no ha visto tantos vuelos como se había proyectado.
Esta falta de tráfico aéreo podría deberse, en parte, a la actual calificación de seguridad aérea de México (en mayo de 2021, la FAA de EE.UU retrocedió a México al nivel 2), lo que hoy por hoy significa que las compañías aéreas nacionales mexicanas no pueden añadir vuelos adicionales hacia los Estados Unidos. Esto limita a las aerolíneas nacionales en cuanto a su expansión, y limita el número de llegadas.
Al ser cuestionado sobre la situación actual de la FAA, AMLO declaró que el restablecimiento de una calificación de seguridad de nivel 1 es de suma importancia, y el Secretario de Infraestructura, Comunicaciones y Transportes viajará a Estados Unidos esta semana para discutir la situación.  Se espera que "en los próximos meses" México recupere su clasificación de seguridad de Nivel 1, lo que permitirá que más aerolíneas nacionales presten sus servicios hacia EE.UU., y que se resuelva la falta de tráfico hacia el nuevo aeropuerto de la Ciudad de México.
Latest posts by Laura Wilkinson
(see all)