New Cozumel Ferry Xcaret
Xcaret Ferry Boat to Cozumel Plans Proceed.  Will Cozumel Have a Third Ferry Company Again?
For some time now the Xcaret Consortium has been seeking permission to operate a maritime route between Cozumel and Playa del Carmen, similar to the operations that they have already set up between Cancun and Isla Mujeres.
The Cozumel Director of Apiqroo (who oversees the Cozumel ports) has confirmed that Xcaret intends to begin operations this calendar year, and that Grupo Xcaret has already applied for permission for a ticket sales booth on Cozumel's fiscal pier.
The Xcaret ferries would fill the space left by by Barcos Caribe (Impulsora Marítima de Quintana Roo y del Caribe, S.A. de C.V), which was suspended by the Ministry of Communications and Transportation (SCT) on March 11, 2018.
Back in 2021 Miguel Quintana Pali, who heads up Grupo Xcaret,  made the announcement of the intention to venture into to Cozumel, and the company has gone so far as to purchase 3 new vessels, what a capacity of 350 passengers each.
Cozumel is currently serviced by two ferry companies –  Golfo Transportaciones (Winjet) and Naviera Magna (Ultramar).
Siguen adelante los planes de Xcaret para un ferry a Cozumel. ¿Contará Cozumel de nuevo con una tercera compañía de ferries?
Desde hace algún tiempo el Consorcio Xcaret ha estado intentando obtener autorización para operar una ruta marítima entre Cozumel y Playa del Carmen, similar a las operaciones que ya han establecido entre Cancún e Isla Mujeres.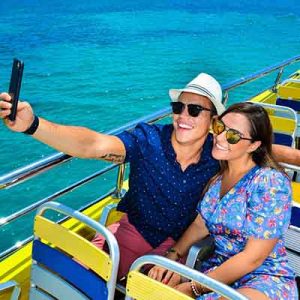 El director de la Apiqroo de Cozumel (a cargo de supervisar los puertos cozumeleños) ha confirmado que Xcaret pretende iniciar sus operaciones este año calendario, y que Grupo Xcaret ya ha solicitado permiso para instalar una caseta de venta de boletos en el muelle fiscal de Cozumel.
Los ferries de Xcaret ocuparían el espacio dejado por Barcos Caribe (Impulsora Marítima de Quintana Roo y del Caribe, S.A. de C.V), que fuera suspendida por la Secretaría de Comunicaciones y Transportes (SCT) el 11 de marzo de 2018.
Enn 2021, Miguel Quintana Pali, quien encabeza Grupo Xcaret, anunció la intención de incursionar en Cozumel, y la empresa ya adquirió 3 s embarcaciones nuevas, con una capacidad de 350 pasajeros cada una.
En la actualidad, Cozumel cuenta con dos compañías de ferry: Golfo Transportaciones (Winjet) y Naviera Magna (Ultramar).
Latest posts by Laura Wilkinson
(see all)