Cozumel Turtle Name Contest
Cozumel Turtle Hatchings Contest for Island Children Announced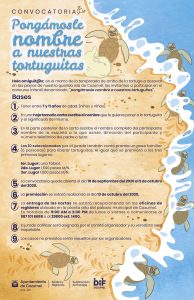 Island children between the ages of 7 – 11 years are being encouraged to participate in a fun contest called "Let's name our turtle hatchlings."  The contest is being sponsored by Municipal Officials and the DIF offices.
Children from 7 – 11 years old are encouraged to write, on a letter-sized page the name they would select for a turtle hatching, and explain why that particular name has an important significance.
Ten letters will be selected by a panel of judges,  the top 5 canidates will be invited to a special liberation of turtle hatchlings and additionally, there are prizes for 1st, 2nd and 3rd place.
On the back of the child's letter, the child's full name, school, address, and telephone number must be clearly written.  Letters must be dropped off in the Alderman's office located in the Palacio Municipal.
The contest will run from September 10 to October 9, 2020.  The winners will be announced on October 13th.
Check the guidelines here https://bit.ly/2FAd4du
Se anuncia el concurso para los niños de la Isla para poner nombre a las tortuguitas 
Se invita a chicos de la Isla entre 7 y 11 años para que participen en un divertido concurso llamado "Pongámosles nombre a nuestras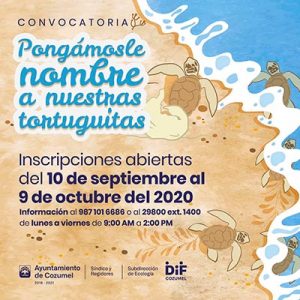 tortuguitas" que patrocina el ayuntamiento de Cozumel y la oficina del DIF.
Se anima a los niños de 7 a 11 años que en una hoja tamaño carta escriban el nombre que elegirán para una tortuguita recién nacida y que expliquen por qué ese nombre en particular tiene un significado importante.
Los jueces elegirán diez cartas. Los 5 mejores candidatos serán invitados a una liberación especial de tortuguitas. Además, habrá premios para el 1º, 2º y 3er. lugares.
De manera clara, al reverso de la carta deben escribirse el nombre completo del menor, la escuela, su domicilio y el número de teléfono. Las cartas deben entregarse en la oficina de regidores en el Palacio Municipal.
El concurso tendrá ligar del 10 de septiembre al 9 de octubre, 2020. El 13 de octubre se darán a conocer los nombres de los ganadores.
Consulta las bases de la convocatoria aquí   https://bit.ly/2FAd4dU
An ex-Connecticut Yankee who has called Cozumel home for over 18 years, Laura ran away to the Caribbean years ago, bumped around the islands teaching SCUBA diving, lost some time in Jamaica, and finally stopped in Cozumel for a 2 week vacation that hasn't ended yet. With a degree in Journalism from a fancy private college she convinced her parents to pay for, Laura writes, edits, and creates the weeklyCozumel 4 You news,social media, and promotional articles about the island, as well as moderates the Cozumel 4 You Facebook group, which currently has over 25,000 members. Her long suffering husband, Fabian, has long since resigned himself to having zero private life, as he's been involved in her various schemes and plots since his arrival. Proud parents to a variety of rescue dogs and cats, Laura continues to be the bane of her traditional Mexican mother-in-law's existence, as she muses her way through life in the Mexican Caribbean.
______________________________
Una ex yanqui de Connecticut quien llama hogar a Cozumel desde hace más de 15 años. Laura escapó al Caribe hace años, desplazándose de una isla a otra dando clases de BUCEO. Se dedicó a perder el tiempo en Jamaica y finalmente se detuvo en Cozumel para pasar unas vacaciones de 2 semanas que aún no terminan. Convenciendo a sus padres que pagaran una elegante universidad privada, obtuvo su título en Periodismo y Laura crea semanalmente Cozumel 4You, medios sociales y artículos promocionales sobre la Isla y también es moderadora en el grupo Cozumel 4 You en Facebook que actualmente cuenta con 25,000 miembros. Fabián, s umuy tolerante marido, desde hace mucho tiempo se resignó a no tener vida privada, pues se ha visto implicado en los diversos proyectos y planes que urde Laura. Son orgullosos padres de diversos perros y gatos rescatados. Mientras contempla su paso a través de la vida en el Caribe mexicano,Laura continúa siendo la pesadilla en la existencia de su muy tradicional suegra mexicana.
Latest posts by Laura Wilkinson (see all)