Fly Cozumel Photo Contest
VOTE:  5th Annual Fly Cozumel Photo Contest:  Sasha VS. Nadine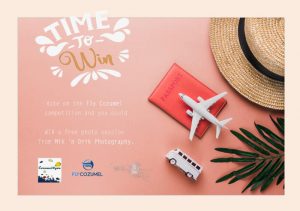 Voting is now open for the 5h Annual Aerial Photography Competition.   The Fly Cozumel team has once again created an entirely new interactive competition, in which you – the Cozumel 4 You readers – will have the opportunity to cast your vote!
This year – we're taking husband and wife photo team from Mik n' Drik Photography head to head – in a Sasha VS. Nadine competition.
About Sasha & Nadine
Nadine Friedman-Biezmienova and Oleksandr Biezmienov own Mik 'n Drik Photography.  In case you were wondering Mik 'n Drik is Africaans for "Point and Shoot" and harks back to their roots as a couple, when they worked on Carnival Cruise Lines.  Nadine was actually kind enough to share her "How I came to call Cozumel home" story  a few years ago.
Oleksandr (Sasha)  is more involved and interested in video photography/cinematography and personal portraits. While Nadine loves to focus her energy on newborns, lifestyle and interior photography.
This husband and wife team pretty much does everything together.  Check out their portfolio on their website  https://www.mikndrik.com/portfolio
However not this time!!  GAME ON LOVEBIRDS!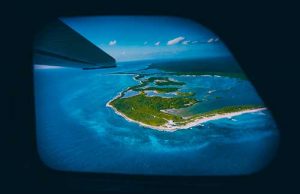 How To Vote in the 5th Annual Fly Cozumel Photo Contest
Voting is now live & very easy!!!    – simply click this link on the Fly Cozumel website, and cast your ballot for your favorite photo by either Sasha or Nadine.
Click on this link – and click on your favorite photo. https://flycozumel.com/5th-annual-aerial-photo-contest/?contest=photo-detail&photo_id=66295
Vote by leaving your email address.  Share the picture with your friends and family and invite them to vote for the best Cozumel photo of 2020 as well.
One lucky voter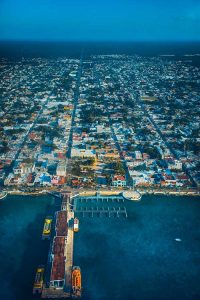 will be selected to win a FREE photoshoot with Mik 'n Drik Photography
Voting closes on Midnight February 11th.
On Monday, February 12th, we will announce the lucky winner via our social media channels and the always friendly, consistently useful and awesome Cozumel 4 You community.
About Fly Cozumel
Fly Cozumel  offers spectacular Cozumel excursions, scenic flights, and charter flights by plane to Chichen Itza, Cancun, Holbox, Cozumel and more.
EMITA SU VOTO – 5º concurso anual de fotografía Fly Cozumel: Sasha vs. Nadine
Ya está abierta la votación para el concurso anual de fotografía aérea. El equipo Fly Cozumel de nuevo a creado una competencia interactiva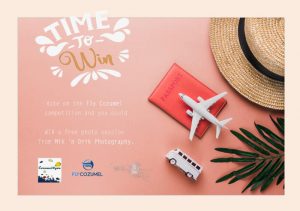 totalmente nueva donde ustedes, los lectores de Cozumel 4 You, ¡tendrán la oportunidad de emitir su voto!
Este año llevamos al equipo y matrimonio fotográfico de Mik n' Drik Photography  enfrentando a Sasha y a Nadine en una competencia.
Acerca de Sasha y Nadine
Nadine Biezmienova y Oleksandr Biezminova, son pareja y copropietarios de Mik 'n Drik Photography. En caso de que se pregunten qué quiere decir Mik'n Drik, procede de la lengua afrikáans y significa "Apunte y Dispare", y se remonta a sus raíces como pareja cuando trabajaban para la línea naviera Carnival. De hecho,  hace unos años Nadine amablemente compartió su historia en "Cómo es que Cozumel se convirtió en mi hogar".
Oleksandr (Sasha) está más metido e interesado en la fotografía/cinematografía de vídeo y los retratos personales. En tanto que a Nadine le encanta centrar su energía en los recién nacidos, el estilo de vida y la fotografía interior.
Este equipo conformado por el matrimonio hace casi todo juntos.  Echen un vistazo a su portafolio en su sitio web https://www.mikndrik.com/portfolio
Sin embargo, ¡no lo harán en esta ocasión!  ¡SE ABRE LA COMPETENCIA, TORTOLITOS!
Cómo votar en el 5o concurso anual de fotografía Fly Cozumel
¡La votación ya abrió y es muy fácil!   – Simplemente haga clic en este enlace en el sitio web de Fly Cozumel, y emitan su voto para elegir su foto favorita; ya sea de Sasha o de Nadine.
Hagan clic en este enlace y elijan su foto favorita: https://flycozumel.com/5th-annual-aerial-photo-contest/?contest=photo-detail&photo_id=66295
Vote dejando su dirección de correo electrónico. Comparta su fotografía favorita con sus amigos y familia, y también invítenlos a vitar por la mejor fotografía de Cozumel 2020.
Se seleccionará a una persona afortunada que haya emitido su voto quien ganará una sesión fotográfica GRATUITA con Mik 'n Drik Photography. La votación cierra a medianoche del 11 de febrero.
A través de nuestras redes sociales y de la siempre amigable, constantemente útil e impresionante comunidad Cozumel 4 You anunciaremos
el lunes 12 de febrero al afortunado ganador.
Acerca de Fly Cozumel
Fly Cozumel  ofrece excursiones espectaculares de Cozumel, vuelos panorámicos, y vuelos fletados a Chichén Itzá, Cancún, Holbox, Cozumel y más.
An ex-Connecticut Yankee who has called Cozumel home for over 18 years, Laura ran away to the Caribbean years ago, bumped around the islands teaching SCUBA diving, lost some time in Jamaica, and finally stopped in Cozumel for a 2 week vacation that hasn't ended yet. With a degree in Journalism from a fancy private college she convinced her parents to pay for, Laura writes, edits, and creates the weeklyCozumel 4 You news,social media, and promotional articles about the island, as well as moderates the Cozumel 4 You Facebook group, which currently has over 25,000 members. Her long suffering husband, Fabian, has long since resigned himself to having zero private life, as he's been involved in her various schemes and plots since his arrival. Proud parents to a variety of rescue dogs and cats, Laura continues to be the bane of her traditional Mexican mother-in-law's existence, as she muses her way through life in the Mexican Caribbean.
______________________________
Una ex yanqui de Connecticut quien llama hogar a Cozumel desde hace más de 15 años. Laura escapó al Caribe hace años, desplazándose de una isla a otra dando clases de BUCEO. Se dedicó a perder el tiempo en Jamaica y finalmente se detuvo en Cozumel para pasar unas vacaciones de 2 semanas que aún no terminan. Convenciendo a sus padres que pagaran una elegante universidad privada, obtuvo su título en Periodismo y Laura crea semanalmente Cozumel 4You, medios sociales y artículos promocionales sobre la Isla y también es moderadora en el grupo Cozumel 4 You en Facebook que actualmente cuenta con 25,000 miembros. Fabián, s umuy tolerante marido, desde hace mucho tiempo se resignó a no tener vida privada, pues se ha visto implicado en los diversos proyectos y planes que urde Laura. Son orgullosos padres de diversos perros y gatos rescatados. Mientras contempla su paso a través de la vida en el Caribe mexicano,Laura continúa siendo la pesadilla en la existencia de su muy tradicional suegra mexicana.
Latest posts by Laura Wilkinson (see all)