Cozumel Coral Reefs
Cozumel Reef Transplant Project Remains Intact After Hurricane Delta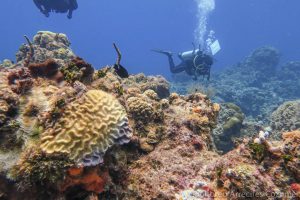 Representatives from the Foundation of Parks & Museums Cozumel (FPMC) recently reported that the reef transplant project – located inside Chankanaab Park – remains intact and in good condition despite the passage of Hurricane Delta nearly two weeks ago.
More than 1,000 coral reef fragments were installed in 2017, on structures installed along the Chankanaab coastline.  Biologists from the Center for Conservation and Environmental Education (Centro de Conservacion FPMC) , lead by Antonio Chale Chim, have been overseeing a coral ecosystem restoration program since it was originally installed in a joint project with the Oceanus AC.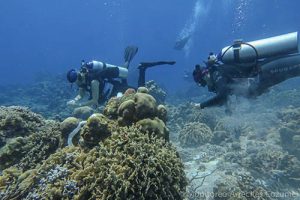 El proyecto de transplante de arrecifes de Cozumel continúa intacto despues del huracán Delta
En fechas recientes, representantes de la Fundación de Parques y Museos de Cozumel (FPMC) informaron que, a pesar del paso del huracán Delta hace casi dos semanas el proyecto de transplante de arrecifes en el Parque Chankanaab sigue intacto.
En el 2017 sobre estructuras instaladas a lo largo de la costa de Chankanaab se colocaron más de 1000 fragmentos de arrecife coral. Los biólogos del Centro de Conservación y Educación Ambiental (Centro de Conservación FPMC) que dirige Antonio Chalé Chim, han estado supervisando el programa de restauración del ecosistema coralino desde que se originalmente se instaló el proyecto conjunto con Oceanus, A.C.
Latest posts by Laura Wilkinson
(see all)