Cozumel Creepy Tiki Fest
Cozumel:  Get Ready for the Creepy Tiki Fest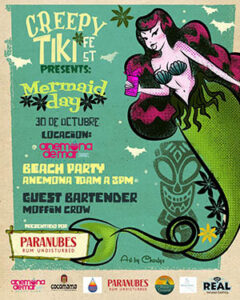 The Creepy Tiki Fest is a 6 day event that takes place at the Cocomama Tiki Room.  From October 28 – November 2, there will be seminars, tastings, sunset dinners, parties, guest DJs, tiki artists, guest musicians and photography contests.
The objective of the event is to spread tiki spirt, the love for rum, cocktails and gastronomy.
The Halloween party will be a fundraiser for Saveoursharks.com, and to close these events there will be a traditional "Dia de Muertos" and ancestral show, which will have a speed battle to create traditional tiki cocktails.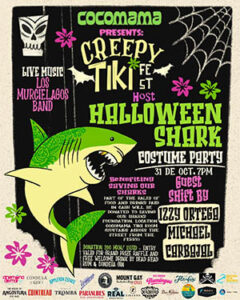 Events will take place at Cocomama Tiki Bar, and Anémona Beach Club, Hemingway Restaurant Beach & Nightclub, and there will even be Tiki sunset cruises in collaboration with Explora Tours.
Events will also be collaborated with  K'ooben laab restaurant, Sereno Restaurant, and Makaria Seafood Bar.
"People need happy quality cocktails full of fun, flowers and umbrellas!, stated Maria Cabrero, who together with Israel Orellana and team, created this fun island event.
"Here in the caribe we belong to the culture of rum, pirates tropical fruits and of course tiki.    We wanted to open a tiki bar and we've had this dream for 3 years and now we're making the event open to tiki lovers, fun lovers, and rum loving pirates to join our tastings, seminars and parties.  We teamed up with international rum brands, international bartenders and artists to create this 6-day event.
For more information check out the creepy tiki fest IG page!!
Prepárense para el Creepy Tiki Fest
El Creepy Tiki Fest es un evento con una duración de 6 días que tiene lugar en el Cocomama Tiki Room. Del 28 de octubre al 2 de
noviembre se realizarán seminarios, catas, cenas al atardecer, fiestas, DJs invitados, artistas tiki, músicos invitados y concursos de fotografía.
El objetivo del evento es difundir el espíritu tiki, el amor por el ron, los cócteles y la gastronomía.
La fiesta de Halloween tiene como objetivo recaudar fondos para Saveoursharks.com. Para cerrar estos eventos se llevará a cabo un Día de Muertos tradicional y un espectáculo ancestral con una batalla de velocidad para crear cócteles tiki tradicionales.
Los eventos serán en Cocomama Tiki Bar, en Anémona Beach Club, en el restaurante Hemingway Beach & Nightclub, y en colaboración con Explora Tours habrá paseos en crucero Tiki al atardecer.
También habrá eventos en colaboración con los restaurantes K'ooben laab, Sereno y Makaria SeafoodBar.
"¡La gente necesita cócteles alegres y de calidad; llenos de diversión, flores y sombrillas!", expresó María Cabrero quien, junto con Israel Orellana y su equipo, ha creado este divertido evento en la Isla.
"Aquí, en el Caribe, pertenecemos a una cultura de ron, piratas, frutas tropicales y, por supuesto, el tiki, Queríamos abrir un bar tiki y teníamos este sueño desde hace 3 años. Ahora estamos abriendo el evento para los amantes del tiki, los amantes de la diversión, y los piratas amantes del run para que nos acompañen en nuestras catas, seminarios y fiestas. Nos hemos asociado con marcas internacionales de ron, con cantineros internacionales y con artistas para crear este evento de 6 días de duración.
¡Para más información echen un vistazo a la página tiki fest IG!
Latest posts by Laura Wilkinson
(see all)