Cozumel 2 new cruise ships
Two More New Cruise Ships Call into Cozumel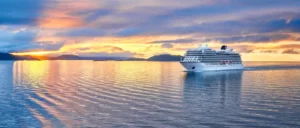 Friday the 13th was a lucky day for cruise ship arrivals as two new cruisers called into Cozumel's port, bringing more than 1,300 passengers.
The 2 first time ships:  the Viking Polaris and the Viking Mars, both of which fly under a Norwegian flag.
The Viking Polaris cruise ship has a capacity for 378 passengers and 256 crew members. The vessel is 665 feet in length, was constructed in 2022 and is owned by Viking Expedition Ltd. The Viking Polaris called into  Punta Langosta pier from Fort Lauderdale, and set sail at 6:00 p.m. to Colon, Panama.
The Viking Mars also docked at Cozumel early Friday morning. Viking Mars, with a capacity for 930 passengers, also arrived for the first time from Fort Lauderdale.The 745-foot-long ship called into  Puerta Maya pier and sail at 17:30 hours bound for Belize.
Dos buques turísticos nuevos tocan puerto en Cozumel
El viernes 13 fue un día de suerte para los arribos de buques turísticos ya que dos buques nuevos llegaron al puerto de Cozumel con más de 1,300 pasajeros.
Los buques que llegaron fueron: el Viking Polaris y el Viking Mars, ambos bajo bandera noruega.
El buque Viking Polaris tiene capacidad para 378 pasajeros y 256 de tripulación. El buque de 665 pies de eslora fue armado en el 2022 y es propiedad de Viking Expedition Ltd. El Viking Polaris arribó al muelle de Punta Langosta desde Fort Lauderdale zarpando a las 6:00 p.m. con destino a Colón, Panamá.
El buque Viking Mars también atracó en Cozumel el viernes por la mañana. Viking Mars, con una capacidad para 930 pasajeros, también llegó desde Fort Lauderdale por primera ocasión.  El buque de 745 pies de eslora atracó en el muelle de Puerta Maya, zarpando a las 17:30 horas rumbo a Belice.
Latest posts by Laura Wilkinson
(see all)