Documents Required to Get a Cozumel Drivers License
Full time island residents, especially those who drive a car with Mexican plates, should really consider obtaining a Cozumel drivers license. You will need to have either a temporary resident card, or a permanent resident card.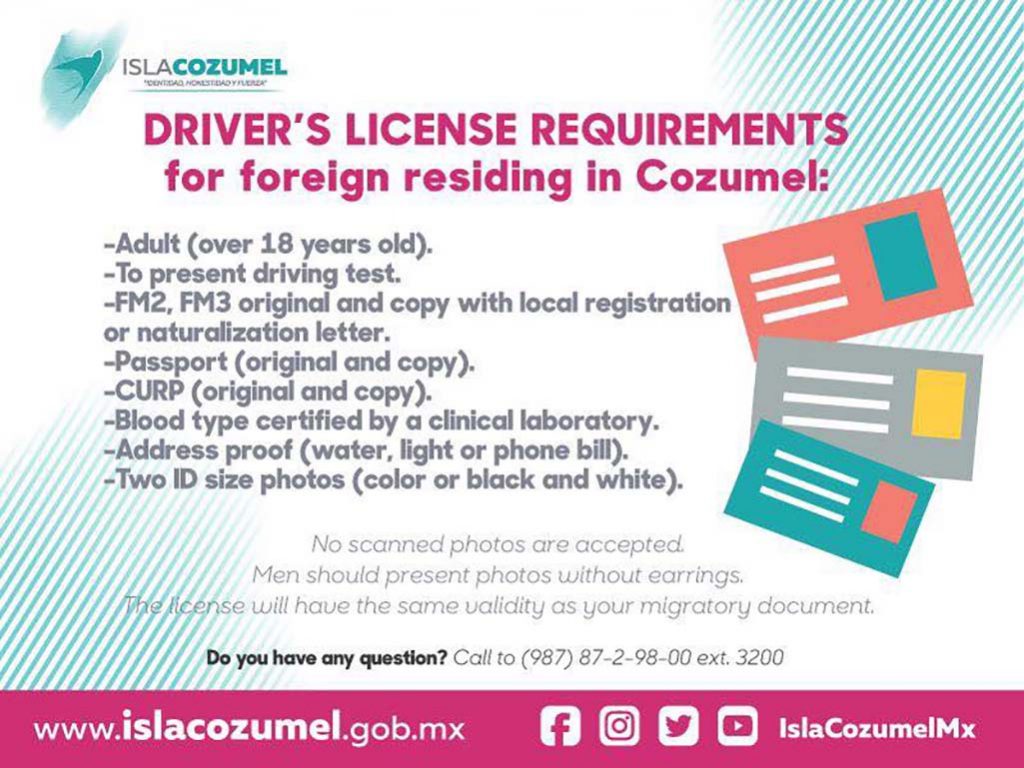 If you're already in possession of a past Cozumel license or a US license you may be exempt from both the written and practical portions of the drivers examination.
Items you will need (for first time solicitors):
Original & a clear photocopy of your immigration document (temp or perm resident)
Original & a clear photocopy of your passport
Original & a clear photocopy of your CURP
Blood type (certified by a laboratory)
Proof of address (CAPA, CFE or Telmex bill)
2 ID sized photos
You will also need to supply an emergency contact person – so please have their name address and phone number available. Your new license will have the same period as your immigration documents. The renewal process will be much easier, since these documents will already be on file.
Visitors to the island will be pleased to learn that their home countries drivers license is accepted. However if you are here longer than 3 months you might want to consider obtaining a local license.
Los documentos que se requieren para obtener una licencia de conducir de Cozumel
Es recomendable que los habitantes de Cozumel, en especial aquéllos que conducen un vehículo con placas mexicanas, que obtengan su licencia de conducir cozumeleña. Es necesario que usted cuente con su credencial que le acredite la condición migratoria de residente temporal o de residente permanente.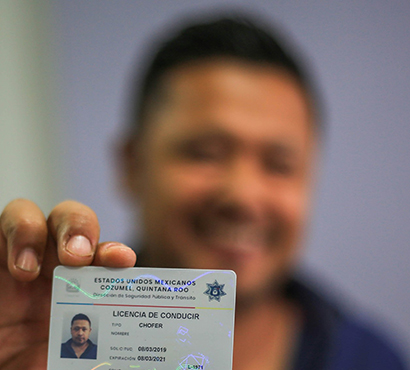 Si ya cuenta con una licencia de conductor expedida en Cozumel o en los E.U.A. posiblemente esté exento de presentar tanto la porción escrita como la práctica del examen para conductor.
Lo que requiere (en caso de ser su primera solicitud de licencia para conducir):
Original y fotocopia clara de su documento migratorio (como residente temporal o permanente).
Original y fotocopia clara de su pasaporte.
Original y fotocopia clara de su CURP.
Grupo sanguíneo.
Comprobante de domicilio (CAPA, CFE o TELMEX)
2 fotografías tamaño identificación.
También es necesario que proporcione el nombre de una persona de contacto en caso de emergencia. Por ello, por favor tenga a la mano el domicilio y número telefónico de dicha persona. Su licencia nueva tendrá la misma vigencia que sus documentos migratorios. El trámite de renovación será mucho más sencillo puesto que estos documentos ya estarán en archivo.
A quienes visitan la Isla les complacerá saber que se acepta la licencia de conductor emitida en sus países. Sin embargo, en caso de que su estadía en la Isla sea mayor a 3 meses, es recomendable que obtenga su licencia local de conducir.
Latest posts by Laura Wilkinson
(see all)