Heather Queen Ladies Show Carnaval 2024 Moises JH Tono Lopez
Heather. The first foreign queen of the Cozumel "Ladies Show" Pre Carnaval Event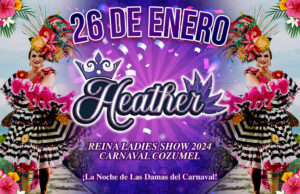 Text & Translation By Moises Jimenez & Antonio Lopez
Cozumel, October 10, 2023
Her name is Heather Bryan and she is the queen-elect for the Ladies Show 2024. She is originally from southern Indiana, in an area outside of Louisville, Kentucky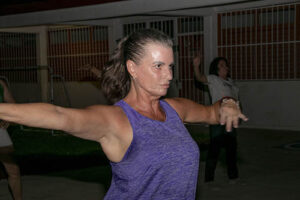 .
In the United States she dedicated herself to teaching as a mathematics teacher. And like many, she is now a resident of Cozumel. In the 90s, she used to come on vacation year after year, mainly to go diving.
Upon her retirement, she decided to buy her house in Cozumel in 2010 and finally move to the island in 2013.
In an interview for Cozumel 4 You, she told us how she started her story at the island's carnival and the ladies show:
"I moved here in 2013 and I've been here ever since. I started in 2014"
"I was in  Emmanuel's Zumba class and met a group of women who danced in Ladies Show  and they invited me, and then Emmanuel invited me to the Comparsa libre,
and so on and so on."
"Now I've danced in probably 14 different groups, between the Comparsa Libre for candidates or lady show of course, Despedidas you name it."
The Cozumel Carnival will be 150 years old and is the most important and representative celebration on the island. It is expected year after year and moves thousands of people who get involved in various aspects of its organization, and of course participating in the multiple calls, such as queens and kings, diversity, youth, children, couples, groups and even pets.
The preparations begin as in this case, several months before, where the "comparsas" are prepared with their choreography, dances, costume design, makeup and floats.
The pre-carnival begins a month before Carnival and during several weekends, multiple events are held that build what will be the court of Kings and Queens that will parade on the Carnival parades.
Finally, on carnival days, there are 3 walks along the boardwalk at sunset. The parades are on Saturday, Sunday and Tuesday of the Carnival. There are also events at the end of each parade at the official event headquarters. It is very important to mention that during those days, the "comparsas" also perform individually at multiple points on the island throughout each day. So it is not unusual to travel during those days on the island and find streets closed due to the "comparsas" that make their individual presentations.
Impressive, right?
Heather tells us what the process of becoming part of this tradition was like:
"At first it was really difficult because I spoke absolutely no Spanish whatsoever not even right left front back so that was difficult um but the people, I dance with boys been very accepting very kind very patient."
She accepts that at first, they viewed her with some interest:
"Who is this old foreigner coming to our group but those kids I dance with in the comparsa they're just amazing and there are not words to describe how fantastic they are."
Heather is the first Foreign Queen on the Ladies Show. The ladies show is an event organized by volunteer ladies who support the DIF, which is a parastatal organization which is dedicated to addressing various needs of the most vulnerable sectors of the population.
The ladies show is organized independently of the carnival, but we can say that it is part of the tradition, as it consists of an event where only women can participate and their queen is presented in a musical dance show. They also have group and individual costume contests and everything raised from ticket sales goes to charity. Ladies show will celebrate its 41st anniversary.
In Heather's case, she was chosen because of her track record of participation in the Ladies Show, as well as the carnival. This is how she became officially elected as the first foreign queen in the Ladies Show:
"You can say Reina Gringa, it's okay but yeah first foreigner it's an honor it really is Lady Show is actually a benefit show it benefits DIF which stands for desarrollo in the god the familias basically aid the women and children, and it's a federal state and local program and they do a lot of good works for a lot of very deserving and needy people and but the tickets for Lady Show go to is too deep. So that's my goal sell out Lady Show so please come the show is January 26th Friday, ladies only, sorry guys. I believe the doors open at six."
The Queen Heather show can also be seen at a carnival event:
"Yes, uh we will be presenting the show in the Palacio de Carnival after the first Carnival parade"
"I'm usually the only foreigner. There out of 2 or 3 thousand people at this point they're just like oh it's her again but the first few times. But now they're just like ella"
Loving the carnival is loving dancing and having fun, but it also requires a lot of prior work:
"I love to dance. I mean where else can a 60-year-old woman put on a costume with sequins and feathers and glitter and makeup and dance on a stage it is it's just the most fun."
"You give up a social life to do this because practice is at night so this is my social life."
Also, the Ladies show "comparsa" will participate with a car in the parade:
"I've been on other people's cars but yeah this well yeah, I mean I've never had a crown before so that'll be a first."
If you liked this story and would like to know more about the road to the Cozumel Carnival 2024 in future articles, leave us your comment.
Heather. La primera reina extranjera en el "Ladies Show" Carnaval 2024
Texto & Traducción  
Por Moises Jimenez & Antonio Lopez
Cozumel, 10 de octubre 2023
Su nombre es Heather Bryan y es la reina electa para el Ladies Show 2024. Ella es  originaria del sur de Indiana, en una zona las afueras de Louisville, Kentchuky.
En Estados Unidos se dedicaba a dar clases como maestra de matematicas. Y como muchos, ahora es residente de Cozumel. En los 90s, ella solia venir de vacaciones año tras año, principalemtne para bucear.
Al llegar su retiro, decidio comprar su casa en Cozumel, en el año 2010 y finalmente mudarse a la isla en 2013.
En entrevista para cozumel 4 you nos platico como inició su historia en el carnaval de la isla y el ladies show.
"Me mudé aquí en 2013 y he estado aquí desde entonces. Empecé en Carnaval en 2014.
Estaba en una clase con Emanuel, de Zumba ,y conocí a un grupo de mujeres que bailaban en Ladies Show y me invitaron, y luego me invitó Emanuel a la Comparsa libre, y así sucesivamente.
Ahora he bailado probablemente en 14 grupos diferentes, entre la Comparsa Libre. con candidatos o Ladies Show, por supuesto y Despedidas.
El carnaval de cozumel cumplirá 150 años de antigüedad y es la celebración mas importante y representativa de la isla. Es esperada año con año y mueve a miles de personas las cuales se involucran en diversos aspectos de su organización, y por su puesto participando en las multiples convocatorias, como lo son las de reinas y reyes, diversidad, juveniles, infantiles, parejas, grupos e inclusive mascotas.
Los preparativos inician como en este caso, varios meses antes, donde se preparan las comparsas con sus coreografias, bailes, diseño de vestuarios, maquillaje y carros alegoricos.
El precarnaval inicia un mes antes del Carnaval y durante varios fines de semana se realizan multiples eventos que van construyendo lo que sera la corte de Reyes y Reinas que desfilaran en los paseos de Carnaval.
Finalmente en los dias de carnaval, se realizan 3 paseos a lo largo del malecon al caer el sol. Los paseos son los dias Sabado, Domingo y Martes de cannaval. Tambien existen eventos al finalizar cada paseo en la sede oficial del evento. Es muy importante mencionar que durante esos dias, las comparsas tambien se presentan de forma individual en multiples puntos de la isla a lo largo de cada dia. Por lo que no es raro transitar durante esos dias en la isla y encontrar calles cerradas debido a las comparsas que realizan sus presentaicones individuales.
Impresionante ¿Cierto?
Heather nos platica como fue el proceso de formar parte de esta tradición:
"Al principio fue muy difícil porque no hablaba absolutamente nada de español.
Ni siquiera derecha, izquierda, adelante, atrás, así que fue difícil. Pero la gente con la que bailo los chicos han sido muy receptivos, muy amables, muy pacientes.
Ella acepta que al principio la veian con reserva:
"¿Quién es esta mujer adulta extranjera que viene a nuestro grupo? Pero esos niños con los que bailo en la comparsa son simplemente increíbles y no hay palabras para describir lo fantásticos que son."
Heather es la primera Reina Extranjera en el Ladies Show. El ladies show es un evento organizado por damas voluntarias que apoyan al DIF, que es un organismo paraestatal el cual se dedica a atender de diversas necesidades de los sectores de la poblacion mas vulnerables.
El ladies show se organiza de forma independiente al carnaval, pero podemos decir que forma parte de la tradicion, pues consiste en un evento donde solo pueden participar mujeres y se presenta a su reina en un show musical de baile. Tambien tienen cocursos de disfraces, grupales e invididuales y todo lo que se recauda de la venta de boletos es destinado a acciones de beneficencia. Ladies show cumplira 41 años realizandose.
En el caso de Heather, ella fue electa por su trayectoria de participacion en el Ladies Show, asi ocno en el carnaval. Asi fue como llego a ser electa oficialemte como la primer reina extranjera en el Ladies Show
"Puedes decir Reina Gringa, está bien, pero sí, primer extranjero, es un honor, realmente lo es. Ladies Show, en realidad es un programa benéfico, beneficia al DIF que significa desarrollo de las familias. Básicamente ayudan a las mujeres y a los niños, y es un programa federal, estatal y local y hacen muchas buenas obras para muchas personas, que lo merecen y necesitan. Las entradas para Lady Show significan mucho."
"Ese es mi objetivo: agotar entradas para el Lady Show, así que por favor vengan, el espectáculo será el viernes 26 de enero, solo damas, lo siento chicos, creo que las puertas se abren a las seis".
El show de la reina heather podra ser visto en un evento del carnaval:
Sí, estaremos presentando el espectáculo en el Palacio de Carnaval después del primer desfile de Carnaval.
"Por lo general, soy la única extranjera entre dos o tres mil personas. En este momento dicen: "Oh, es ella otra vez, ahora dicen, oh ella".
Amar el carnaval es amar bailar y divertirse, pero tambien requiere mucho trabajo previo:
"Me encanta bailar. Quiero decir, ¿dónde más puede una mujer de 60 años ponerse un disfraz con lentejuelas, plumas, brillantina, maquillaje y bailar en un escenario? Es lo más divertido."
"Renuncias a una vida social para hacer esto porque la práctica es de noche, así que esta es mi vida social."
Además, las damas del Ladies Show participarán con un carro alegórico en el desfile:
"He estado en los carros alegóricos de otras personas, pero sí, bueno, sí, quiero decir, nunca antes había tenido una corona, así que será la primera vez."
Si te gustó esta historia y te gustaria conocer mas del camino rumbo al Carnaval de cozumel 2024 en futuros articulos, dejanos tu comentario.
Latest posts by Moises Jimenez & Antonio Lopez
(see all)