Cozumel Residents Urged to Recycle Christmas Trees
How to dispose of your Christmas Tree in a responsible manner…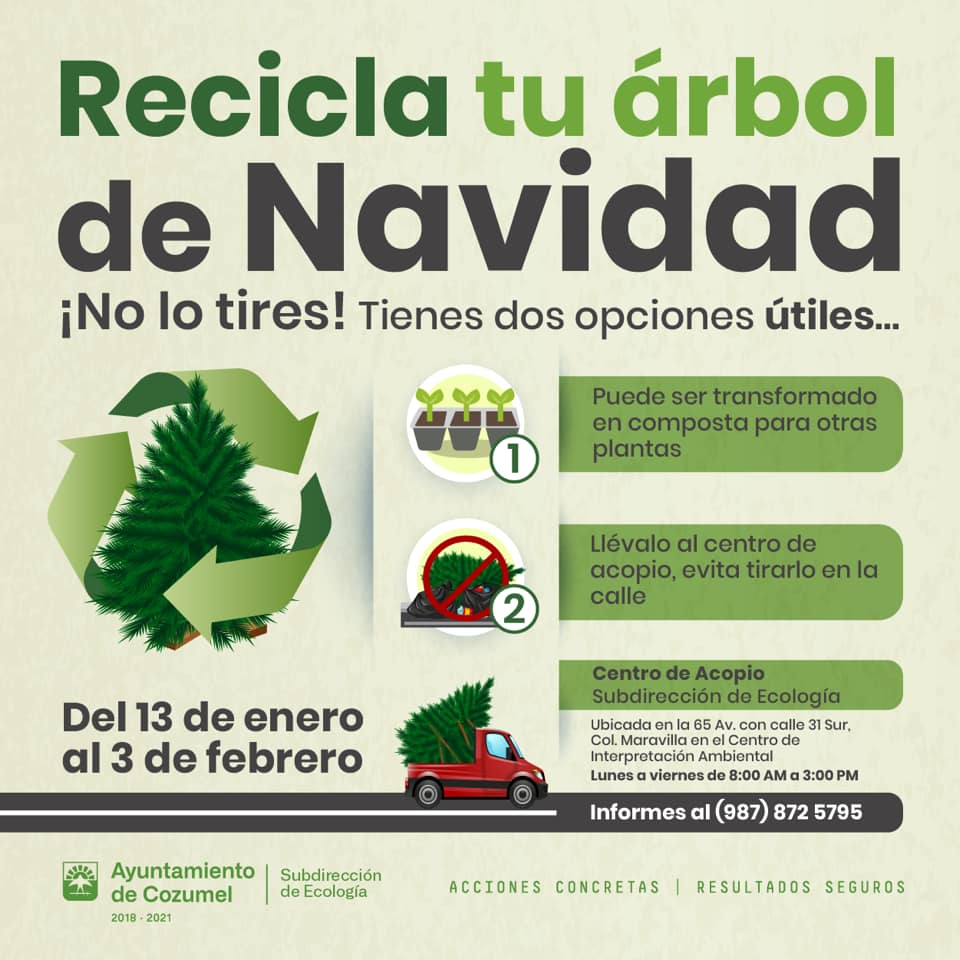 For the past several years, public response to the Municipal Ecology Department's annual Christmas tree recycling program has been very positive. Old Christmas trees are not picked up during regular trash collection and require a bit of extra help.
Pine trees, which are most commonly used to celebrate Christmas, take years to decompose and should not be tossed into vacant lots or placed outside with household garbage.
There are essentially two eco-friendly ways to dispose of your tree. One is to compost it (for more information on Composting in Cozumel, please check out this informative post by Adrian Medina in Cozumel 4 You (https://www.facebook.com/groups/158064054226056/permalink/3910617608970663)
The other way is to take your tree to the Centro de Acopio, under the direction of Ecology. Which is located at Av Andres Q Roo & 135 Avenida Sur, Juan Bautista de La Vega, 77645 San Miguel de Cozumel, Q.R. They're open from 9 am – 3 pm. For more information please contact them at 872 5795
Last year, over 100 trees were dropped off.
Se exhorta a los habitantes de Cozumel que reciclen sus árboles de Navidad.
Cómo deshacerse de su árbol de Navidad en una forma responsable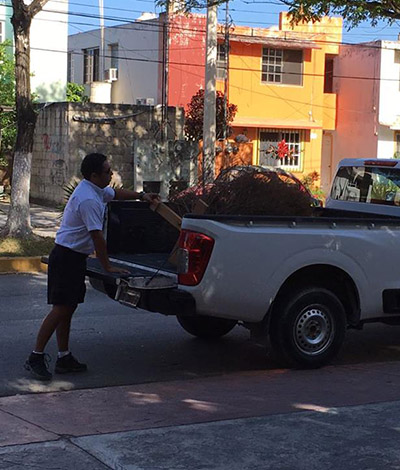 Durante los últimos años ha sido muy positiva la respuesta del público al programa anual de reciclaje de árboles de Navidad de la Dirección Municipal de Ecología. El servicio de recoja de basura regular no se lleva los árboles de Navidad y requieren un poco de ayuda adicional.
Por lo general los arboles de pino son los favoritos para celebrar la Navidad y tardan años en degradarse por lo que no deben tirarse en los lotes baldíos ni dejarse fuera de casa con la basura.
Existen dos maneras eco-amigables para desechar su árbol. Una es convertirlo en composta (para más información acerca de la composta en Cozumel, por favor echen un vistazo a esta informativa publicación de Adrián Medina en Cozumel 4 You
https://www.facebook.com/groups/158064054226056/permalink/3910617608970663)
La otra forma es llevar su árbol al Centro de Acopio de la Dirección de Ecología. Se ubica en la Avenida Andrés Quintana Roo y Avenida 135 Sur, colonia Juan Bautista Vega, 77645, San Miguel de Cozumel, Q.Roo. Su horario es 9am a 3pm. Para más información, por favor comuníquese con ellos al 987 872 5795.
El año pasado el Centro de Acopio recibió 100 árboles.
Latest posts by Laura Wilkinson
(see all)