Recycle Cozumel Christmas Trees
Cozumel Residents Urged to Recycle Christmas Trees
How to dispose of your Christmas Tree in a responsible manner…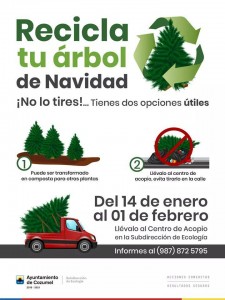 For the past several years, public response to the Municipal Ecology Department's annual
Christmas tree recycling program has been very positive.  Old Christmas trees are not picked up during regular trash collection and require a bit of extra help.
Pine trees, which are most commonly used to celebrate Christmas, take years to decompose and should not be tossed into vacant lots or placed outside with household garbage.
Please take your tree to the Centro de Acopio, under the direction of Ecology.  Which is located at Av Andres Q Roo & 135 Avenida Sur, Juan Bautista de La Vega, 77645 San Miguel de Cozumel, Q.R.   They're open from 9 am – 3 pm.  For more information please contact them at  872 5795
Last year, over 100 trees were dropped off.
Se exhorta a los habitantes de Cozumel que reciclen sus árboles de Navidad
Cómo eliminar su árbol de Navidad de manera responsable   . . .
Durante varios años ha sido muy positiva la respuesta del público al programa de reciclaje de árboles de la Dirección Municipal de Ecología.
El programa de reciclaje ha sido muy positivo. Los viejos árboles de Navidad no serán recolectados por el servicio de recoja regular, y
requieren un poco más de ayuda.
Los pinos utilizados para celebrar la Navidad tardan muchos años en descomponerse y no deben tirarse en lotes baldíos ni tampoco colocarse en el exterior junto con la basura de casa.
Por favor lleven sus árboles al centro de acopio dependiente de la Dirección de Ecología, que se ubica en Ave. Andrés Quintana Roo y 135 Avenida Sur, Juan Bautista Vega, 77645, San Miguel de Cozumel, Q. R. Se encuentran abiertos de 9 am a 3 pm. Para más información llamen al 872 5795.
El año pasado se entregaron más de 100 árboles.
An ex-Connecticut Yankee who has called Cozumel home for over 18 years, Laura ran away to the Caribbean years ago, bumped around the islands teaching SCUBA diving, lost some time in Jamaica, and finally stopped in Cozumel for a 2 week vacation that hasn't ended yet. With a degree in Journalism from a fancy private college she convinced her parents to pay for, Laura writes, edits, and creates the weeklyCozumel 4 You news,social media, and promotional articles about the island, as well as moderates the Cozumel 4 You Facebook group, which currently has over 25,000 members. Her long suffering husband, Fabian, has long since resigned himself to having zero private life, as he's been involved in her various schemes and plots since his arrival. Proud parents to a variety of rescue dogs and cats, Laura continues to be the bane of her traditional Mexican mother-in-law's existence, as she muses her way through life in the Mexican Caribbean.
______________________________
Una ex yanqui de Connecticut quien llama hogar a Cozumel desde hace más de 15 años. Laura escapó al Caribe hace años, desplazándose de una isla a otra dando clases de BUCEO. Se dedicó a perder el tiempo en Jamaica y finalmente se detuvo en Cozumel para pasar unas vacaciones de 2 semanas que aún no terminan. Convenciendo a sus padres que pagaran una elegante universidad privada, obtuvo su título en Periodismo y Laura crea semanalmente Cozumel 4You, medios sociales y artículos promocionales sobre la Isla y también es moderadora en el grupo Cozumel 4 You en Facebook que actualmente cuenta con 25,000 miembros. Fabián, s umuy tolerante marido, desde hace mucho tiempo se resignó a no tener vida privada, pues se ha visto implicado en los diversos proyectos y planes que urde Laura. Son orgullosos padres de diversos perros y gatos rescatados. Mientras contempla su paso a través de la vida en el Caribe mexicano,Laura continúa siendo la pesadilla en la existencia de su muy tradicional suegra mexicana.
Latest posts by Laura Wilkinson (see all)