Cozumel News of the Week in Photos: Focus on Mexican Army Special Forces SubAquatic Team
by Karina Carrión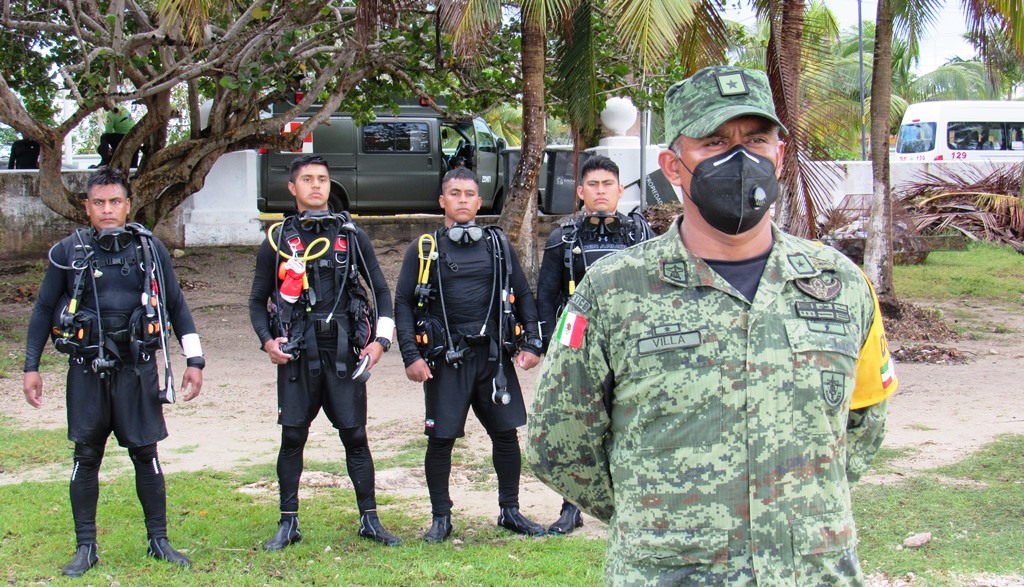 COZUMEL, December – In this special edition closing 2020, "Informative Collage" thanks this space for allowing us to share something different with our readers: the "Subcentro de Adiestramiento de Buceo de las Fuerzas Especiales" (Special Forces Dive Training Subcenter) of the Mexican Military in Cozumel; thanking, as well, each and all of the people who provided information on their participation in titanic physical and mental resistance trainings.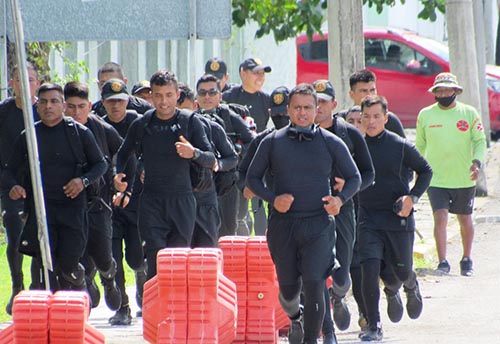 Cozumel has many natural benefits that, in addition to being an attraction for tourism, is also continuously regarded for its diverse sports and military activities, such as the certification and training for some of the military.
Jorge Rivas Villa, Infantry Major of the Ministry of Defense (SEDENA), shared with Cozumel 4 You that although there are eight other bases in the Republic where other types of training take place, Cozumel has the only subcenter of its kind for certain elements to complete their training through underwater certification.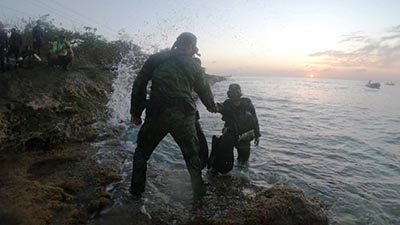 Given that this sort of training needs great physical and mental resistance, there are groups of 35 members who must voluntarily seek this kind of training as part of their advancement within Army ranks; highlighting that those who make up the Elite or Special Forces are males. Unlike other countries, there is no record of women candidates who wish to complete this type of training which includes: training in the jungle and at sea as well as in other parts of the Republic where the theoretical and practical conditions change accordingly, as is the case of Cozumel where around 200 elements are certified every year.
Within the Mexican Army, training specifically in diving first appeared in 1996 complementing preparedness of each element that became part of the Elite group. However, by 2003 the base in Cozumel only operated as Training Center, but 10 years later, that is 2013, a modification made it possible to operate for the next seven years as a Dive Training Subcenter for the Special Forces of the Ministry of Defense (SEDENA).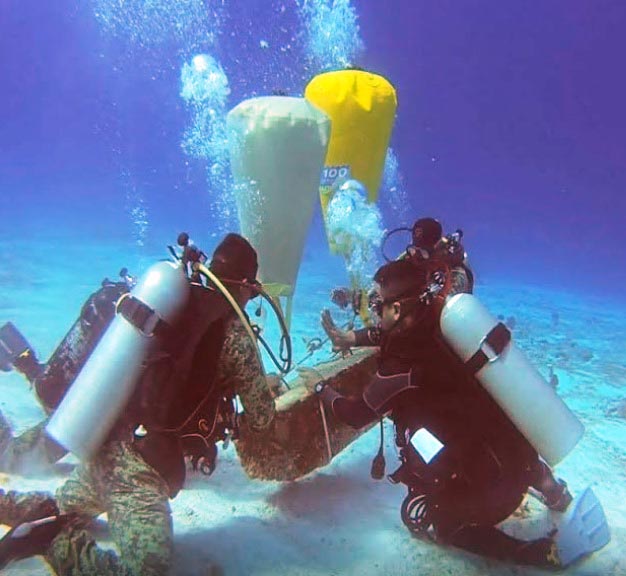 Thirty-two-year-old Captain Mario Iván Macías Pérez, Second Cavalry, Deputy Chief of the Combat Diving Subcenter in Cozumel shared that he has been devoted to the Army ranks for 14 years. This has allowed him to be engaged with the Special Forces as this is the elite of the militia, because he considered that "that is where a soldier learns about his physical and mental limits, showing himself that he is able to overcome them. This means we can specialize in different branches such as explosives, parachuting, sharpshooting, counterterrorism, jungle, desert and mountain combat. In short, the scope of the special forces is quite broad and covers many technically sophisticated aspects where state-of-the-art equipment is required as well as a comprehensive preparation of the participants."
As part of the tests carried out at the Subcenter, applicants for certification and integration into the Special Forces ranks must undergo training in the use of weapons, communication tactics, medical support techniques, hand-to-hand combat, passive apnea and distance apnea, as well as swimming over 50 thousand meters in 12 weeks, including 74 open water day and night dives.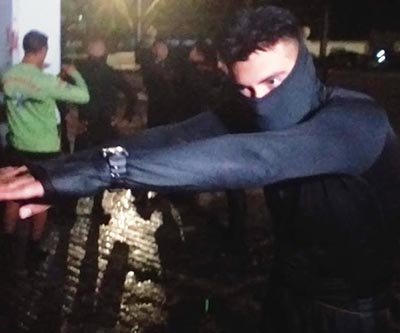 Major Jorge Rivas Villa said that "the purpose of the tests is that each element may be able to prove that limits are not in the sky, on land, in the mountains or the sea. Limits are physical and mental."
Through shared information we learned there are nine Special Forces' training centers throughout Mexico, but all elements of the amphibious or elite group are trained in the Island of Cozumel through the Subcenter. The description of certain training techniques are tightly kept and classified due to security issues and combat they engage as these elite forces fight against drug trafficking and organized crime in the Country; therefore, are required to take certification refresher courses in the jungle, rivers as well as in the air and sea, just to name a few.
As for the Diving Subcenter in Cozumel, it has become outstanding in its training and experiences' exchange with Elite Forces from other countries, especially North America who have been here several times or years for the training; and which, according to a report from "Global Firepower", an international corporation, amongst the armed forces in Latin America, the Mexican Army is in second place and the fourth in the American Continent; this is the result from the upgrading and effectiveness of the Special Forces elements and other areas within SEDENA.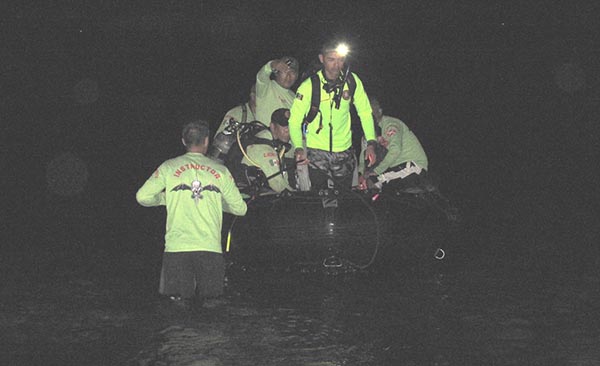 The Subcenter has 35 instructors with outstanding recognitions in the Country such as Dive Master Certifications besides combat diving courses in the National Army, which in turn allow them to do the certification or re-certification of new groups for day or night dives made in accordance to the theoretical and practical level they have. Noting that at this time the 35 elements in the course have concluded the first certification stage by completing all tests.
With this "Special Informative Collage" we wish you a Happy New Year!
Las noticias de Cozumel esta semana en fotografías, enfocándose en equipo de los buzos de combate de las Fuerzas Especiales del Ejército Mexicano
Por Karina Carrión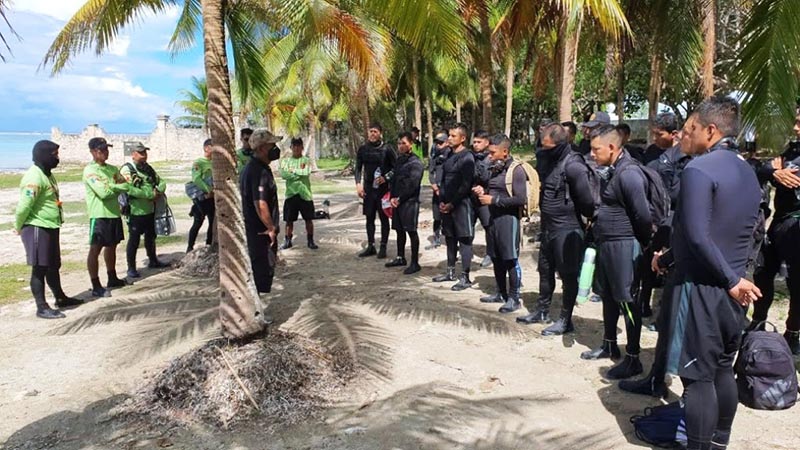 COZUMEL, diciembre.- En esta edición especial para cerrar el año 2020, "Collage Informativo" agradece el espacio para poder compartir con ustedes nuestros lectores algo diferente como lo es el "Subcentro de Adiestramiento de Buceo de las Fuerzas Especiales" del Militar Mexicano en Cozumel, agradeciendo a cada uno de los involucrados tanto en proporcionar información como su participación en las gráficas durante sus titánicos entrenamientos de resistencia física y mental.
Cozumel mantiene muchas bondades naturales que además de permitir ser un centro atractivo turístico, también permite que siga siendo considerado para diversas actividades tanto deportivas como militares; tal y como es considerado para la certificación y capacitación de algunas fuerzas castrenses.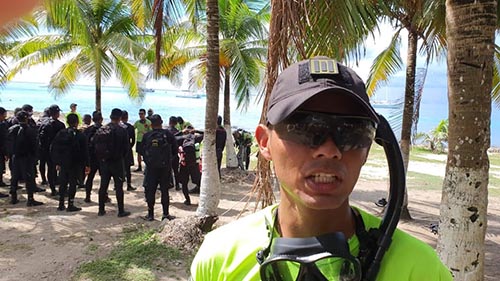 El Mayor de Infantería de la Secretaría de la Defensa Nacional (SEDENA), Jorge Rivas Villa, compartió para "Cozumel 4You que a pesar de que existen otras ocho bases en la república donde reciben otro tipo de adiestramiento, Cozumel cuenta con el Subcentro único en su tipo para que los elementos interesados concreten su entrenamiento a través de la certificación subacuática.
Debido a que el entrenamiento es de mucha resistencia física y mental, se contabilizan grupos de a 35 integrantes que de manera voluntaria deben buscar éste adiestramiento como parte de su crecimiento dentro de las filas del Ejército, destacándose que todos los que integran el grupo Élite o Fuerzas Especiales, son del sexo masculino, que a diferencia de otros países, no tiene el registro del ingreso de mujeres aspirantes a completar este tipo de adiestramientos que incluyen: entrenamientos en la selva y en el mar, así como en otras partes de la república donde cambia la condición teórica y práctica según la sede, como en el caso de Cozumel donde al año se logran certificar cerca de 200 elementos.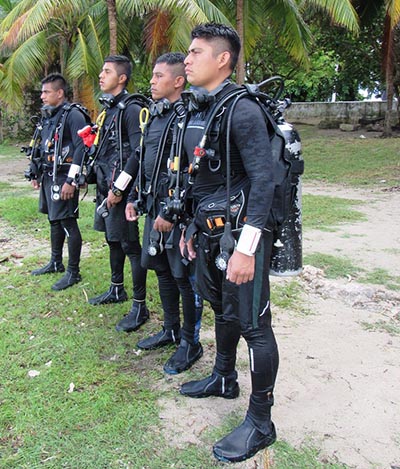 En esta ocasión, 35 elementos del Ejército Mexicano recién completaron diversas pruebas físicas y psicológicas en Cozumel al concretar el nado de 50 mil 900 metros en 12 semanas; a lo que sumaron 74 inmersiones como parte de su certificación en el Subcentro de Adiestramiento de Buceo de las Fuerzas Especiales.
El adiestramiento específico del área de buceo surgió en el año de 1996 dentro del Ejército Mexicano, lo que llegó a complementar la preparación de cada uno de los elementos para ingresarlos al grupo Élite, aunque en el año 2003 la base de Cozumel operaba nada más como Centro de Capacitación, pero 10 años después; es decir, en el 2013, se registró una modificación que le permitió operar durante los subsiguientes siete años como Subcentro de Adiestramiento de Buceo de las Fuerzas Especiales perteneciente a la Secretaría de la Defensa Nacional (SEDENA).
Mario Iván Macías Pérez, Capitán segundo de Caballería, subjefe del Subcentro de Buceo de Combate en Cozumel, de 32 años de edad, compartió que se ha dedicado 14 años a las filas del Ejército, lo que le ha permitido comprometerse en el área de las Fuerzas Especiales por ser la Élite de la milicia, porque considera que "es donde un soldado conoce sus límites físicos y mentales, demostrándose que es capaz de superarlos. Lo que significa que podemos especializarnos en distintas ramas como lo son explosivos, paracaidismo, francotiradores, contraterrorismo, combate en selva, desierto, montaña, en fin; el espectro de las fuerzas especiales es muy amplio y abarca muchos aspectos técnicamente sofisticados en los cuales se requiere equipamiento de última generación así como de una preparación integral por parte de sus integrantes".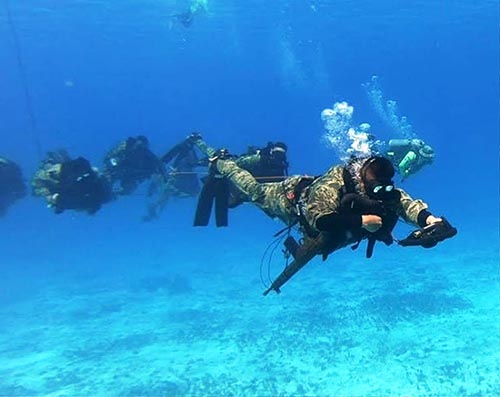 Como parte de las pruebas que se realizan en el Subcentro, los aspirantes a certificarse e integrar las filas de las Fuerzas Especiales deben de concretar el adiestramiento del empleo de armamento; táctica de comunicaciones; técnicas de apoyo médico, adiestrado combate cuerpo a cuerpo, apnea pasiva y apnea a distancia; así como el nado de más de 50 mil metros en 12 semanas incluidas las 74 inmersiones en el mar en horarios diurnos o nocturnos.
El Mayor Jorge Rivas Villa, aseguró que "durante las pruebas se busca que cada elemento compruebe que los límites no están en el cielo, en la tierra, en la montaña ni en el mar. Los límites son físicos y mentales", afirmó.
En información compartida, se dejó saber que en todo el territorio mexicano existen nueve centros de adiestramiento para las Fuerzas Especiales, pero todos los elementos del grupo anfibio o élite, son instruidos en la isla de Cozumel a través del Subcentro, manteniendo en hermetismo y reserva la descripción de ciertas técnicas de la formación que realizan, debido a las cuestiones de seguridad y de combate para las que actúan, porque éstas fuerzas –Élite-, son las que combaten al narcotráfico y el crimen organizado en la nación, por lo que requieren de la actualización de la certificación en la selva; los ríos, así como en el aire y el mar, por referir algunos.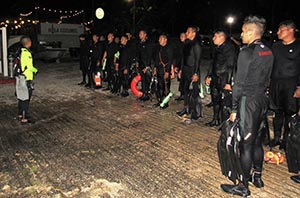 En el caso del Subcentro de buceo en Cozumel, ha destacado el intercambios de entrenamientos y experiencias de los elementos de las Fuerzas Élites de otros países, sobre todo de Norteamérica, quienes han estado en la localidad en diversos periodos o años en los adiestramientos que de acuerdo a un informe de la compañía internacional "Global Firepower",el Ejército Mexicano ocupa el segundo lugar de las fuerzas armadas de América Latina y el cuarto del continente americano, lo que es derivado de las actualizaciones y efectividad de resultados que se tienen con los elementos de las Fuerzas Especiales y de otras áreas dentro de la SEDENA.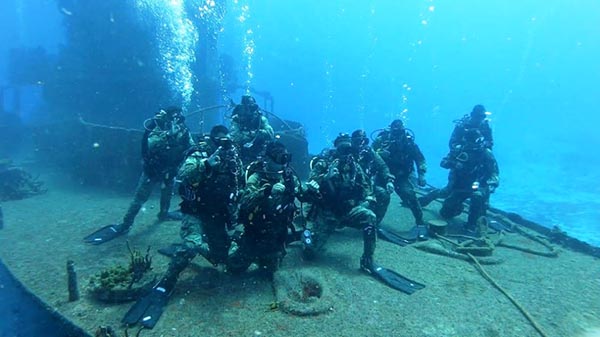 El Subcentro cuenta con 35 instructores de reconocimientos destacables en el país como es la certificación de Dive Máster, además de cursos de buceo en combate dentro del Ejército Nacional, lo que a su vez permite que éstos realicen la certificación o recertificación de nuevos grupos en los buceos diurnos o nocturnos que se efectúan según el grado teórico y práctico en el que se encuentren, destacándose que en esta ocasión los 35 elementos del curso han logrado complementar la primera etapa de la certificación al cumplir con todas las pruebas aprobadas.
Con este "Collage Informativo Especial" les deseamos un ¡Feliz Año Nuevo!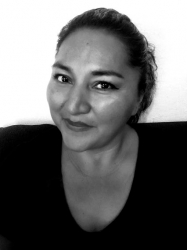 Latest posts by Kary Carrión
(see all)