Quintana Roo Symphony Orchestra – Opera Gala Xmas 2019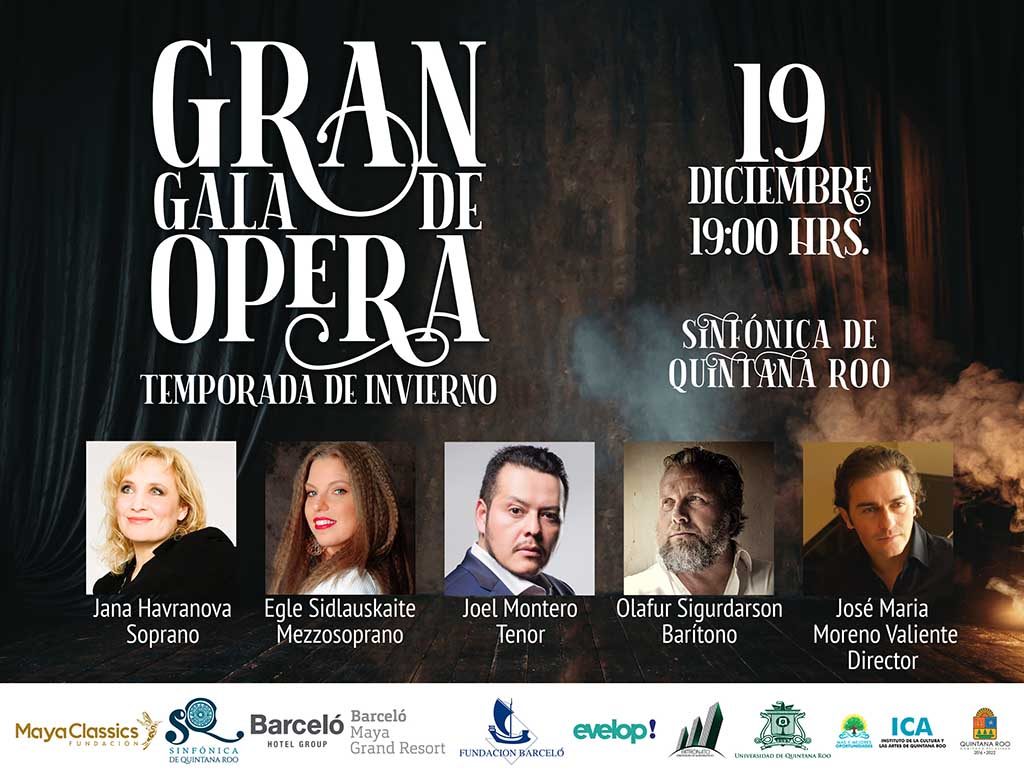 Cozumel, December 19th, 7pm at the Centro de Convenciones (next to Chedraui)
Conductor: José María Moreno Valiente
Singers:
Jana Havranova (Soprano)
Egle Sidlauskaite (Mezzosoprano)
Joel Montero (Tenor)
Olafur Sigurdarson (Baritone)
With the participation of: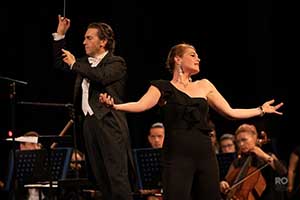 Cancun Symphonic Choir
Cozumel Youth Wind Band
A brief history of the Quintana Roo Orchestra – Opera Gala Xmas 2019
The initiative for a state symphony orchestra began in 1992, "Quintana Roo Philharmonic" back then. It was founded by volunteer promoters and a state board, later to be funded by the federal government and the Mexican national arts council – CONACULTA. The orchestra managed to stumble ahead through many vicissitudes, on and off (sadly mainly off and with no significant continuity), until 2015 when all funding was withdrawn and the project was officially cancelled. In 2017 Chetumal born opera singer, the tenor Joel Montero, took it upon himself to rescue this lost legacy, along with our principle conductor Jose Maria Moreno Valiente, through private funding. Thanks primarily to the Barcelo Hotel Group (our main sponsor) and the Maya Classics Foundation the rescue of the Quintana Roo Symphony Orchestra began. Joel's primary concern has been to prioritize performance quality, and to promote the importance of continuity in classical music ensembles in Quintana Roo. We are now in our second year and happy to announce the inclusion of the island of Cozumel in our grand Opera Christmas Gala Season this upcoming December. This has been made possible thanks to the invaluable support from the University of Quintana Roo who have given us access to the Centro de Convenciones in Cozumel.
Please join us in this magnificent concert and celebrate with us this significant achievement for the future of classical music in Quintana Roo, made possible by independent artists' vision and endeavor. We had an attempt at performing in Cozumel a few years back which was sadly hijacked, as some of you may remember. You all had to sit there for two hours (we all had to sit there for two hours!) hearing speeches. We sat on stage holding our instruments, mortified, watching how understandably many of you left and missed the actual concert. Please give us the opportunity to erase that event from all our memories by making amends and sharing with you what can be achieved when artists have whole control over their projects. Let us promise you that there will be no speeches, or clanking of glasses, chatter or banter… only music!
What will you hear? Opera arias (Pagliacci, Tosca and Carmen among them) orchestral works, and seasonal christmas music played and sung by 4 outstanding soloists, a full choir and orchestra. About 80 musicians on stage. Local Cozumel Youth Wind Band will be opening the concert. Hopefully some of these kids will one day play professionally and join us in a not too distant future, in what will hopefully become a healthy, solid and well established Quintana Roo Symphony.
Where to Buy Tickets for Opera Gala Xmas 2019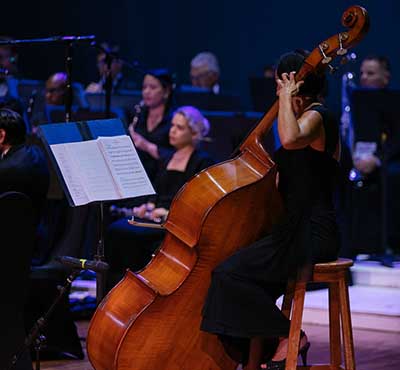 Tickets available on line at http://tusboletos.mx/ They will also be available very soon at MERAKI COZUMEL (Thank you Laura Baeza!) on 5a between 15 & 17, almost in front of the Chedraui Plaza Coppel branch. Please follow our Facebook page for developments https://www.facebook.com/sinfonicadeqroo/
For more information or if you're interested in supporting us further through donations or by becoming a patron for this and/or future concerts, please get in touch with me (Elizabeth Stockton 9871119459 or elistockton@hotmail.com), Joel Montero (office@joelmontero.com) or directly to the Maya Classics Foundation  https://www.maya-classics.com/ .
Gala de Ópera de Navidad 2019 con la Orquesta Sinfónica de Quintana Roo
En el Centro de Convenciones de Cozumel (junto a Chedraui), el 19 de diciembre a las 7:00 pm.
Director de orquesta: José María Moreno Valiente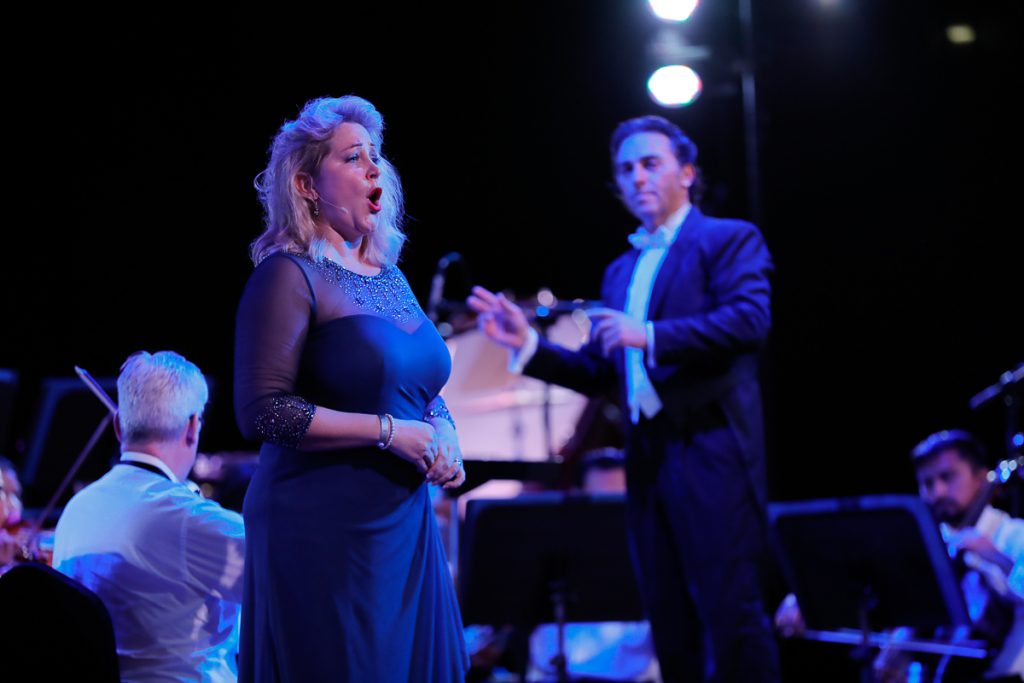 Cantantes:
Jana Havranova (Soprano)
Egle Sidlauskaite (Mezzosoprano)
Joel Montero (Tenor)
Olafur Sigurdarson (Barítono)
Con la participación de:
Coro Sinfónico de Cancún
Banda Juvenil de Cozumel
Una breve historia:
La iniciativa de crear una orquesta sinfónica estatal comenzó en 1992; en aquel entonces, la "Filarmónica de Quintana Roo". Fue fundada por promotores voluntarios y un consejo estatal, y más tarde obtuvo financiamiento por parte del gobierno federal y del Consejo Nacional para la Cultura y las Artes de México, CONACULTA. La orquesta se vio en la necesidad de librar muchas vicisitudes (lamentablemente las más de las veces y sin mantener una continuidad relevante), hasta que en el año 2015 el financiamiento fue retirado y el proyecto se canceló de manera oficial. Junto con nuestro director José María Moreno Valiente y a través de financiamiento privado el tenor Joel Montero, cantante de ópera y oriundo de Chetumal, decidió en el 2017 rescatar este legado perdido. Gracias, principalmente, al respaldo del grupo hotelero Barceló (nuestro patrocinador principal) y a la Fundación Maya Classics comenzó el rescate de la Orquesta Sinfónica de Quintana Roo. La inquietud principal de Joel ha sido dar prioridad a la calidad interpretativa e impulsar la importancia de dar continuidad a conjuntos de música clásica en Quintana Roo. Estamos en nuestro segundo año y nos complace anunciar que el próximo Diciembre incluimos a la Isla de Cozumel en nuestra gran Gala de Ópera de Navidad. Ello es posible gracias al valioso apoyo de la Universidad de Quintana Roo que nos ha dado acceso al Centro de Convenciones en Cozumel.
Por favor, acompáñennos en este magnífico concierto y celebren con nosotros este importante logro para el futuro de la música clásica en Quintana Roo hecho posible por la visión y el esfuerzo de artistas independientes. Hace algunos años hicimos el intento de presentarnos en Cozumel, pero, como algunos recordarán, nos secuestraron. Todos ustedes tuvieron que sentarse ahí durante dos horas (¡todos lo hicimos!) escuchando discursos. Estuvimos sentados en el escenario sosteniendo nuestros instrumentos, mortificados, viendo, comprensiblemente, cómo muchos se iban y se perdieron del verdadero concierto. Por favor dennos la oportunidad de borrar ese evento de todos nuestros recuerdos, resarciendo y compartiendo con ustedes aquello que se puede lograr cuando los artistas tienen el control total sobre sus proyectos. Permítannos prometerles que no habrá discursos ni el sonido de vasos, del parloteo o algarabía… ¡sólo música!
¿Qué escucharán? Arias (Pagliacci, Tosca y Carmen, entre estas), obras para orquesta y música navideña interpretada y cantada por 4 destacados solistas, acompañados de un coro y orquesta. Cerca de 80 músicos en el escenario. Abrirá el concierto la Banda Juvenil de Cozumel. Esperamos que algunos de estos chicos lleguen a tocar profesionalmente y se unan a nosotros en un futuro no muy lejano, en lo que con suerte se convertirá en una Sinfónica de Quintana Roo sana, sólida y bien establecida.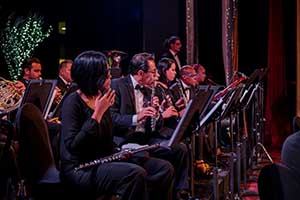 Para Comprar Boletos
Los boletos están disponibles en http://tusboletos.mx. Muy pronto también estarán disponibles en MERAKI COZUMEL (¡Gracias Laura Beza!) sobre la 5ª entre 15 y 17, casi frente a la sucursal de Coppel en Plaza Chedraui. Para ver actualizaciones, por favor sígannos en Facebook https://www.facebook,com/sinfonicadeqroo.
Si desean más información o si les interesa apoyarnos con donativos o patrocinios para este concierto o para conciertos futuros, por favor pónganse en contacto conmigo (Elizabeth Stockton 9871119459 o elistocjton@hotmail.com) ; Joel Montero (office@joelmontero.com) o directamente con la Fundación Maya Classics, http://www.maya-classics.com/.
Latest posts by Laura Wilkinson
(see all)