Cozumel Rip Current
Stay Safe in Cozumel: What to do if caught in a Rip Current
Important Information on how to navigate what can be a dangerous situation…
Rip Currents are responsible for 80% of beach rescues. Rip currents are defined as a strong current of water which pulls away from the beach. The current can be so strong it sweeps you off your feet, or impairs your ability to return to shore.
Advice from Lifeguards is as follows: Remain calm and don't panic. If you're caught in the rip current, swim parallel to shore until you are out of the current, then you can swim back in.
And worst case-scenario, if you aren't a strong swimmer, let the current carry you out. The rip current will eventually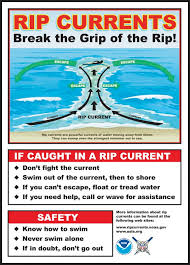 end and you can get back to shore.
A 2011 study reported that there were 29 drowning deaths in Cozumel for the calendar year of 2010.
Tenga cuidado: Qué hacer si queda atrapado en la corriente de resaca
Información importante sobre cómo manejar lo que podría ser una situación peligrosa. . .
Las corrientes de resaca son responsables de 80% de los rescates en playas. Este tipo de
corrientes se definen como aquellas que le alejan de la playa. La corriente puede ser tan fuerte que le arrastrará o le impedirá regresar a la playa.
El consejo de los guardavidas es el siguiente: mantenga la calma y no entre en pánico. En caso de quedar atrapado en la resaca, nade en forma paralela a la playa hasta encontrarse fuera de la corriente, luego podrá nadar de regreso.
En el peor de los casos, si usted no es buen nadador, permita que la corriente le lleve. La corriente de resaca eventualmente finalizará y usted podrá regresar a la playa.
Un estudio realizado en el año 2011 informó de 29 fallecimientos en Cozumel por ahogamiento para el año calendario 2010.
An ex-Connecticut Yankee who has called Cozumel home for over 18 years, Laura ran away to the Caribbean years ago, bumped around the islands teaching SCUBA diving, lost some time in Jamaica, and finally stopped in Cozumel for a 2 week vacation that hasn't ended yet. With a degree in Journalism from a fancy private college she convinced her parents to pay for, Laura writes, edits, and creates the weeklyCozumel 4 You news,social media, and promotional articles about the island, as well as moderates the Cozumel 4 You Facebook group, which currently has over 25,000 members. Her long suffering husband, Fabian, has long since resigned himself to having zero private life, as he's been involved in her various schemes and plots since his arrival. Proud parents to a variety of rescue dogs and cats, Laura continues to be the bane of her traditional Mexican mother-in-law's existence, as she muses her way through life in the Mexican Caribbean.
______________________________
Una ex yanqui de Connecticut quien llama hogar a Cozumel desde hace más de 15 años. Laura escapó al Caribe hace años, desplazándose de una isla a otra dando clases de BUCEO. Se dedicó a perder el tiempo en Jamaica y finalmente se detuvo en Cozumel para pasar unas vacaciones de 2 semanas que aún no terminan. Convenciendo a sus padres que pagaran una elegante universidad privada, obtuvo su título en Periodismo y Laura crea semanalmente Cozumel 4You, medios sociales y artículos promocionales sobre la Isla y también es moderadora en el grupo Cozumel 4 You en Facebook que actualmente cuenta con 25,000 miembros. Fabián, s umuy tolerante marido, desde hace mucho tiempo se resignó a no tener vida privada, pues se ha visto implicado en los diversos proyectos y planes que urde Laura. Son orgullosos padres de diversos perros y gatos rescatados. Mientras contempla su paso a través de la vida en el Caribe mexicano,Laura continúa siendo la pesadilla en la existencia de su muy tradicional suegra mexicana.
Latest posts by Laura Wilkinson (see all)