Cozumel Artists
"Wonderful Ocean" Painting Expo Features Cozumel Artists
On Display at the Casa de Cultura….
On September 21st Cozumel's Casa de Cultura inaugurated a new exposition entitled "Wonderful Ocean" which features a talented group of island artists.  Entitled "Arte Mixto de Cozumel"  the group founded in 2015 and features 5 island artists: Addy Bacelis, Lucio Frias, Minerva Mari, Eddy Escalante, Alfonso Viladiu.
Through this expo the "Arte Mixto de Cozumel" sends a clear signal that it's time to stop and take care of our environment, specifically the ocean, upon which Cozumel is so dependent.  Although each artist uses their own media and form of expression the theme remains constant.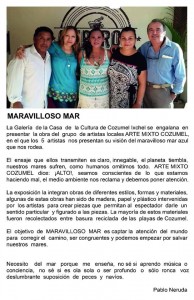 The Expo is on display for an entire month at the Casa de Cultura which is located on Av 50 with Juarez and 2 North. The expo is open from 9 am – 6 pm.
 "Maravilloso Mar" exhibición de arte que presentan artistas de Cozumel
Muestra en la Casa de la Cultura. . .
La Casa de la Cultura de Cozumel inauguró en Septiembre 21 una nueva exposición llamada "Maravilloso Mar" presentando a un talentoso grupo de artistas de la Isla. Con el nombre "Arte Mixto de Cozumel" el grupo se formó en el año 2015 con 5 artistas de la Isla: Addy Bacelis, Lucio Frías, Minerva Mari, Eddy Escalante y Alfonso Viladiu.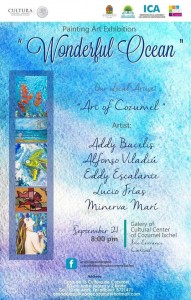 A través de esta exposición, "Arte Mixto de Cozumel" envía una señal clara de que es tiempo de detenerse y hacernos caro de nuestro medio ambiente; particularmente del océano del cual tanto depende Cozumel. A pesar que cada artista usa sus propios medios y forma de expresión, el tema principal se mantiene constante.
La exposición estará exhibiéndose durante todo un mes en la Casa de la Cultura que se ubica en  Avenida 50 con Juárez y 2 norte. La exposición está abierta de 9 a.m. a 6 p.m.
Laura Wilkinson is the Editor for Cozumel 4 You. An ex-Connecticut Yankee who has called Cozumel home for over 15 years, Laura ran away to the Caribbean years ago, bumped around the islands teaching SCUBA diving, lost some time in Jamaica, and finally stopped in Cozumel for a 2 week vacation that hasn't ended yet. With a degree in Journalism from a fancy private college she convinced her parents to pay for, Laura writes, edits, and creates the weekly Cozumel 4 You news, promotional articles about the island, and her very own blog, which she finds hilarious. Her long suffering husband, the Fabster, has long since resigned himself to having zero private life, as he's been involved in her various schemes and plots since his arrival. Proud parents to a variety of rescue dogs and cats, Laura continues to be the bane of her traditional Mexican mother-in-law's existence, as she muses her way through life in the Mexican Caribbean.
Latest posts by Laura Wilkinson (see all)